Quagga Mussels And Zebra Mussels Pose Serious Threat To Lake Powell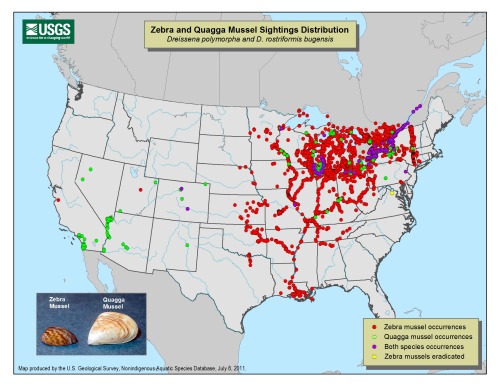 Photo: U.S. Geological Survey Department of the Interior/USGS

In 1988, Quagga Mussels and Zebra Mussels, native to the Black and Caspian Seas of Eastern Europe, were discovered in Lake St. Clair, Michigan.
It is believed they were discharged from the ballast tanks of international ships which had previously been in those waters.
Since that date they have spread throughout much of the United States....
Quagga Mussel
Photo by Bill Tate
Zebra Mussel
Quagga & Zebra Mussels
Photos: U.S. Geological Survey Department of the Interior/USGS

Quagga mussels (Dreissena bugensis) and zebra mussels (Dreissena polymorpha), relatives to clams and oysters, are small,freshwater mollusks, triangular in shape with black (or dark brown) and white (or cream) striped markings that appear on its shell.
They are the only freshwater mussel in the United States that attach to hard surfaces.
How Do They Spread?
Quagga Mussels and Zebra Mussels can spread to other bodies of water by attaching to boat hulls, motors and engines, anchors, trailers, fishing equipment, boots and clothing.
They may also be spread by discharging infested water from bilges and live bait wells.

Size Comparison
Zebra Mussel
Zebra Mussels
Mussels on Boat
From Lake Mead
Left & Middle Photo: U.S. Geological Survey Department of the Interior/USGS
Photo on Right: NPS

Why Should We Be Concerned?
• Quagga Mussels and Zebra Mussels grow and reproduce exponentially. A single female can produce up to one million eggs a year. If only 1% survived, that would leave 10,000 to grow and reproduce.
• They clog water infrastructure, by attaching to most underwater structures, forming dense clusters as much as 18 inches thick. These clusters may contain hundreds of thousands of individual mussels, which clog intake pipes and trash screens thus restricting, or cutting off completely, the flow of water. In western Lake Erie, over 700,000 mussels were discovered in one square meter!
• They degrade water quality by altering the taste and smell of drinking water.
• They have significant ecological impacts, affecting change in aquatic ecosystems and native plant and animal communities.
• They have recreational impacts by fouling beaches and shorelines with dead, rotting and smelly mussels.
• They have significant economic impacts by increasing the cost of maintenance needed to keep water infrastructure free of these organisms.

How Can we Help?
When taking boats and equipment out of the water and before leaving the immediate area, boaters should make certain their craft is:
* Inspected - Examine all your equipment, boats, trailers, clothing, boots, buckets, etc.
Carefully feel your boat's hull for any rough or gritty spots, which may be young mussels that have settled on your vessel and cannot be seen.
Microscopic Quagga Mussels and Zebra Mussels will feel like sandpaper.
* Cleaned - Remove all visible mud, plants, fish/animals.
Remove even plant fragments as they may contain microscopic larvae, which can live in mud, dirt, sand, and on plant fragments.
* Drained- Eliminate water from all equipment before transporting anywhere.
Remove water from motors, jet drives, live wells, boat hulls, scuba tanks and regulators, boots, waders, bait buckets, swimming floats, anything that has been in contact with the water.
* Dried - Dry anything that came in contact with the water,(boats, trailers, equipment, boots, clothing, etc.).
Keep your watercraft dry for at least five days in warm, dry weather and up to 30 days in cool, moist weather before launching into a freshwater.

The National Park Service is very serious about keeping these invasive and destructive organisms out of lake Powell.
The following information has been downloaded from their website:
In response to the continued and growing threat of the introduction and infestation of quagga and zebra mussels at Glen Canyon National Recreation Area, effective Nov 1, 2009, self-certification of watercraft will no longer be an option at Wahweap Main and Bullfrog launch ramps and screening for the invasive mussels by trained personnel will be mandatory for all vessels.
A mussel free certificate must be displayed visibly in the windshield of your tow vehicle.
Recertification is required with each new visit.
Failure to display this certificate could result in a mandatory court appearance, up to 6 months in jail, and a $5000 fine.
How to Certify:
At major launch ramps, self-certification of watercraft is not an option.
Your watercraft must be certified by National Park Service or select concessions staff.
Trained personnel will be available daily for screening at the following hours, effective Nov 1, 2010:

Wahweap Main Ramp

Mountain Standard Time

Daily 5:00am - 8:00pm

Stateline Launch Ramp

Mountain Standard Time

Daily 5:00am - 8:00pm

Antelope Point Ramp

Mountain Standard Time

Daily 7:00am - 7:00pm (Fee booth hours)
Lone Rock Beach
Daily 8:00am - 5:00pm (Fee booth hours)
Bullfrog Ramp
Mountain Daylight Savings Time
Daily 6:00am - 9:00pm
Halls Crossing
Mountain Daylight Savings Time
Daily 7:00am - 5:00pm
Hite
Mountain Daylight Savings Time
Daily 7:00am - 5:00pm
Farley & Blue NotchMountain
Daylight Savings Time
Daily - Self Certification


The launching of motorized watercraft is not permitted at Stanton Creek Beach effective Nov 1, 2010.
At remote launch locations boaters are still allowed to self-certify their vessels are mussel-free.
Save time when you get to the park by self certifying that your boats are free of zebra or quagga mussels before you arrive.
You may do this process online only if you plan to launch from Hite or a remote location.
To Download Self Certification Packet go to www.nps.gov

| | | |
| --- | --- | --- |
| | | |
| NPS Decontamination Station | NPS Decontamination Station | NPS Decontamination Station |
Photos Courtesy of National Park Service

Prevent the spread of invasive mussels!
If you plan to boat or recreate in infested waters, take care not to spread the mussels.
If your vessel has recently been in zebra mussel infested waters, as identified in park information materials, you are required to get an inspection of your vessel.
This inspection may require your boat be decontaminated using a special high temperature wash.
Specialized boat washes are provided at Wahweap, Bullfrog, and Halls Crossing by ARAMARK and at Antelope Point by Antelope Point Holdings, LLC from 7am - 7pm.
This service is free of charge at Wahweap, Bullfrog, and Halls Crossing.
Seaplanes can spread Mussels and other invasive species. All seaplane pilots should take steps to not spread invasive species.
Contact the park for more information (928-608-6200).
Guidelines to prevent spreading invasives with seaplanes:
Stop Aquatic Hitchhikers
Quagga and Zebra Mussel Update

Wahweap Marina

In a report dated March 27, 2013, the National Park Service stated that 14 adult mussels were found on houseboats and the docks at Wahweap Marina.

The mussels were alive but were far enough apart so that no breeding occurred.

The mussels were removed and destroyed.

Asked how they could have gotten there, Mark Anderson, Glen Canyon Ecologist stated,

"It's likely that the mussels were introduced via ballast or bilge water from a boat(s) that was not cleaned, drained, or dried."

Antelope Point Marina

Beginning in December of 2012, the Antelope Point Marina was inspected.  No mussels were found.

Prevention

"Prevention is still the most effective way to fight invasive species, so we will continue the boat inspections that are currently in place. Everyone needs to take this as a warning to continue to clean, drain, and dry your boat and equipment after every use."
 
For more information, click here.  

Also, see PREVENTING INVASIVE MUSSELS at Glen Canyon National Recreation Area

If you are interested in a broader picture of the Quagga and Zebra Mussel threat and the preventative measures taken by the National Park Serivice, Click Here.

Comments and Suggestions
I started this website in February 2011, and, quite honestly, it has not lived up to my hopes and expectations.

I would appreciate some honest appraisals and suggestions as to how to improve it.

References and Links:
National Park Service
http://www.nps.gov/glca/parknews/zebramussel1.htm
US Geological Survey
Department of interior
http://nas.er.usgs.gov/taxgroup/mollusks/zebramussel/
Protect Your Waters
http://www.protectyourwaters.net
100th Meridian
http://www.100thmeridian.org
Wikipedia
http://en.wikipedia.org/wiki/Quagga_mussel

Return From Quagga Mussels and Zebra Mussels to Lake Powell Country