Flyboard
The New Extreme Sport Phenomenon
Flying Over Hawaiian Waters
The Flyboard, a new extreme sport phenomenon, is a personal watercraft (PWC) accessory that uses the PWC's thrust to propel the rider up to 45 feet in the air or allow him to dive below the water like a porpoise.
An experienced rider can do twists, turns, spins, front and back flips and even loops.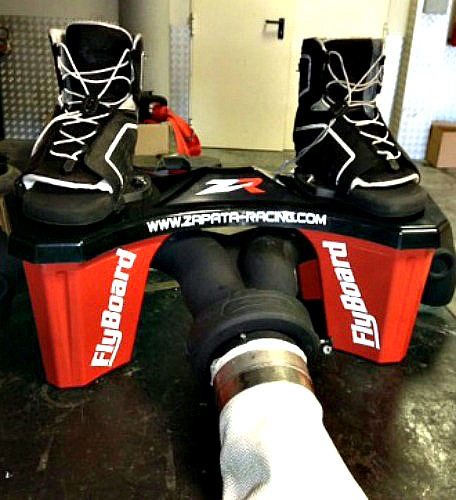 Ready To Fly

Description
This innovative PWC accessory is an ingenious combination of a pair of wakeboard-style boots attached to a molded-plastic-board connected to the jet unit of a PWC with a 55 foot hose. 
Water pressure created from the PWC is redirected through the hose to an intake manifold centered beneath the board with a port leading to each side and terminating in a downward pointing nozzle.
It is this redirected water pressure from the PWC which creates the lift. 
A detachable rotating main bearing located between the end of the hose and the board allows the rider to spin freely around the hose.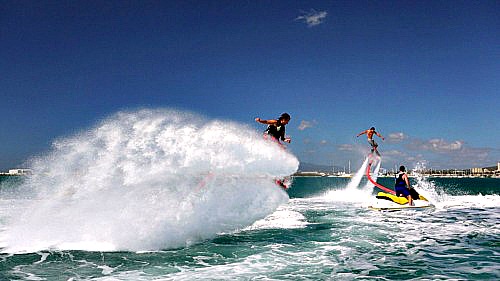 Sky Surfing

Personal Watercraft (PWC)
The board can be attached to almost any PWC with of least 100 HP, although ideally it should have 130 HP or greater.
The greater the horsepower, the greater the water thrust delivered to the board which translates into greater height and speed.
Two Options Available
There are two available options:
• Standard Kit 
•  Standard Kit With an Electronic Management Kit (EMK)

Standard Kit
The standard kit comes complete with board, manifold, wakeboard-style boots, 55 foot hose with a rotating main bearing and a 180° elbow which reverses the PWC water outlet. Everything needed to get you flying in just a few minutes.
---
Side Bar
A separate PWC Adapter Kit is required to connect the board with your PWC.  The kind of adaptor is dependent upon the type of PWC you have.
---
Standard Kit With Electronic Management Kit (EMK)
The EMK allows the flyer to remotely:
• Control the PWC throttle
• Start and stop the PWC engine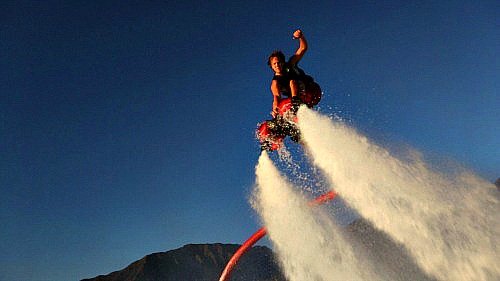 Flying High

---
Side Bar
A PWC is still needed to provide thrust to the board, but an operator is not required.  Essentially, the unmanned PWC trails along behind the board while the rider surfs through the air.
---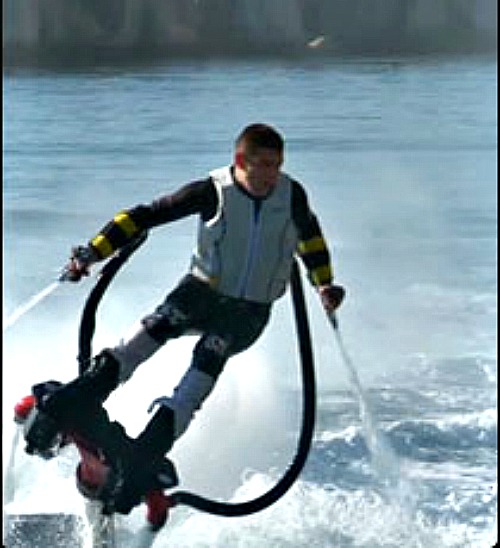 Flyer With Arm Hoses

Arm Hoses
The kit can be purchased with two arm hoses and handle nozzles which attach to the rider's arms with Velcro.  These aid in stabilizing the rider, similar to ski poles, and may be a beneficial addition for the novice flyer.
Weight and Buoyancy
With all attachments, the board weighs approximately 95 pounds, but don't equate it with having your feet in a bucket of concrete.
Due to the built-in buoyancy, the board floats on the water, so the rider is never in jeopardy of sinking to the bottom of the lake or river.
Safety
Like any water sport, Flyboarding carries with it an inherent risk.  Having said that, however, it can only be as safe or as dangerous as you make it.
 
All riders are encouraged to wear a US Coast Guard approved personal flotation device, wakeboard helmet and isothermal pants.
---
Side Bar
Everyone who purchases this PWC accessory must complete an Operation Safety Course which will teach you the basic skills needed to take flight and fly safely.

---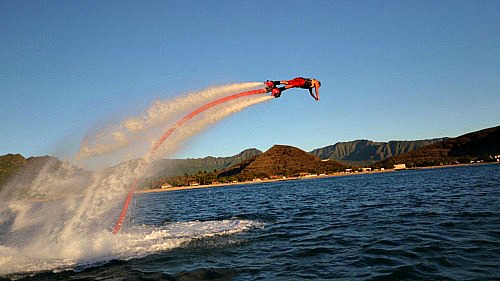 Flying Over Hawaii
Learning
According to Rocky Mountain Flyboard's website:
"Learning to operate [it] is much easier than you might think.... When given proper instruction and the student can follow those instructions, almost anyone will start flying...during their first 5 minutes in the water."
"….almost anyone will have a lot of fun during their first ride and it only gets better after each ride. Most people have found that they are twice as good on their second ride."1
Its Own Magazine
In August 2013, Blaine Jeffery launched Flyboard Magazine dedicated to this extreme sport.
This is an E-Zine with articles on flying, competitions, professional profiles and more.
To examine this magazine, Click Here.
You Tube Video 
See the Coolest Jet Pack EVER
History
This innovative idea is the brainchild of Franky Zapata, a multiple World and European champion and probably the best jetski racer in the world.
Franky designed, built and raced his own jetskis under the brand name of Zapata Racing.
In the spring of 2011, Franky and his team at Zapata Racing, began experimenting with this novel prototype PWC accessory.
 "The team's experience in rapid prototyping meant that within a few months they had a working prototype and, not long after that, had a working prototype that could actually fly with stability over water." 2

They applied for, and were granted, a patent by the French Institut national de la propriété industrielle (INPI).

Zapata and his team introduced the board at the Jet Ski World Championship 2012 in China.

The first Flyboard World Championships took place in Doha, Qatar in October 2012.

They then posted a video on You Tube, which according to an Oct 17th 2012 article in Translogic, "…went viral, with nearly 2.5 million views in 15 days--a strong indication that [it] was something people were very excited for."2

Today, a year later, there are dealers and distributors in many parts of the world: Africa, Central and South America, North America and South East Asia to name just a few.

Yes, I think it "was something people were very excited for."


Future Ironman

Special Thanks
A special thanks to Thom Hall and Rocky Mountain Flyboard for allowing me to use the images found on this page. 
They are the exclusive Zapata Racing Flyboard Dealer for Utah, Montana, Wyoming, Colorado, Idaho, Washington, Oregon, New Mexico, Hawaii & Guam.
 
References
1 Rocky Mountain Flyboard
Surf the Sky
http://rockymountainflyboard.com/aboutus.php
 2 Translogic
In Detail: Water-Powered FlyBoard
By Kyle Thibaut
http://translogic.aolautos.com/bloggers/kyle-thibaut/

Return From This Page To Lake Powell Water Activities
Return to Lake Powell Country Home Page