Lake Powell Marinas Fuel Tourist Trade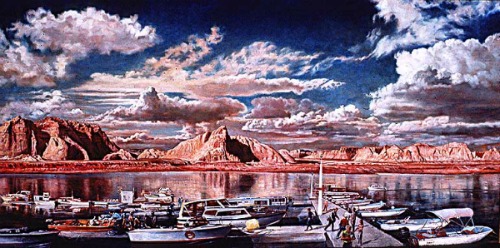 Painting of Wahweap Marina by Dean Faucett
Courtesy Bureau of Reclamation


Since 1963, Lake Powell Marinas have multiplied from just a single location at Wahweap to a quintet scattered around the lake's 254 square miles.
These marinas, located on one of the most stunningly beautiful lakes in the United States, have the responsibility of providing marine and other services to an estimated 400,000 boaters who visit the lake every year.
The services vary, but most provide fuel, waste disposal stations, drinking water, ice, limited grocery supplies and other essential needs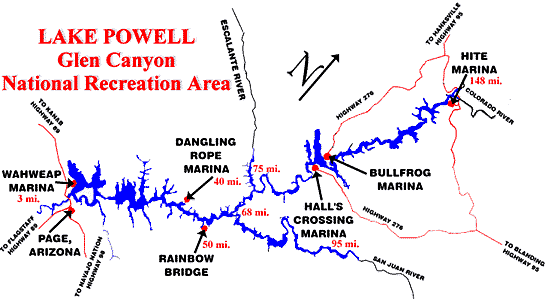 Just like love and marriage, boats and Lake Powell's five marinas just naturally go together, for what is one without the other?
The only one of the five marinas not accessible by automobile is Dangling Rope Marina located approximately 40 miles up lake from Glen Canyon Dam.

Antelope Point Marina, located on the Navajo Reservation approximately 8 miles by automobile from Page, AZ is the newest of the Lake Powell Marinas and the only one not operated by ARAMARK Concessioners.
Approximately 95 miles up lake from Glen Canyon Dam is Bullfrog Marina, located on the north shore of Lake Powell, and across from it, on the south shore, is Halls Crossing Marina.

The John Atlantic Burr Ferry and Charles Hall Ferry operate between the two marinas, acting as a connecting bridge of State Highway 276.
In a posting on Aug 24, 2011, the National Park Service announced that,
"There are no marina services available at Hite....There are currently no water-based facilities within the Hite Ranger District except a small boat dock.
The North public launch ramp is concrete.
The South public launch ramp is gravel.
Watercraft launching at Farley & Blue Notch Canyons are primitive dirt ramps.
The river raft take out ramp is gravel.
Boat launching is at your own risk.
Four wheel drive vehicles are recommended for all launching."
Prior to this,Hite Marina was the eastern-most location of the Lake's Marinas.

The closing of this marina presents a potential fuel problem for any boater who launches from Hite, as it is approximately 153 miles to either Bullfrog Marina or Hall's Prior to this, Crossing.
For any boater who is headed down lake from the east, it might behoove them to drive to either Hall's Crossing or Bullfrog Marina to launch their boat.
Be Safe! Know your limits!
Lake Powell Marinas are the beating hearts of Lake Powell, pumping fuel and energy into both visitors and boats alike.
They employ hundreds of people who, by the valuable service they provide, make our lives easier and more pleasurable

Comments and Suggestions
I started this website in February 2011, and, quite honestly, it has not lived up to my hopes and expectations.

I would appreciate some honest appraisals and suggestions as to how to improve it.