Sea Eagle Inflatables


"The Quality Alternative to High Cost

Inflatable Boats and Kayaks"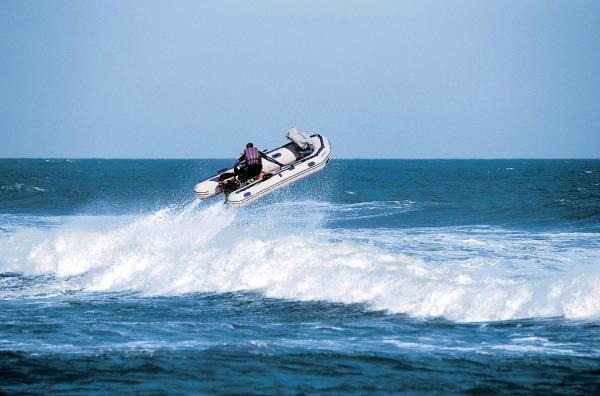 Sea Eagle 14SR - Photo: Courtesy Sea Eagle

Whatever you do on the water, whether it's whitewater kayaking, sailing, cruising, fishing or weekend getaways, there is a Sea Eagle boat or kayak that can fit your every need.
A few of the reasons why Sea Eagle Inflatables may be right for you:
You have limited storage space – When deflated, Sea Eagle takes up little space.It can be stored in a closet or the trunk of a car.
You are new to boating and don't know if you will like boating - You can take advantage of the 180 day Risk Free Offer.If you don't like it, return it. (Offer valid only if purchasing from Sea Eagle).
Afraid of damaging your boat or someone else's boat – You can pound on a Sea Eagle with a hammer with the sharp claw end and not hurt it.It will bounce off another boat if you should hit one.
You don't have a lot of money – Sea Eagles are less expensive than regular hull boats.
You don't want to pull a trailer – No trailer needed when boat is deflated.
If you're like me, the biggest problem you will have with Sea Eagle Inflatables is choosing which boat to buy.
It seems like every time I go to Sea Eagle's website or look at one of their catalogs, I have a difficult time deciding which one I like best.
Just when I think I've found the one that would be perfect for me, I find another one that seems even better.
So which one is right for you?
Take a look at some of these and see what you think.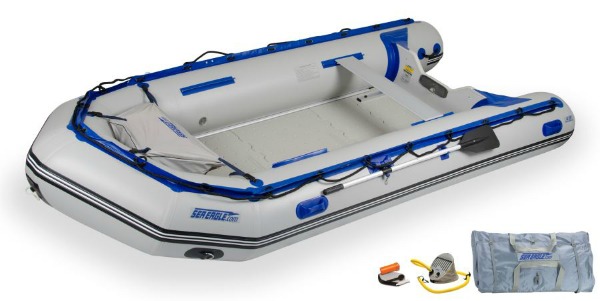 Sea Eagle Sport Runabouts
The Sea Eagle Sport Runabouts are designed tough to handle tough conditions, from placid bays to ocean swells, from artic cold to desert heat.
These boats are over-engineered and overbuilt, from their polyethylene molded floorboards to their plastic encased water-proof marine plywood transom and rigid inflatable outside keels.
The result is a light, responsive, stable, seaworthy go anywhere boat.
The Sea Eagle Sport Runabout comes in three different models: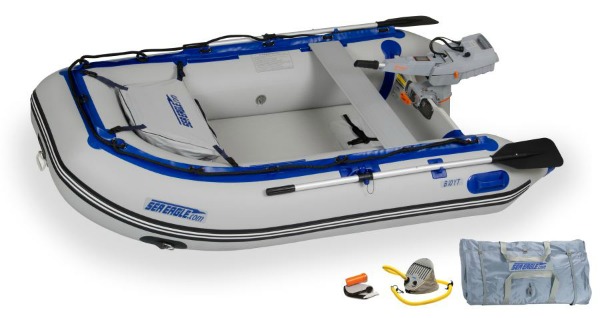 Sea Eagle 8.10yt Yacht Tender
Sea Eagle built the Yacht Tender for the express purpose of transporting you quickly and comfortably to your yacht or houseboat.
It is equipped with pivoting oar locks for easy rowing and can optionally be equipped with a small gas or electric motor.
However, this highly versatile boat isn't just limited to ferry service.
Its unbelievably rugged high-pressure fabric and oversize 17" inflatable tubes make it a stable, reliable and seaworthy boat for fishing or exploring any of Lake Powell's 96 named canyons.
The Sea Eagle 8.10yt Yacht Tender fits in well with all Lake Powell has to offer

Sea Eagle Sports Kayaks
The SE-330 and SE-370 Sport Kayaks are Sea Eagles lightest, most portable, most fun and most popular inflatable kayaks.
The Sport Kayaks feature two molded skegs - just like a surf board - so you go faster and further with less paddling effort.Without these skegs, you would just weave and wander across the water, wasting your paddling effort.
The Sport Kayaks have seams that are welded with 10,000 volts of power, fusing the material into one solid structure. This gives Sea Eagle the confidence to cover the SE-330 and SE-370 with a 3 year warranty.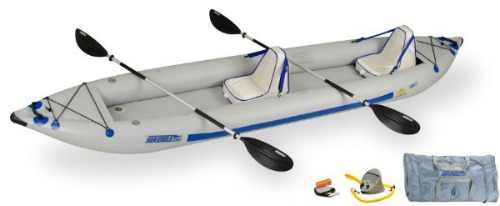 Sea Eagle 385ft and 465ft FastTrack Kayaks
The SE-385ft and SE-465ft FastTrack Kayaks are Sea Eagle's sleeker, faster, lighter weight and more rigid kayaks.
The FastTracks were born to explore large lakes with secluded islands, long meandering rivers, intimate salt-marshes with winding water passages, inland bays and hidden ocean coves.
According to Sea Eagle, "The secret of this patent pending design is the outside drop stitch keel in the bow and the large skeg in the stern. These features combine to limit the "yaw" (the sideways movement when using a double end paddle) of this kayak and create unparalleled "bite" on the water."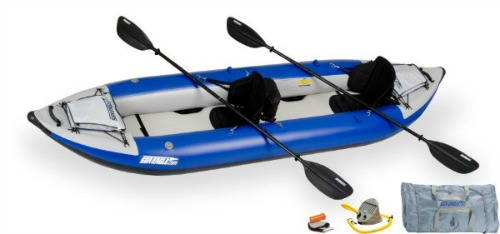 Sea Eagle 380x and 420x Explorer Kayaks…
Expedition Quality Kayaks for White Water River, Large Lakes, Inland Bays and Ocean Surf.
The Explorer Kayaks were first introduced in 1978.
Since that time they have been redesigned four times.
They now feature a full length lash-down high pressure drop stitch floor for greater structural strength and rigidity and a large removable slide skeg for true tracking ability on open water.
The new Explorers are now made with computer cut material panels, the number of seams is reduced and the amount of material used is decreased. The result is a reduction in weight making them lighter to carry and easier to pack.

Sea Eagle 435ps PaddleSki Catamaran Kayak…
Five Boats in One: Sailboat, Paddle Boat, Fishing Boat, Row Boat and Motor Boat
The secret of the Sea Eagle PaddleSki's sped and stability on the water is the unique catamaran kayak design.
This design keeps the floor above the waterline – eliminating drag of the floor and allowing this kayak to paddle faster.
The skegs in the stern insure that the PaddleSki tracks straight and true.
The wide catamaran stance on the water also makes this the Sea Eagle 435ps PaddleSki Catamaran Kayak more stable in wind, waves and rough seas.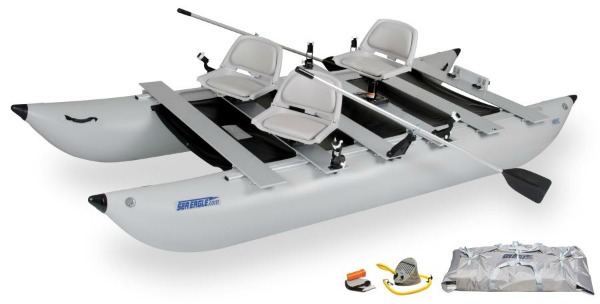 Sea Eagle 375fc and 440fc FoldCat™…
Like No Other Pontoon Fishing Boats
The FoldCat™ is the perfect boat for fishing.
It can be assembled in under ten minutes, it is lightweight, can be rowed or can be used with a small gas or electric motor.
Some of its benefits are:
The unique folding frame design eliminates the need for nuts, bolts and tools.

The two wide pontoons and wide beam catamaran hull design add tremendous stability and silent stealth fishing performance.

The strong plastic material swivel seats snap on and snap off.

The seats swivel 360 degrees.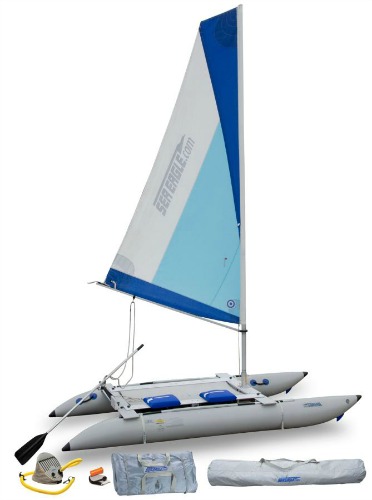 Sea Eagle SailCat 14sc…
The Family Sailboat That Goes Anywhere
The new Improved SailCat is now patented – US Patent No. 7,240,634 – simpler to set up, simpler to sail and simpler to transport. And, perhaps its best feature is its extremely reasonable low price.
The SailCat has been completely redesigned to be faster, more responsive and more spacious.
It now features sleeker, smaller diameter pontoons for less drag, wider aluminum frame for more cockpit space, larger super strong 3-part 18' mast, foldable boom and larger 65 square foot Neil Pryde high aspect sail for greater speed and performance.
The Sea Eagle SailCat is ridiculously fun to sail.
These are just a few of the Sea Eagle inflatables.
I have shown you only enough to whet your appetite for the boats and packages available.
Whatever you are looking for in the way of an inflatable boat, ruggedness, reliability and quality, I am sure you will find it at Sea Eagle.
*The Sea Eagle 180 Day Risk Free Offer is only valid if ordering on-line from Sea Eagle.