Guide To Arizona National Parks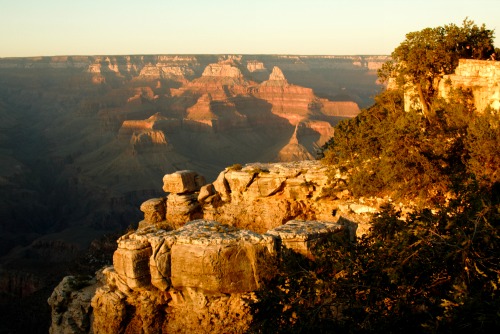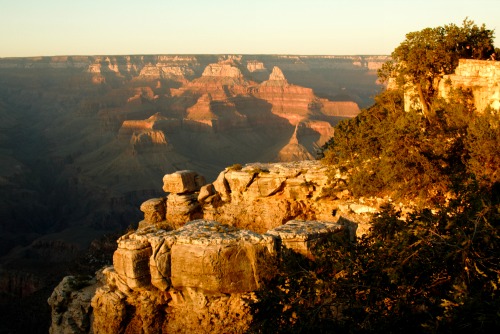 South Rim - Grand Canyon National Park
When one thinks of Arizona National Parks, the Grand Canyon most often comes to mind.
However, the other two, Saguaro and Petrified Forest, though less known, are each in its way deserving of the protection afforded it by National Park Status.
Each year as we flock to our parks and monuments in increasing numbers, it is difficult to imagine a United States without them.
But, of course, it hasn't always been that way.
"One of the first people generally credited with conceptualizing a "national park" was George Catlin (1796-1872), a self-taught artist who traveled extensively among the native peoples of North America, while sketching and painting portraits, landscapes, and scenes from daily Indian life.
On a trip to the Dakotas in 1832, he worried about the impact of America's westward expansion on Indian civilization, wildlife, and wilderness.
They might be preserved, he wrote, 'by some great protecting policy of government . . . in a magnificent park . . . . A nation's park, containing man and beast, in all the wild and freshness of their nature's beauty!' 1
However, it wasn't until "…the discovery of Yosemite, a place of awe-inspiring beauty, in 1851, that would set into motion events that would lead to legislation protecting and preserving the land for future generations." 2
"On May 17, 1864, in the midst of the Civil War, John Conness, the junior senator from California, introduced a bill to Congress which proposed   something unprecedented in human history: setting aside a large tract of natural scenery for the future enjoyment of everyone.
More than 60 square miles of federal land, encompassing the Yosemite Valley and the Mariposa Grove of big trees, were to be transferred to the care of the State of California, on the condition that the land be preserved for 'public use, resort, and recreation.'
On June 30, 1864, President Abraham Lincoln signed a law to preserve forever a beautiful valley and a grove of trees that he had never seen, thousands of miles away in California."  3
 "On March 1, 1872, President Ulysses S. Grant signed the bill creating Yellowstone Park. Unlike Yosemite, which was being administered by the state of California, this would be a national park - the first in the history of the world."4 
 
With the establishment of Yellowstone National Park, "…a country that had not yet seen its first centennial… A new concept was born and with it a new way for people to preserve and protect the best of what they had for the benefit and enjoyment of future generations."5 
"Over the course of more than 150 years, a once-radical idea has evolved into a cohesive national parks system, with a sometimes conflicting two part-mission: to make the parks accessible to all and to preserve them for future generations."6

Close Up of Petrified Wood - Petrified Forest National Park
The first Arizona National Park was the Petrified Forest which had first been established as a National Monument in 1906 and then, by an act of congress, was made a National Park on January 1, 1962.


Rainbow Over North Rim - Grand Canyon National Park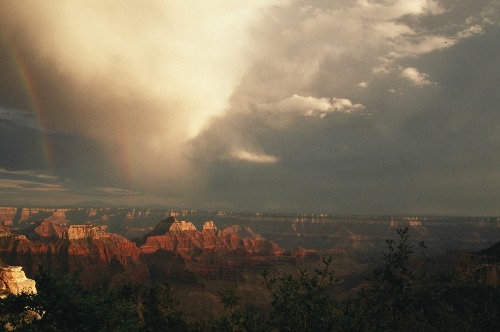 Arizona's second national park, the Grand Canyon, was created on February 26, 1919, when President Woodrow Wilson signed Senate Bill 390, which created Grand Canyon National Park.
 Saguaro-National-Park-Sunset

Attribution: Yeahsoo at the English language Wikipedia

 

 

 

 

 

The third of the Arizona National Parks was Saguaro which in 1933 became the first United States "…national park or monument set aside to protect a species of plant." 7

From National Monument, it went through several transitional stages before President Bill Clinton signed legislation on October 14, 1994 enlarging its boundaries and making it America's 52nd national park.

References and Resources For Arizona National Parks
1 About.com
National and State Parks
http://usparks.about.com/od/nationalparksus/a/natlparkhistory.htm
2 The Public Broadcasting System
http://www.pbs.org/nationalparks/history/ep1/4/
3 Ibid p.2
4 Ibid p.4
5 National Park Service
http://www.nps.gov/yell/historyculture/index.htm
6 The Public Broadcasting System
http://www.pbs.org/nationalparks/history/
7 Friends of Saguaro National Park
http://www.friendsofsaguaro.org/index.asp?Type=B_BASIC&SEC={A21B01C9-8027-47F4-AB64-AD6300152B53}
Return From Arizona National Parks To Lake Powell Country and The Grand Circle