A Lake Powell Vacation…





Dreams Filled With Magical Memories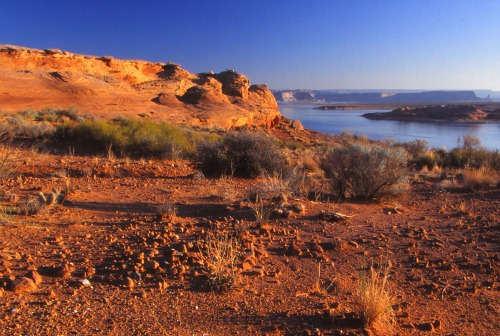 ---

Have you had a Memorable

Lake Powell Vacation you

would like to share? 

Please Share It Here

---

What makes a Lake Powell Vacation so attractive to nearly 300 million visitors a year?

Is it the clean, unpolluted azure sky, the clear sparkling water dancing in the early morning light?

Or is it the canyons that John Wesley Powell described as
"…a curious ensemble of wonderful features…carved walls, royal arches, glens, alcoves, gulches, mounds, and monuments…?"
Yes! It is all those things and more.
It is the nearly 2000 miles of shoreline that attracts houseboaters from all over the world.
It is the long narrow meandering canyons that wind and twist like a giant serpent.
If you are looking for a reason to take a Lake Powell vacation, you have only to consider any of the above.

But, if that's not enough for you, consider the following:
• Lake Powell has 1,960 miles of shoreline, more than the entire west coast of the United States.
• Lake Powell is 186 miles long, from Glen Canyon Dam in the south to Hite in the north.
• Lake Powell is a kayaker's paradise with over 96 named and un-named canyons to explore.
• Lake Powell's clean, clear water attracts visitors from all over the world to try their skills at swimming, waterskiing, stand up paddling, wakeboarding and scuba diving.
• Lake Powell is considered by many to be the House Boat Mecca of the world.
• Lake Powell offers the angler over a dozen different species of fish, from Brown Trout, to Channel Catfish to Northern Pike.
• Consider that the largest Largemouth Bass, Striped Bass, Carp and Black Crappie ever caught in Utah history were pulled from Lake Powell.
• Five lakeside Marinas offer such services as fuel, waste disposal stations, drinking water, ice, limited grocery supplies and other essential needs.
• Nearby Attractions like Glen Canyon Dam, Horseshoe Bend, Monument Valley, Navajo National Monument and Canyon de Chelly. 
• Lake Powell is the heart of the Grand Circle, an imaginary circle radiating outward 350 miles from Page, Arizona, encompassing parts of Arizona, Colorado, Nevada, New Mexico and Utah.
Within this circle is some of the most beautiful, magnificent and spectacular country imaginable.
The Grand Circle contains more National Monuments and National Parks than any other place of comparable size in the United States. 
With all it has to offer, it is no wonder that a Lake Powell Vacation attracts so many people?

Have A Great Story About This Topic?
Lake Powell is one of the most beautiful lakes in the United States.

It is a magical place, a place that casts her spell over all of us who visit her, drawing us back to her crystal waters year after year.

If you would like to share a memorable Lake Powell vacation, please fill out the form below.

What Other Visitors Have Said
Click below to see contributions from other visitors to this page...

Great Family Fun

My first experience on Lake Powell was with my husband's family for a week on a houseboat. Spending a week with 20+ members of a new family is a bit daunting, …
Return From Lake Powell Vacation To Lake Powell Country