Boating Lake Powell...

An Annual Event For Some !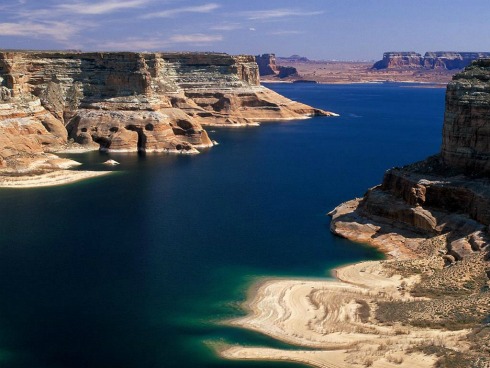 Photo: Courtesy Fantom-XP

Boating Lake Powell is unlike any experience you can imagine.
With over 1900 miles of shoreline and 54 square miles of water, straddling parts of Arizona and Utah, Lake Powell is the second largest lake in the United States and, in my opinion, second to none in spectacular scenery.
Floyd E. Dominy, Bureau of Reclamation Commissioner from May 1, 1959 to December 1, 1969, in the Bureau of Reclamation Brochure, Lake Powell: Jewel of the Colorado, described it well:
"…Over eons of time, wind and rain have carved the sandstone into shapes to please ten thousand eyes. The graceful, the dramatic, the grand, the fantastic.
Evolution into convolution and involution. Sharp edges, round edges, blunt edges, soaring edges. Spires, cliffs, and castles in the sky.
Colors like a symphony of Nature's music. Bright orange, brick red, ocher, pink, deep brown, vivid purple, granite black, mustard yellow—and a soft, pale green so delicate no artist could ever capture it with paint…."
With scenery like this, is it any wonder that Boating Lake Powell attracts thousands of visitors every year?
Visitors from around the world who come here to experience the outstanding fishing and the breath-taking vistas that await them around every bend of this serpentine lake.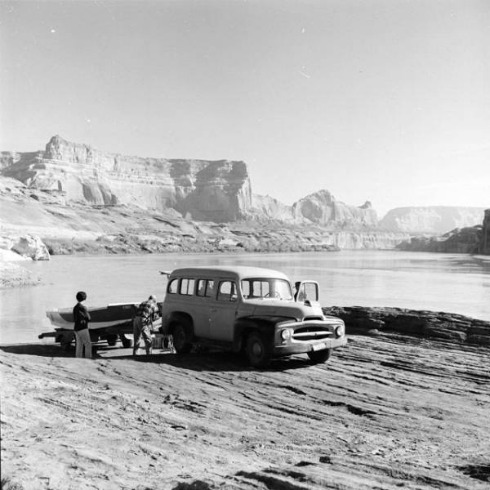 Photo: Northern Arizona University
Photographer: Tad Nichols - November 1962


Even as the lake was filling behind the closed gates of Lake Powell Dam, Jarred Farmer wrote, in the Summer1996 edition of Western Historical Quarterly, that boating recreationists would drive "…23 miles of jarring dirt road to Kane Creek to put in."
Such was the attraction of water in an arid land where the normal yearly precipitation averages 6.47 inches.
But, more than that, there was the attraction of exploration and adventure, the thrill of being the first to explore the hidden canyons.
In 1968, at a time when there were no detailed maps of the area, one travel writer wrote,
"Ahead of all who go there is mystery and discovery. Go there now, before it is all 'discovered' and make your own map. You'll never have a chance quite like it."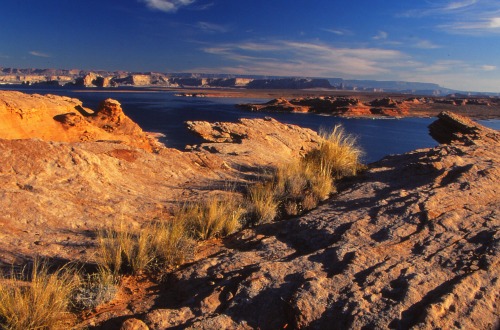 Unfortunately, today there is little left that hasn't been "discovered," mapped and catalogued.
But, though others have gone before you, there still remains so much to be discovered by first-time visitors to the lake and even by those who visit the lake every year.
Like the Grand Canyon, Lake Powell changes with the light, the weather and the season.
It appears never to be the same. Always changing, always fluctuating, but always beautiful and always spectacular.
Wallace Stegner, winner of both the Pulitzer Prize and the National Book Award, wrote,
"Awe was never Glen Canyon's province. That is for the Grand Canyon. Glen Canyon was for delight."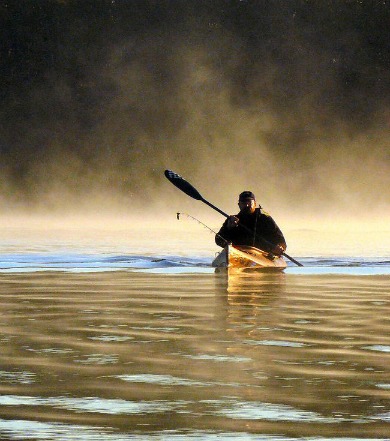 Photo: Courtesy of Boat Owners
Association of The United States.

Page, AZ Current Weather and Forecast
---

Books and Maps about Boating Lake Powell may be purchased through Amazon.com by clicking the link below.

Boating Lake Powell

---
Boating Lake Powell is the only way to see and experience this beautiful lake.
It doesn't matter if your boat is a canoe, a kayak, a rubber inflatable, a runabout, a Personal Watercraft, a sailboat or a house boat.
They are all the same, a moving platform by which to transport you from one place to another.
I know this sounds rather simplistic but basically it is true.
Each has its advantages and each has its limitations, but they all have their following of die-hard fans.
And, more importantly, they can all be found at Lake Powell.
According to Wikipedia,
"The National Marine Manufacturers Association, the organization that establishes several of the standards that are commonly used in the marine industry in the United States, defines 32 types of boats…."

• Canoes – These sleek, easily-transportable vessels have come a long way since they were built and used by fur trappers and many of our early Native American Tribes.
• Kayaks -Most of my generation equated these vessels with the Inuits of Alaska and Canada.
I can still picture these hardy hunters in my mind's eye, bundled in furs, paddling among the ice floes in search of walruses, seals and whales.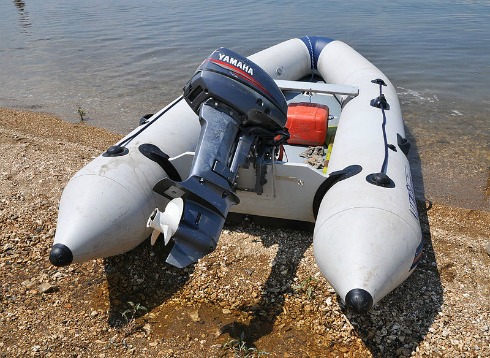 Photo: Courtesy United States Coast Guard

• Rubber Inflatables– These tough, go anywhere rubber boats have a rich history in military and rescue venues. Today, they are better than ever.

Sea Eagle Inflatables– Sea Eagle has been making inflatable boats for over 40 years, and some of their designs have revolutionized the industry. You can see them all here.

• Sailboats – I have never been aboard a sailboat nor have I seen many at Lake Powell, but I love their beautiful lines and the romance associated with them.
• Runabouts - These are the ubiquitous powerboats we see towing water skiers and wakeboarders or just cruising Lake Powell's miles of clear sparking water.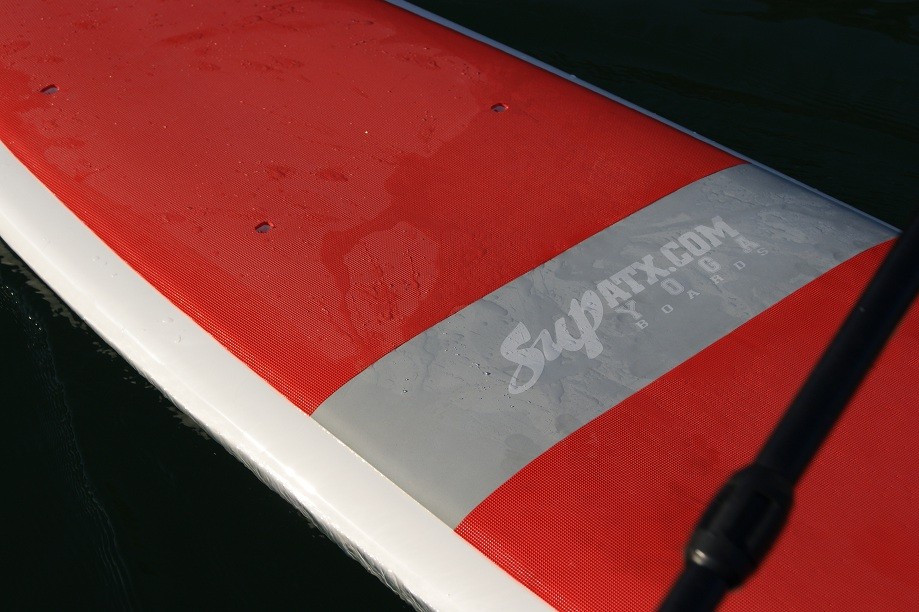 SUPATX Yoga Paddleboard - Photo: Courtesy SUPATX


• Stand Up Paddling – The newest paddling sport sweeping the country. It's fun, easy to learn, doesn't require a lot of equipment, develops core muscles and balance, and it delivers a complete body and cardiovascular workout. It can even be used for yoga.

• Personal Watercraft – These are the jet skis so often seen racing across the water, their rooster tails sparkling like diamonds in the sun.

• House Boats - These beautiful homes away from home are almost as common at Lake Powell as runabouts, and justifiably so.

To help make Boating Lake Powell both enjoyable and safe, I have included information about:

• Boating Navigation Aids

• Boating Terminology

• Boating Regulations

• Life Jackets or Personal Flotation Devices

• Alcohol and Boating

• Pet Life Vests

• Life Jacket Loaner Program


I wish I could snap my fingers and already have pages written about every one of these boating Lake Powell subjects, but obviously I can't do that.
So, I'll do the best I can, researching and writing about them as quickly as I can.
In the meantime, I hope you enjoy the boating Lake Powell pages I have written and will continue to follow this site for updates.

Have A Great Story To Share?
Do you have a great story about this destination? Share it!
References and Resources for Boating Lake Powell:

Academia Edu
http://www.academia.edu/

American Southwest
http://www.americansouthwest.net/utah/glen_canyon.html

Northern Arizona University
http://archive.library.nau.edu/cdm4/results.php?CISOOP1=exact&CISOBOX1=Kane+Springs+Creek+%28Utah%29&CISOFIELD1=CISOSEARCHALL&CISOOP2=all&CISOBOX2=nichols%2C+tad%2C+1911-&CISOFIELD2=creato&CISOROOT=/cpa&t=s

History To Go
Utah Government
http://historytogo.utah.gov/utah_chapters/utah_today/lakepowell.html

Mitra Encyclopedia
http://encyclopedia.mitrasites.com/aboriginal-dugout-canoes.html


Return From Boating Lake Powell to Lake Powell Country Home Page