Seabreacher
The Ultimate Diving Machine
All Photos Courtesy Innespace Productions

It's a dolphin! No, it's a shark! No, it's a killer whale!  Yes, it's all of these!  It's Seabreacher!
This truly unique diving machine looks like something you would find at Sea World!  Certainly not something you would expect to find at your favorite lake or waterway!
Like something from Jules Verne in 20,000 Leagues Under the Sea, it is a fanciful blend of a marine mammal and a high performance fighter jet.
This truly marvelous submersible is designed and manufactured by Innespace Productions, a northern California company founded in 1997 by Rob Innes and Dan Piazza.
These are the same two creative geniuses whose sister company, Jetavation Inc builds the Jetovator. 
There are presently three models available: Dolphin style J model, Shark style X model, or the Killer Whale Y model.
Don't like any of these?  No Problem!
How about a Tiger Shark or the WW II fighter plane, the P-5l with a shark's mouth painted on the nose?
Innespace's  "…world class painters and airbrush artists can create unique artwork from mild to wild…to ensure a one of a kind watercraft tailored to your desires."

  Shark on the Attack - Photo:  Courtesy Innespace Productions

Performance
These are powerful machines capable of pushing "… the limits of what people can do in the water: diving, jumping, rolling, porpoising, and other amazing aquabatic tricks, all within the safety and comfort of a dry, sealed cockpit."
The Dolphin Style Model J comes with a 215 hp supercharged engine, whereas both the Shark style X model and the Killer Whale style Y come standard with the 260 hp supercharged engine.
The J model is capable of 40 mph on the surface and up to 20mph under water.
The X model is capable of 50mph on the surface and up to 25mph under water, and the Y model is capable of 55 mph on the surface and up to 25 mph below the surface.

Submersible Not a Submarine
This unique and fanciful machine is a submersible not a submarine.  Unlike a submarine which can dive deep for sustained periods of time, the Seabreacher is restricted to just a few feet below the surface and only for brief durations.
In order to dive, it needs speed which is supplied by a supercharged internal combustion engine which requires oxygen to support combustion. 
If it should go too deep, the engine loses its oxygen supply thus losing power, and the Seabreacher's natural buoyancy makes it pop back to the surface.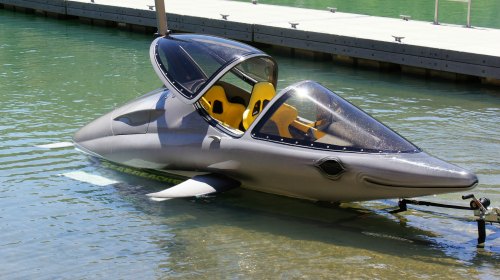 Two Place Dolphin - Photo: Courtesy of Innespace Productions

Ease of Operation
According to the folks at Innespace:
"It is surprisingly quick to pick up the basic operation of the Seabreacher and learn to navigate on the surface.  Prolonged dives and other tricks take a little longer to master, but most pilots are proficient in a couple of days."
"We offer comprehensive training to any customer who purchases a custom built Seabreacher."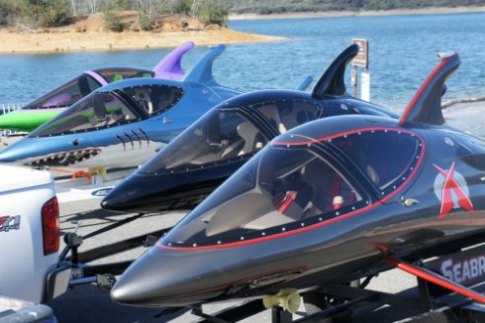 Photo:  Courtesy Innespace Productions
US Coast Guard Approved
"All models are approved for recreational use and sale by the US Coast Guard, and can be registered as a conventional inboard powerboat in most countries."
Built to Order
Each machine is custom designed and custom built to the buyer's specifications and typically ready for delivery within 45 to 60 days.
---
Side Bar
Generally, there are no standard production units offered to the public.
Occasionally, however, there are a few completed vessels available for immediate sale.  Contact Innespace for availability.
---
Distributors and Franchises
At the time of this writing, there are no distributors or franchises within the United States.
There are, however, a few distributors in other countries such as Australia, Dubai and New Zealand.
For further information, contact Innespace.
Frequently Asked Questions
To see some the more frequently asked questions and the answers, Click Here
Comments and Suggestions
I started this website in February 2011, and, quite honestly, it has not lived up to my hopes and expectations.

I would appreciate some honest appraisals and suggestions as to how to improve it.

References
Innespace Productions
http://seabreacher.com/
Jetavation Inc
http://www.jetovator.com/

Return From Seabreacher To Lake Powell Water Activities