Monument Valley...
A Land of Beauty
Monument Valley is a column of blue-clad mounted Calvary, led by John Wayne, charging across the seemingly endless desert, their horses' thundering hooves kicking up choking clouds of dust, a strident bugle spurring them on.
This is a land of striking beauty, a land of towering buttes and spires, Yei Bi Chei and totem poles, crenulated sand dunes and the ubiquitous tumbling tumbleweeds.

John Ford found this spacious land lends itself to the fantasy of the imagination, and millions of people, visitors from all over the world, would agree with that assessment.

It has been over 20 years since I first visited the park or, as it is known today, Monument Valley Navajo Tribal Park.
At that time, the road leading into the Park from off Highway 163 was just a dirt road, and visitors were immediately greeted by a shanty-town of Native-American vendors selling everything from hand-crafted jewelry and Navajo blankets to Kachinas and Navajo pottery.
These shops were nothing more than simple rag-tag wooden structures put together out of scraps of lumber, canvas tarps and corrugated tin salvaged from who knows where.
It was like something out of a third-world country somehow misplaced in this land of striking beauty.
I found it denigrating and a poor first impression of the Navajo, a proud people, rich in cultural history.

Today, thankfully, this rag-tag shanty town is gone; replaced now by a beautiful modern complex which houses a Welcome Center, Amphitheater, Arts and Crafts Mall, a new hotel with restaurant and trading post.
The Arts and Crafts Mall, also called Indian Market Plaza, is made up of shops of some of the local artists.

According to Marie Ann Yazzie-Cly of the Monument Valley Navajo Tribal Park, they include "…silversmithing, necklace design, pottery, rug weaving, basket weaving and other artifacts."

There is also a food court within the Plaza.

Twenty years ago, there were always several independent Navajo guides with pickups or jeeps waiting to take visitors on a private guided tour.

Today, in addition to the pickups and jeeps, visitors are now being shuttled around the 17 mile

scenic loop in open-air vehicles driven by knowledgeable Navajo guides.
One thing that has not changed, however, is the primitive dirt road, often clogged with tourist-packed tour-vehicles leaving clouds of thick dust in their wake.
If anything, it seems somehow rougher, dustier and less accommodating of anything short of an army hummer.
The scenic tour through the Park is seventeen miles.
Some of the things you will see are:

• The East and West Mittens, Merrick Butte & Mitchell Mesa
• Elephant Butte
• The Three Sisters
• John Ford's Point
• Camel Butte, the Hub, Rain God's Mesa
• Bird Spring and Sand Spring
• The Totem Pole & Yei Bi Chei
• Artist's Point & Spearhead Mesa
• North Window
• The Thumb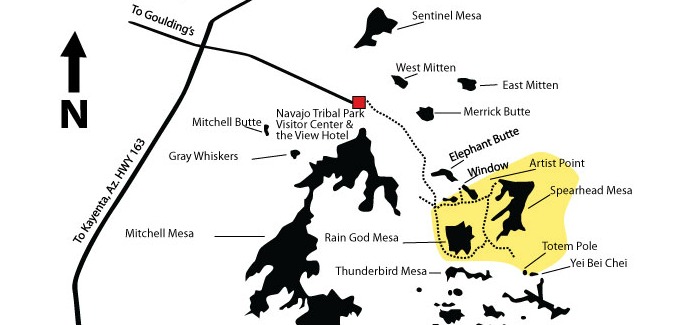 Map: Courtesy Navajo Tribal Park

Although visitors may drive their own vehicles on the scenic tour, some of the reasons you may want to hire a Navajo guide include:
• The guides are intimately familiar with the Monument and knowledgeable about the history and religious significance of all that you will see here.
• They can take you to places within the Monument where you cannot go without a guide.
• They can help you find unique photo opportunities .e.g. the sand dunes near the Totem Pole.
• You will save wear and tear on your own vehicle.

Entry Fees:
General Admission: $5.00
Ages 9 or younger: Free


**National Parks and Golden Eagle Passes are not accepted**


Visitor Center Hours:
Peak Season (May1 to Sept 30): 6 AM to 8 PM 7 Days per week
Off Season (Oct 1 to April 30): 8 Am to 5 PM 7 days per week
Thanksgiving Day: 8 Am to Noon
Christmas & New Year's Day: Closed


Scenic Drive Hours:
Peak Season: 6 AM to 8:30 PM
Off Season: 8 Am to 4:30 PM
Mexican Hat, UT Current Weather and Forecast
Contact Information:
Monument Valley Navajo Tribal Park
P. O. Box 360289
Monument Valley, Utah 84536


Telephone: 435-727-5874, 5879, 5870
Fax: 435-727-5875
Have A Great Story To Share?
Do you have a great story about this destination? Share it!
Food and Lodging:
• Goulding's Lodge : 435-727-3231
• Hampton Inn (Kayenta, Az) : 928-697-3170
• The View Hotel (Navajo Tribal Park): 435-727-5555; Fax: 435-727-5564 

---

Books and Maps about Monument Valley may be purchased at the Visitor Center, or you may purchase them through Amazon.com by clicking the link below.  


Monument Valley

---
Lodging in Mexican Hat, Utah

Additional lodging may be found in nearby Mexican Hat, Utah.  

Simply use the box on the left to  find the best deal. 

Guided Tours:
The following were downloaded from the Navajo Nation Parks website. I have no personal experience with any of them, nor do I recommend them over any guides who may not be listed.
Bennett Guided Tours
Martha Bennett
(435)727-3283
members.tripod.com/bennett_tour
Black's Jeep
Roy Black
(928)429-0637
www.blacksmonumentvalleytours.com
Blackwater Tours
(435) 727-3312 or (928) 206-9022
www.blackwatertours.com
Daniel's Guided Tours
Daniels Chee
(435)727-3227 or (800)596-8427

Dine Trail Ride Tours
Lorraine J. Black
(928)697-8489 Mesg.


Homeland Tours Albert Atene
(435)727-3245
1-800-388-5613


Keya-Hozhoni Tours
Tom J. Phillips
(928)674-1960
www.monumentvalley.com


Monument Valley Safari
Nate Holiday
(928)209-1364
www.monumentvalleysafari.com

Monument Valley Simpson's
Trailhandler Tours
Harold Simpson
(435)727-3362
www.trailhandlertours.com



Roland's Navajoland Tours
Roland Dixon
(928)697-3524/3374 Fax

Sacred Mountain Tours
Torrie Teeasyatoh
(435)727-3440

Toney's Monument Valley Tours
Toney Begay
(928)309-2410

Totem Pole Tours
Rosita L. Bedoni
(435)727-3313/3315 Fax



References & Resources:
Navajo Nation Parks
http://www.navajonationparks.org/index.htm
http://navajonationparks.org/htm/monumentvalleytours.htm

Open Travel Info
http://www.opentravelinfo.com/area/north-america/u-s-a/arizona/the-best-way-to-tour-monument-valley.html

Wikimapia
http://wikimapia.org/10587079/Monument-Valley-Welcome-Center