Antelope Point Marina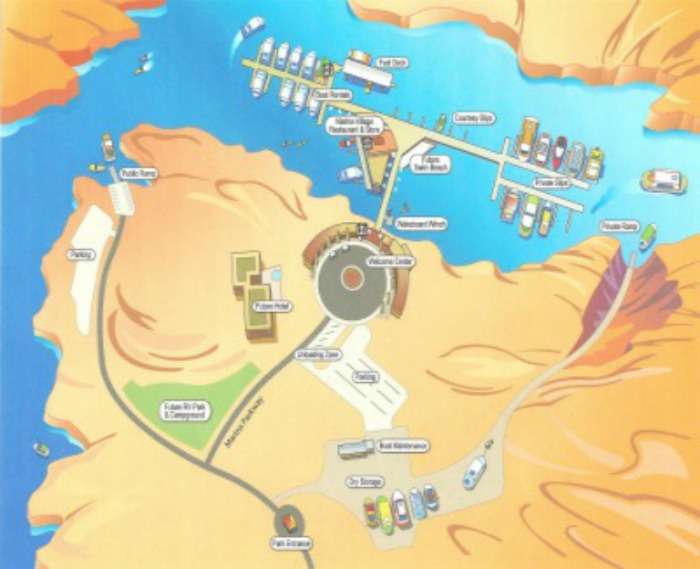 Antelope Point Marina is the newest marina on Lake Powell and the only one which is not operated by ARAMARK.
Rather, it is operated by Antelope Point Holdings which is the only other concessioner authorized by the National Park Service to operate on Lake Powell.
This marina is located approximately 5 miles from Glen Canyon Dam if you travel by water or about 8 miles by automobile from Page, Arizona off State Road 98.
Some of the services offered are:• A Six Lane Launch Ramp
• 80 Boat Slips
• 30-Acre Dry Storage Facility
• Fuel Dock
• Dump Station
• Boat Pump-out Station
• Shuttle Service
• Boat Rental
• Fishing Tackle Rental
• Camping Gear Rental
• Guided Lake Tours
• Guided Sportfishing
The main focus here is the Floating Village which sits on a floating platform composed of 33,333 cubic feet of concrete, 247,000 pounds of reinforcing steel and 122,000 cubic feet of Styrofoam and is considered the largest of its kind in the world.
The 27,000 square foot Village consists of a 5,000 square foot store and full service restaurant, a snack bar, public restrooms and a bar and lounge.
When this estimated $80,000,000.00 project is completed they will have a 225 room resort, an RV park and campground.

Their recently added water park is the only one on Lake Powell and now features two wakeboard winch towers.
"This exciting new feature means longer rides and more fun for you!"
A water park is a body of water with cable towers spread around the water area. A wakeboard rope and handle is attached to the cable. The boarder holds on to the handle and is pulled around the park. Parks may have jumps spread throughout the water area as well as rails.
Rails are simply raised railings which the boarder jumps onto using an Ollie (jumping without using the wake) and slides along its length. Depending on their levels of skill and courage they may do tricks along the rail and/or when dismounting.
To learn more about wakeboarding at Antelope Point Marina, Click Here

Contact Information:

Antelope Point Marina
537 Marina Parkway
Navajo Route 22B
PO Box 880
Page, AZ 86040

Phone: (928) 645-5900

o Option 1: Boat Rentals
o Option 2: Antelope Yacht Service
o Option 3: Dry Storage
o Option 4: Ja'di'To'oh Restaurant
o Option 6: The Market Place Store
o Option 8: Fuel Dock
o Option 9: Accounting

Fax: (928) 645-5914

Return From Antelope Point MarinaTo Lake Powell Marinas

Return To Lake Powell Country