A Complete Guide To…

Arches National Park
Arches National Park, located off Highway 191, five miles North of Moab, Utah, With more than 2,000 arches has the greatest density of natural arches in the world.
National Park offers mute testimony to the forces of wind and water erosion.
The park is home to Delicate Arch, one of the most photographed arch in the park and the one displayed on Utah's license plates.
Location

Arches National Park is located off Highway 191, five miles North of Moab, Utah.

Getting There

Moab has an airport located 16 miles from downtown Moab.  The service provider is Great Lakes Airlines.

They have daily scheduled service to Denver, CO and Vernal, UT.

Grand Junction Regional Airport - Grand Junction, Colorado (GJT) and Salt Lake City International Airport - Salt Lake City, Utah (SLC) are the nearest airports serviced by the major airline carriers.

There is no rail service into Moab.

---

Books and Maps about Arches National Park may be purchased at the Visitor Center, or you may purchase them through Amazon.com by clicking the link below.  


Arches National Park

---
Arches National Park is Located

• 5 miles north of Moab, Utah
•  273 Miles northeast of Page, Arizona
• 110 miles southwest of Grand Junction, Colorado
• 236 miles south of Salt Lake City, Utah
• 360 miles southwest of Denver, Colorado
• 350 miles north of Grand Canyon National Park's South Rim

Operating Hours & Seasons

Arches National Park is open 24 hours a day, every day of the year.

Visitor Center

• Open daily 9:00 a.m. to 4:00 p.m.
• Open extended hours spring through fall.
• Closed Christmas Day

Sand Dunes Arch

Fees & Reservations
• Individuals: $5 (Good for 7 Days)
Applies to motorcycles, bicycles and walk-ins (per person).

• Vehicles: $10 (Good for 7 days)
Includes all occupants of a vehicle.

• Local Passport: $25 (Good for one year)
Good for entrance to Arches, Canyonlands National Park, Hovenweep National Monument and Natural Bridges National Monument.

• All federal lands passes are issued and accepted at Arches.
Park Map
For a map of Arches National Park, Click Here.
Balanced Rock


Weather and Climate

Arches National Park is located within the Colorado Plateau, a "high desert" region, and is subject to wide temperature fluctuations.


The most popular times to visit the park are during the spring and fall when daytime highs average 60 to 80 F and lows average 30 to 50 F.


Summer temperatures often exceed 100 F.

Winters can be cold with high temperatures  averaging 30 to 50 F and lows averaging 0 to 20 F.


Except in the nearby mountains, snowfall is light.

To find Temperatures and Precipitation by month, Click Here.

For Current Weather in Moab, Click Here.




Getting around the park
In 2010, for the first time in the park's history, visitation reached one million visitors during one year.   
Unfortunately, the infrastructure at the park is not equipped to handle such numbers.
Photo: Courtesy NPS

The roads are narrow and the parking is limited at all destinations, especially at such popular trailheads as Delicate Arch and Devils Garden which may fill for hours at a time, especially on weekends and holidays.
It is commonplace to find the parking lots full anytime between 10 a.m. and 4 p.m. from March through October.
And, even if you find a parking space, "…expect to see a lot of other visitors on the trail. It is not uncommon for hundreds of people to visit Delicate Arch at sunset." 1
You can avoid some of the crowds by arriving at the park before 8 A.M., although even then you will encounter photographers who are out early to capture the sweet light.
Delicate Arch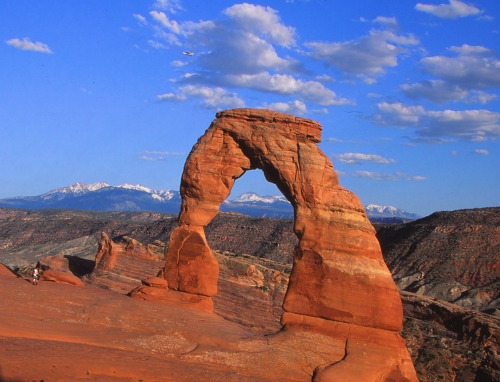 ---
Sidebar
It is difficult to see, but just to the left of the clouds above the arch is a small white airplane.

---
Have A Great Story To Share?
Do you have a great story about this destination? Share it!
What Other Visitors Have Said
Click below to see contributions from other visitors to this page...

Artist in the Park 2013 Schedule

This is the fifth year that a community artist has been selected to mingle with visitors to Arches (and Canyonlands) National Park to share creative passions …
Best Time to Visit
To avoid the masses of adoring visitors to Arches National Park, the best time to visit is generally anytime between November and May.
According to Rebecca Latson, in a February 23, 2013 posting on her website,
"February is an awesome time to visit the park, if you can handle the cold temperatures. There are absolutely NO crowds – not even tour buses.
That means you can explore popular spots like Balanced Rock, the Windows section, and Delicate Arch without having to clone people out of your images.  At times, I was the only person there (Balanced Rock and Delicate Arch) and it was an incredible feeling. Plus, it might snow in February like it did for me when I was there." 2
North and South Windows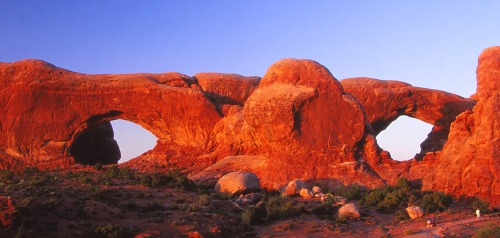 Times to Avoid
July through August are especially busy times of the year even though the temperatures are exceedingly high.
The following holiday and weekends are best avoided:
• Easter week (date varies - usually in April)
• Memorial Day (last Monday in May)
• Labor Day (first Monday in September)
• Utah Education Association break (4 days in October)
Lodging

There is no lodging within Arches National Park.

The nearest lodging is in Moab, Utah located 5 miles south of the park.

To find lodging in Moab, use the Search Box to the right.
Simply enter the location and dates you have in mind, and the server, Hotels Combined, will provide you with a list of the lodging available on the dates you have specified.

This is not a booking agency. It is a search engine to help you find great lodging at great prices. 
Double Arch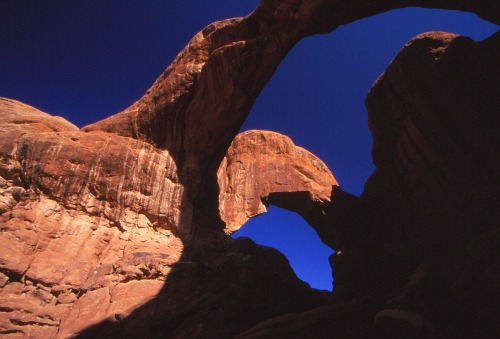 Camping
 Devils Garden Campground
• Located eighteen miles from the park entrance Open year-round.
• 50 individual sites at $20 per night
• Sites will accommodate up to ten people.
Facilities include
• Potable water
• Picnic tables
• Grills
• Both pit-style and flush toilets
---
Sidebar
There are no showers or RV dump/fill stations.
Some sites will accommodate RVs up to 30 feet in length.
Bring your own wood or charcoal for the grills.
---
Reservations
All reservations must be made through www.recreation.gov or by calling (877) 444-6777, (877) 833-6777 (TDD), or (518) 885-3639.
• All sites may be reserved for nights between March 1st and October 31st.
• Reservations must be made no less than four days and no more than 180 days in advance.
• There is an additional $9 booking fee for reservations.
For more information about the Campground and Reservations, Click Here.
Things To Do
Auto Touring
For the many visitors who are limited on time or who prefer to remain close to their vehicles, the 18-mile scenic drive through The Devil's Garden and the Windows Section of the park offers them an opportunity to see some of the outstanding features of the park.
For more information on Auto Touring, Click Here.

Backpacking

• Arches National Park is a relatively small park with few undeveloped areas suitable for backpacking.
• There are no designated trails, campsites, or reliable water sources

Permits

• Free backpacking permits are required for overnight backcountry travel.
• They must be obtained in person at the Arches Visitor Center
• Permits may not be reserved in advance.
• Permits may not  be picked up within one hour of sunset to allow time for reaching and establishing a campsite.

To download a Backpacking Brochure, Click Here.




Balanced Rock

Biking
Bicycles are permitted on all paved and unpaved roadways within the park but not on any of the trails.
Within the park, there are no bike lanes, and riders are required to ride single file with the flow of traffic.
Outside of the park, there are ample opportunities for biking. There are trails of every difficulty level, from dirt roads to technical single-track.
A paved bike trail runs along Highway 191 from Moab to the entrance of Arches and continues on to Highway 313 which leads to Canyonlands National Park and Dead Horse State Point
Spires and La Sal Mountains

Hiking
Hiking in Arches National Park is a great way to explore the park and see the arches from a different perspective.
There are hikes for everyone: easy, moderate and difficult.
Easy Hikes
These hikes range from 0.3 miles round trip to 1.6 miles and take from 15 to 60 minutes to complete.
They include the following trails:
• Balanced Rock
• Broken Arch
• Courthouse Wash Rock Art Panel
• Delicate Arch Viewpoint
• Double Arch
• Landscape Arch
• Sand Dune Arch
• Skyline Arch
• The Windows
Sunburst North Window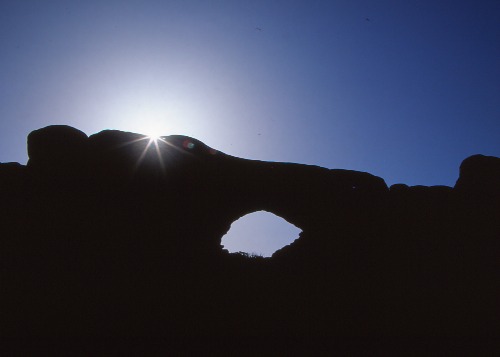 Moderate Hikes
These hikes range from 2.0 miles round trip to 3.4 miles and take from 60 minutes to 3 hours to complete.

They include the following trails:
• Park Avenue
• Tower Arch
Difficult Hikes
These hikes range from 3.0 miles round trip to 7.2 miles and take from 2 to 5 hours to complete.

• Delicate Arch
• Devils Garden Primitive Loop
• Double O Arch
• Fiery Furnace
---
Side Bar
"There are no marked trails to the Fiery Furnace and the area has suffered resource damage due to increased visitation. Hikers who want to explore the Fiery Furnace are encouraged to sign up for a ranger-guided hike.
In order to visit the Furnace without a ranger, one must obtain a permit at the visitor center (fee charged) and watch a minimum impact video." 1
Photography

Arches National Park abounds with great photographic subjects.  And while the subject plays an important role in making a great image, it is not necessarily the most important role.

A great subject in unflattering light generally makes for an unflattering photograph. 

But, that same subject shot in the golden light of early morning and late afternoon seems to glow from within; it takes on a life of its own.

Even an unflattering subject can look great in the right light!

So make it a point, when possible, to do your shooting early in the morning and late in the afternoon.

Remember, too, that some subjects photograph better in the mornings as opposed to the afternoons.

Rough Mule's Ears

 To help you plan your shooting schedule, the Arches National Park service has published a list of arches and the suggested best time for filming them.

To see that list, Click Here.
Some of the most dramatic photographs I have ever seen were made when the weather was stormy.
 
Storm clouds billowing in the sky, jagged bolts of lightning streaking toward the ground, a double rainbow arcing through the heavens and who could ever forget the horror of a tornado racing across the landscape.
Storms make for dramatic photographs, but don't place your life in danger trying to capture them.  Be aware of their potential for dramatic images as well as their potential for doing you harm.
Wildlife Viewing
Mammals
Almost 50 species of mammal are known to live in Arches National Park.
The following are a few of the more common:

• Kangaroo rat
• Mule deer
• Mountain lion
• Desert bighorn sheep (Use Desert Bighorn Graphic)
• Desert cottontail
• White-tailed antelope ground squirrel
• Rock squirrel

Desert Bighorn Lamb

American Kestrel


Birds

273 species have been seen in the park, including seasonal and year-round residents as well as migrants.

The following are some you could expect to see on your visit:

• common raven
• american kestrel  (Use Kestrel graphic)
• american robin
• canyon wren
• red-tailed hawk
• turkey vulture

Reptiles

• gophersnake
• plateau lizard
• striped whipsnake
• western whiptail

Wildflowers
While one does not normally expect to find wildflowers growing in a desert environment like Arches National Park, they are actually quite bountiful.
Depending on the time of year in which you visit the park, here are some of the flowers you could expect to see:

• prince's-plume
• rough mule's-ears
• dwarf lupine
• fragrant sand-verbena
• gunnison's gilia
• ives' phacelia
• pale evening-primrose

Prince's Plume

Trees and Shrubs
Large plants are a natural part of the high desert ecosystem providing food, shelter and shade for animals and for the prevention of soil erosion.

Some of the more common trees and shrubs are:
• basin big sagebrush 
• cliff-rose
• dwarf mountain mahogany
• five-stamen tamarisk
• four-wing saltbush
• fremont cottonwood
• two-needle pinyon
• glabrate rabbitbrush
• graystem rabbitbrush
• utah juniper
For more information on all of the park's animal and plant species, Click Here:
Pets

Pets are allowed at Arches National Park on a very limited basis:
Allowed (While on a Leash)

• Campgrounds
• Overlooks
• Pullouts along paved scenic drives

Not Allowed

• In Public buildings
• On any hiking trails
---
Sidebar
Pets must be on a leash at all times when outside a vehicle.
Pets may not be left unattended
• The exception is at a paid campsite at the Devils Garden Campground as long as they do not cause a disturbance.
---
Boarding Services

There are two kennels in Moab which offer boarding services:
 
Karen's Canine Campground
2781 S. Roberts
(435) 259-7922

Moab Veterinary Clinic
4575 Spanish Valley Drive
(435) 259-8710

Pet-sitting

Pet-sitting services are offered at:

Krista's Pet Care
(435) 260-2040
Moab

The town of Moab had its early beginning in April of 1855 with the establishment of a trading fort called "Elk Mountain Mission," but, after repeated attacks by Ute Indians, the fort was abandoned in September of the same year. 

It would be another twenty-three years, 1878, before Moab would become a permanent settlement.

On December 20, 1902 Moab was incorporated into a town.

It has gone through several transitions, from an agricultural based economy, to potash and manganese mining, to becoming the "Uranium Capital of the World" in the 1950s.

Today, Moab, a town of almost 6,000 people, has become a popular destination of mountain bikers, four-wheelers, hikers, rockclimbers, photographers, rafters, Highliners and BASE jumpers.
If you are planning on staying a few days in Moab, or even a few hours, a good place to start would be with a visit to the website of the Moab Area Travel  Council.
Here you will find just about anything to do with Moab and the Moab area, from dining and lodging, to local attractions, even to weddings beneath a sandstone arch.


History and Culture
The Ancient Ones
Like much of the southwest, Arches National Park was home to the ancestral Puebloan and later the Fremont people. 
 
They were hunters and gatherers who settled in the area and raised maize, squash and beans and lived in pueblos similar to those found at Mesa Verde.
The only evidence they left behind of their existence here are rock art panels.
Both the Fremont and the ancestral Puebloans left the area about 700 years ago.
They were replaced by nomadic Ute and Paiutes.  This is evidenced by rock art panels which depicted men on horseback.  Horses were introduced to the natives by the Spanish.
European Settlers
Spanish explorers were in the area searching for travel routes from Santa Fe, NM to their missions in California.  The old Santa Fe Trail passed by what is today the park's Visitor Center.
The earliest known date of a person of European ancestry visiting the park was June 9, 1844. This was an inscription left behind by Denis Julien, a French-American trapper.
In the 1850's Mormon Church of Latter Day Saints tried to establish the Elk Mountain Mission in what is now Moab.  This Mission was abandoned due to conflicts with the Utes.
Somewhere around 1898, Civil War veteran John Wesley Wolfe, built a homestead, known as the Wolfe Ranch, across from what is today the Delicate Arch trailhead.
He and his family lived there for ten years or more before moving back to Ohio.
The cabin remains as an artifact to those early years.
Delicate Arch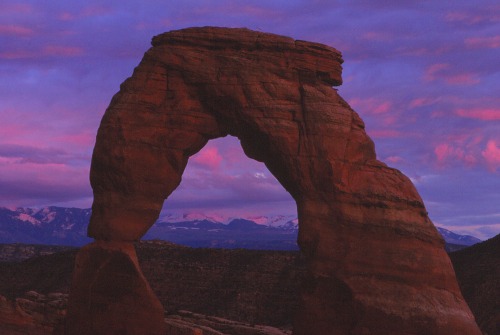 Alexander Ringhoffer and the Rio Grande Western Railroad
In 1923 Alexander Ringhoffer, a local prospector, wrote the Rio Grande
Western Railroad, in an effort to publicize the area and gain support
for creating a national park.
Railway executives, interested in bringing more rail passengers to the area, were quick to respond and soon the United States government sent investigative teams to gather evidence.

National Status
In 1929, President Herbert Hoover signed the legislation creating Arches National Monument.
In 1971 Congress changed its status to a National Park.

---
Balanced Rock, Buttes and Storm Clouds 

Sidebar
Journalist and environmental activist, Edward Abbey, worked as a seasonal ranger for the National Park Service at Arches National Monument in 1956 and 1957.
His first work of non-fiction, Desert Solitaire: A Season in the Wilderness, was based upon notes and sketches from those years.
He was best known, however, for The Monkey Wrench Gang which was used as a handbook for radical environmentalist groups.
Edward Abbey died on March 14, 1989 at his home in Tucson, Arizona.
"Abbey wanted his body transported in the bed of a pickup truck, and wished to be buried as soon as possible. He did not want to be embalmed or placed in a coffin.
Instead, he preferred to be placed inside of an old sleeping bag, and requested that his friends disregard all state laws concerning burial…. Abbey's body was buried in the Cabeza Prieta Desert in Pima County, Arizona." 3
References and Resources
Arches.national-park.com
http://www.arches.national-park.com/
AzCentral.com
http://getawaytips.azcentral.com/time-visit-arches-national-park-utah-1294.html
1 National Park Service
Arches National Park
http://www.nps.gov/arch/index.htm
http://science.nature.nps.gov/im/units/ncpn/SpeciesSelect.cfm
2 Rebecca Latson Photography
http://rebeccalatsonphotography.me/2013/02/23/february-in-arches-national-park-utah/
Utah.com
http://www.utah.com/nationalparks/arches.htm
3 Wikipedia
The Free Encyclopedia
http://en.wikipedia.org/wiki/Edward_Abbey
http://en.wikipedia.org/wiki/Moab,_Utah
http://en.wikipedia.org/wiki/BASE_jumping
http://en.wikipedia.org/wiki/Highlining
Return From Arches National Park To Nearby Attractions 
Return To Lake Powell Country And Grand Circle Home