A Guide To Calf Creek Falls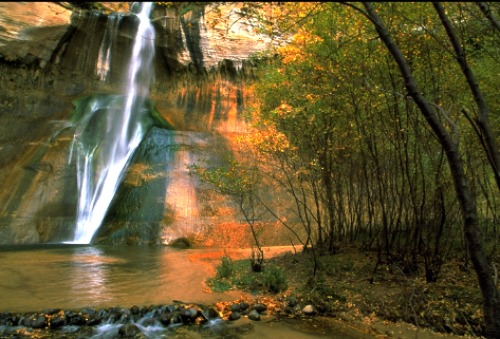 Calf Creek Falls, located off southern Utah's scenic highway 12, is one of the major attractions within the Grand Staircase Escalante National Monument.
It is a beautiful 126 foot high waterfall located at the end of a 2-¾ mile hike through mostly soft deep sand.
Although it is a moderately strenuous walk, it is well worth the time and effort.
Visitors can pick up a pamphlet at the beginning of the trailhead, which highlights various stops along the trail, such as descriptions of flora and fauna, Anasazi ruins and petroglyphs.
What To Do:
• Photography
• Wildlife viewing
• Hiking
• Camping
• Swimming

Flora and Fauna:

• Utah juniper
• Box elder
• Rabbit brush
• Pinyon
• Mule deer
• Wild turkey
• Coyotes




---

Books and Maps about Calf Creek Falls may be purchased through Amazon.com by clicking the link below.  

Calf Creek Falls

---
About The Trail:
From the trailhead near the parking lot and campgrounds to the Lower Falls is about 2-3/4 miles.

The trail is well-marked and, although there is little gain in altitude, it is variously rated as moderate to strenuously moderate.
The trail follows along on the west side of Calf Creek, so there is never any need to cross the creek.
For the most part, it is soft, deep sand similar to that found along ocean beaches or in many of our southwestern sandy arroyos.

For that reason, it can be tiring, especially if weighted down by a backpack, tripod and camera.
Depending on your age and physical fitness, you should allow 90 minutes to 2 hours each way. Always allow more time than you think you will need.
Also, allow yourself plenty of time for photographs!

Escalante, UT Current Weather and Forecast
Best Time To Visit:
Temperatures in the summer time can often reach 100° and above.
For that reason, Spring and Fall are generally considered ideal times to visit.
Having said that, however, if you avoid hiking during the hottest times of the day, summer can be a great time to swim and play in the water below the falls.
Side Bar: Even in the summer, the water is cold!
Regardless of when you go, take plenty of water with you; dehydration can be a very serious and debilitating condition.


Escalante :

Simply use the box on the right, which is powered by Hotels Combined, to get you the best deals for the dates you have in mind. This is not a booking agency; it is only a search engine to find you the best deals.

Calf Creek Recreation Area Campground - Located near the trailhead to Calf Creek Falls, it consists of:
• 13 small individual campsites
• clean restrooms
• 5 individual picnic units
• group picnic area
• playground equipment
• 2 volleyball courts
Camping Fees:
$5.00 per night on a first-come basis.
Other Fees:
$2.00 Parking Fee

Have A Great Story To Share?
Do you have a great story about this destination? Share it!
References and Resources:
Utah. com
http://www.utah.com/hike/calf_creek.htm
Herald Extra
http://www.heraldextra.com/lifestyles/recreation/land/hiking/check-out-my-favorite-utah-waterfall-calf-creek-falls/article_6c721a01-aa02-5ff0-9021-6bfece874c78.html
Lake Powell Chronicle
http://www.lakepowellchronicle.com/view_xml_entity.php?id=Ar01400&date=03-31-2010-14&bodyInfo=false&entity=article&toc_id=385

Return From Calf Creek Falls To Nearby Attractions