A Complete Guide To…
Canyonlands National Park
Island in the Sky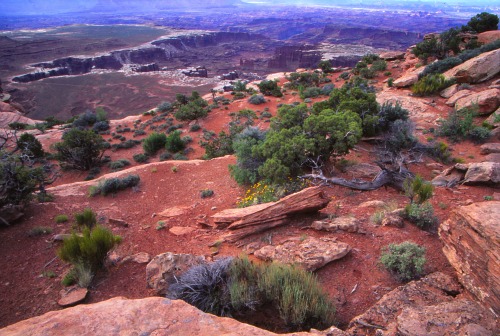 The Green and Colorado Rivers divide Canyonlands National Park into three distinct districts: the Island in the Sky, the Needles and the Maze; each named for their unique features.

It is a land of contrast, from towering plateaus, to needle-like sandstone spires to deeply grooved gooseneck canyons.

It is a place for the young and the not-so-young but still young at heart. 
1. Island in the Sky
2. White Rim Road
3. Needles
4. Maze
5. Orange Cliffs Unit (Glen Canyon NRA)
6. Horseshoe Canyon
7. Green River
8. Colorado River
9. Cataract Canyon
---

Books and Maps about Canyonlands National Park may be purchased at the Visitor Center, or you may purchase them through Amazon.com by clicking the link below.

Canyonlands National Monument

---



GETTING THERE

Car

There are two paved entrances into Canyonlands: Highway 313 leads to the Island in the Sky, while Highway 211 leads to the Needles.

Roads to the Maze, which may become impassable when wet,  are a mixture of graded dirt and 4WD.
Airplane

Grand Junction, Colorado and Salt Lake City are the two nearest cities with commercial airline service. 

Moab has commercial service to and from Denver.

Grand Junction is approximately 2 hours by car from the entrance to Island in the Sky, and Salt Lake City is approximately 4 hours away.
Bus

Greyhound travels along Interstate 70, making stops at Grand Junction, CO and Green River, UT.

Commercial vans/shuttles operate between Moab and Salt Lake City as well as Grand Junction.

Train

Grand Junction, Colorado and Green River, Utah are the two nearest towns with Amtrak service.

A commercial van operates between Grand Junction and Moab.
Upheaval Dome - Island in the Sky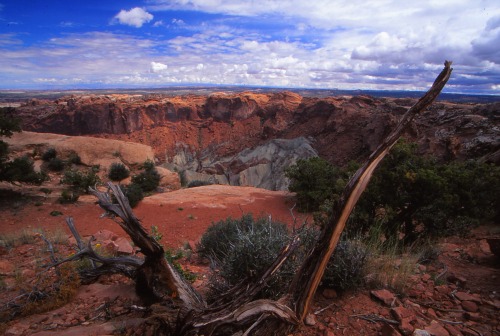 Operating Hours & Seasons

Canyonlands is open year-round, 24 hours a day.

The three districts have their own visitor center and operating hours that differ depending on the season.

Island in the Sky

•    Open daily from 8 a.m. to 6 p.m. spring through fall.
•    Open daily from 9 a.m. to 4 p.m. other times of the year.
•    Backcountry permits are issued from 8 a.m. to 5 p.m.

The visitor center is closed on Thanksgiving Day, Christmas Day, and New Year's Day.
Maze

The Hans Flat Ranger Station is open daily from 8 a.m. to 4:30 p.m. and will close Thanksgiving Day, Christmas Day, and New Year's Day.

Needles

•    Open 8 a.m. to 6 p.m. mid-February through early December
•    Open 9 a.m. to 4 p.m. other times of the year
•    Backcountry permits are issued from 8 a.m. to 5 p.m.

It is closed Thanksgiving Day and for an extended period during the winter.
Needles Overlook 
Fees & Reservations

Entrance Fees

The entrance fees are good for 7 days.

•    Individuals: $5 - applies to motorcycles, bicycles and walk-ins (per person).
•    Vehicles: $10 - includes all occupants of a vehicle.

Local Passport: $25 (Good for one year)
Good for entrance to Arches, Canyonlands, Hovenweep and Natural Bridges.

All federal lands passes are issued and accepted at Canyonlands.
Camping Fees

Island in the Sky

•    Sites at Willow Flat Campground are $10 per night.
•    First-come, first-served.

Needles

•    Sites at Squaw Flat Campground are $15 per night.
•    First-come, first-served.
Reservations

The only reservations available are for:
•    Backcountry permits
•    River permits
•    Group campsites in the Needles
Green River Overlook - Island in the Sky
Backcountry Regulations

Permits are required for all overnight trips in the backcountry.

It is important you read and adhere to the regulations which are printed
on all backcountry permits issued by Canyonlands.

To see a copy of these regulations, Click Here.
Lodging

There is no lodging within the park.

The nearest lodging is in Moab, Utah located 5 miles south of the park.

To find lodging in Moab, use the Search Box to the right.

Simply enter the location and dates you have in mind, and the server, Hotels Combined, will provide you with a list of the lodging available on the dates you have specified.

This is not a booking agency. It is a search engine to help you find great lodging at great prices.
Have A Great Story To Share?
Do you have a great story about this destination? Share it!
Pets

Activities with pets are very limited at Canyonlands.

Pets are allowed:

•    In developed campgrounds
•    Along paved roads
•    Along the Potash/Shafer Canyon road between Moab and the Island in the Sky.
Pets are not allowed:
•    On hiking trails
•    Anywhere in the backcountry
•    To accompany groups traveling by four-wheel-drive vehicle, mountain bike or boat.

Pets must be leashed at all times when outside a vehicle.
---
Important Warning from the NPS!

The desert can be deadly for pets. Car temperatures rise quickly in the sun, even on cool days. Your pet can easily die of heat exhaustion.

If you are leaving a pet in a car, crack the windows as much as possible and leave water to drink.

We recommend you not leave pets in the car at all when temperatures are above 68 degrees, even with the windows cracked.
---
Kennels offering boarding services in Moab:

Karen's Canine Campground
2781 S. Roberts
(435) 259-7922

Moab Veterinary Clinic
4575 Spanish Valley Drive
(435) 259-8710
Upheaval Dome - Island in the Sky
Things To Do

For the active person, Canyonlands National Park offers a multitude of outdoor activities such as:

Auto Touring

There are hundreds of miles of four-wheel-drive roads in Canyonlands ranging in difficulty from intermediate to extremely challenging.

However, for the regular two-wheel-drive family sedan, the paved Island in the Sky scenic drive is the one most recommended.

Island in the Sky sits 1,000 feet above the surrounding country and the drive offers many pullouts with expansive, panoramic views. 

For further information on auto touring, click here.
Wooden Shoe Arch - The Needles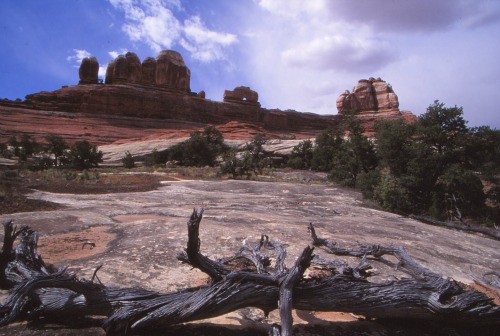 Biking

If you like mountain bike camping and a good challenge, you will love the White Rim Road in the Island in the Sky district.

This is a 100 mile dirt road which loops around and below the mesa top offering broad views of the surrounding country.

Backcountry permits are required, and during the spring and fall seasons the demand for permits often exceeds the number of permits available.

There are 10 campsites spaced along the road and bicyclists must stay in one of the designated campsites. 
Outdoor toilets are provided at each of the campsites, but none of the campsites have potable water.

The park service recommends you have a four-wheel-drive support vehicle to carry water and equipment.

This can be a challenging ride, especially during inclement weather, so come prepared. 

Roadside Ruins - The Needles
Ranger-led Programs

Ranger-led-programs are one of the greatest ways to learn about Canyonlands National Park. 
These knowledgeable rangers offer programs on a variety of subjects from exotic plants and astronomy to cowboys and explorers; most programs last about one hour.
To learn more about these programs, click here.
Snow-capped Mountains As Seen From Island in the Sky
Weather

Canyonlands National Park is located within the Colorado Plateau, a "high desert" region that experiences wide temperature fluctuations, sometimes over 40 degrees in a single day.

Spring (April through May) and fall (mid-September through October) are the most popular seasons when daytime highs average 60 to 80 F and lows average 30 to 50 F.

Summer temperatures often exceed 100 F.

Late summer monsoon season brings violent storm cells which often cause flash floods.

Winters are cold, with highs averaging 30 to 50 F, and lows averaging 0 - 20 F.

Snowfall is uncommon, except in the nearby mountains.  However, even small amounts of snow or ice can make local trails and roads impassable.

To see weather charts depicting monthly temperatures and precipitations, Click Here.
For current Moab weather and weather forecasts, Click Here.
Sandstone Upheaval - The Needles
Flora and Fauna
To many people unfamiliar with the desert southwest, the only living things found here are rattlesnakes, scorpions and cactus.

Leading to that assumption is the fact that during the heat of the day, the desert landscape appears to be devoid of wildlife. 
But, as we all know, looks can be deceiving.

Most of the creatures we find here are either nocturnal, active only at night, or crepuscular, most active during the early morning and late afternoon hours.

The best times, then, to see wildlife are during the evening hours or those early in the morning or late in the afternoon.
Desert Bighorn Sheep
Mammals 

Some of the mammals we commonly expect to see at Canyonlands National Park are:

•    Mule deer
•    Coyotes
•    Porcupines
•    Desert cottontails
•    Black-tailed jackrabbits

Some of the less common mammals are:

•    Desert bighorn sheep
•    Skunks
•    Ringtails
•    Foxes
•    Bobcats
•    Mountain lions
Birds   
Most of the wildlife we see at Canyonlands National Park are birds.
273 species have been seen in the park.  This number includes seasonal and year-round residents as well as migrants.
Birds, like other wild creatures, favor certain environments.
For example, Say's phoebes, black-throated sparrows and western meadowlarks prefer areas where grasses, shrubs and small trees dominate.
Pinyon jays, scrub jays, juniper titmice and black-throated gray warblers are usually seen in pinyon-juniper woodlands.
Riparian areas, like along the Colorado and Green rivers, attract blue grosbeaks, yellow-breasted chats, spotted towhees, canyon wrens and great blue herons.
Other birds you may expect to see are:

• Ash-throated flycatcher
• Black-billed magpie
• Canada goose
• Common raven
• Cliff swallow
• Coopers hawk
• Great horned owl

Great-horned Owl
Reptiles

The only venomous snake found in Canyonlands National Park is the Midget-faded rattlesnake, which is primarily a nocturnal snake, lives in burrows and rock crevices and is actually listed as uncommon.

•    Common sagebrush lizard
•    Gophersnake
•    Plateau lizard
•    Striped whipsnake
•    Side-blotched lizard
Common Shrubs

Plants are critical components to all ecosystems, and Canyonlands National Park is no exception.

Plants provide food and cover for animals, convert carbon dioxide to oxygen, remove dangerous toxins from the air and trap dust particulates.
Some of the more common shrubs you may find are:

•    Mormon tea
•    Blackbrush,
•    Four-wing saltbush
•    Cliffrose
•    Netleaf hackberry
•    Russian olive *
•    Tamarisk *
•    Fremont's cottonwood

* Non-native

Cliffrose
Common Trees

•    Pinyon pine
•    Utah juniper
Wildflowers   
Wildflowers are dependent upon several environmental factors, such as rainfall, temperature and season.
Some of the common flowers you may expect to find are:

•    Evening primrose
•    Sacred datura
•    Sand verbena
•    Yucca
•    Claret Cup

Claret Cup
Green River Overlook - Island in the Sky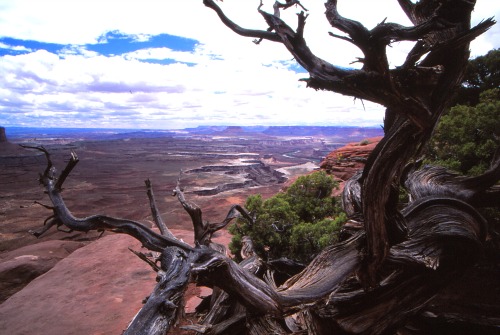 History

Native Americans

Archaeologists believe that the first human inhabitants of Canyonlands National Park arrived here over 10,000 years ago.

These were the Paleo-hunters who probably did not live there permanently but only traveled through the country in search of big game.

They were followed by the Archaic hunter-gatherers who are believed to be responsible for the beautiful pictographs and petroglyphs found in the Great Gallery in Horseshoe Canyon.

Then about 2,000 years ago, the ancestral Puebloans moved into the area and began farming maize, squash and beans to supplement their animal diet. 

They lived in multi-room structures built of native stone such as those found in the Tower Ruins in the Needles.

They shared this area with the Fremont people who were also farmers but who lived in pit houses dug into the ground and covered with a brush roof, or in natural rock shelters.
Photo: Courtesy National Park Service

European Descent

The first documented account of European descent was Julien Denis, a fur trapper who inscribed his name, the date and a pictured of a boat on a sandstone rock along the Green River.

The first official exploration of the area was in 1869 by John Wesley Powell.

Mining prospectors roamed the area in the late 1800s and large ranching operations brought horses and cattle into the canyonlands.

In the 1950s, mining prospectors covered the area searching for Uranium.
 
Although large amounts of Uranium were taken from the area, they met with little success within what is now Canynlands National Park. 
However, the roads they created in their search for Uranium opened the area to visitors who came to marvel at nature's marvels.
Needles Overlook
National Park Status

The man behind the park, Bates Wilson, was superintendent of nearby Arches National Park from 1949 to 1964.

After visiting the area in 1951 he became a strong advocate of making it a National Park.

He began taking government officials on jeep tours into the canyon lands.

In June of 1961, Utah Democratic Senator Frank Moss, Secretary of the Interior Stewart Udall and members of his family made one of those trips.
When Udall returned to Washington, he began lobbying for Canyonlands National Park, and in 1962, Senator Moss introduced the Canyonlands park bill.

Also that year, the U.S. Department of the Interior published a paper entitled A Proposed Canyonlands National Park.

On September 12, 1964, President Lyndon B. Johnson signed Public Law 88-590 establishing Canyonlands National Park.

On November 12, 1971, Canyonlands was expanded to its current size of 337,598 acres.
References and Resources For Canyonlands National Park

Canyonlands National Park Information Guide
http://www.canyonlands.national-park.com/info.htm

National Park Service
http://www.nps.gov/cany/index.htm 


Nicky J. Leach, The Guide To National Parks of the Southwest, Southwest Parks & Monuments Association (Tucson, Arizona, 1992).

Utah History To Go
http://historytogo.utah.gov/utah_chapters/utah_today/thecanyonlandsnationalparkcontroversy.html



Return From Canyonlands National Park To Nearby Attractions

Return To Lake Powell Country and The Grand Circle Home Page