Colorado River Rafting
From Glen Canyon Dam
To Lee's Ferry, Arizona
Hard Hat Country
Going Down Ramp
To Rafts
Hanging Gardens Near Ramp
Colorado River rafting had its start with John Wesley Powell in 1869, when he and his companions made their way from Green River, Wyoming to and through the Grand Canyon in Arizona.
Since then, rafting has come a long way: from fragile wooden boats handled by men with little boating experience to large, motorized rubber rafts piloted by experienced and knowledgeable river guides.

Colorado River rafting below the Glen Canyon Dam is another one of those "Do not miss" activities.
But, don't worry, it's not the wild, white water Colorado River river rafting you see in the movies or in one of those awesome, thrilling, knuckle-crunching Extreme Sport Specials you see on TV.
Rather, it is more the lazy, leisurely raft trip reminiscent of Tom Sawyer and Huck Finn floating down the Mississippi River, fishing poles in hand.
Colorado River rafting is a trip through geologic time with exposed rock strata telling a story of birth and creation, if only we had the trained eyes to see and comprehend.
For over several million years, wind-carried grains of sand, rushing rivers, violent upheavals and rain water, alternately freezing and thawing, have shaped the Colorado Plateau into the magnificent country we see today: a country filled with steep, red-walled canyons, buttes, towers and spires.
It is a land of mystery, a land of intense beauty.
And, as all trips must, there has to be a starting point, and in this case your Colorado River rafting trip begins in Page, Arizona at the Adventure West office and gift shop. Here you will check in before boarding a bus to take you to the departure point on the Colorado River.
This will be the perfect time to pick up gum, sunscreen, sun glasses, hats, tee-shirts, sweat shirts, etc. before heading out.
Don't worry about sodas or water, as they will all be available on board the rafts.
However, it is a good time to visit the restrooms which will not be available again until about mid-way through the trip down the river.
If you think you might want to swim in the river, now would be a good time to get into your bathing suit to be worn under your street clothes.
Be forewarned, however, that the water coming out of Glen Canyon Dam comes from a depth of 500 feet so, never getting a chance to warm up, it remains all year at a constant 46-47 degrees Fahrenheit.
Once aboard the buses, you will drive through Page and head south out of town on Hwy 89.
In a very short time you will turn off the highway and head west.
Soon you will come to a gatehouse with a security guard on duty.
The area behind this gatehouse is secured to prevent terrorists from trying to blow up Glen Canyon Dam.
It makes you wonder, "What has become of this world?"
After the guard clears the bus to enter, you will continue a few hundred yards until you come to a two mile long tunnel drilled through the rock.
The bus will enter this tunnel, and you will begin your descent to the Colorado River, over 500 feet below.
Once through the tunnel and off the bus, you are greeted by an amazing and awesome view of the Colorado River Bridge and the Glen Canyon Dam.
From this perspective, it is a magnificent and spectacular sight.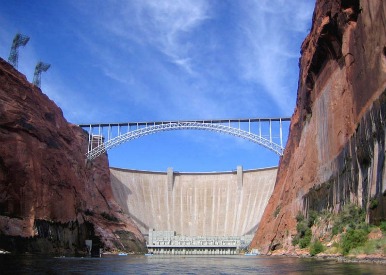 Photograph Courtesy of Eric Sakowski/highestbridges.com

If the adrenaline was not yet rushing, seeing this huge concrete monolith rising 583' above you and the rafts just a few hundred feet below is sure to get the heart pumping and the adrenaline flowing.

This is hard hat country now, and you will be given a hard hat to wear until you are ready to board the rafts.


---

Books and Maps about Colorado River Rafting may be purchased through Amazon.com by clicking the link below.  




Colorado River Rafting

---
From this point you will walk down a long concrete ramp and set of stairs to reach the rafts. At the bottom, you will surrender your hard hats.
Finally, the long awaited moment has arrived! Your Colorado River rafting trip is about to begin.
It is time to meet your river guide and climb aboard the rafts. You've tried to prepare yourself for this moment, but still, with your heart racing and the adrenaline flowing, everything seems a little overwhelming.
These pontoon rafts are large, made of rubber and can carry up to 22 people. They are all equipped with Honda outboard motors, and each raft carries safety and communications equipment.
Also, though you are not required to wear a life jacket, they are available should you want one.
It should be noted that children under the age of 12 are required to wear a life jacket.
Also, children under 4 are not allowed on this trip.
The guides, all experienced river pilots, waste no time in taking charge. Their quiet demeanor, and self- assurance have a calming effect, and in no time only excited butterflies remain. The fear is gone.
Once everyone is safely on board and settled in, your guide welcomes you, tells you what to expect and goes over a few rules and regulations.
The briefing is short and without further delay your Colorado River rafting trip begins as your raft pulls away from the dock and heads downriver.
The Colorado River between here and Lee's Ferry is free of rapids and slow moving so your guide will be using the Honda motor to assist you on your journey.
If you have never been aboard a raft floating between 500 foot vermillion sandstone canyon walls, you are in for a treat. It is a feeling like no other. Tom Sawyer and Huck Finn certainly had the right idea.
If you are sitting near the side of the raft, put your hand in the water. You will find it is cold and clear, a far cry from when John Wesley Powell explored the river in 1869.
Then, the river was muddy and the temperature of the water varied with the season.
Reenactment of Powell's
Colorado River Expedition
Reenactment of Powell's
Colorado River Expedition
Colorado River rafting below Lee's Ferry
Photographs Courtesy Philip Greenspun/Philip.Greenspun.com

Please don't be alarmed! I have included the above images, courtesy of Philip Greenspun, because I thought they were great photos and I wanted to give you an idea of what it was like for Major Powell and his companions.
These images were photographed at Lava Falls in the Grand Canyon. (Kind of makes you wish you were there, doesn't it?)
I hope you understand that your Colorado River rafting trip will be nothing like what these photographs depict.

So sit back and relax, but be sure to keep an eye out for wildlife, such as hawks, osprey, ducks, coyotes and other birds and animals.
If anything of significance is spotted, the guide will generally slow or stop the raft to allow you to photograph or observe. You will find them to be very knowledgeable and eager to share their knowledge and experience.
About 6 miles from where you started, you will come to the Horseshoe Bend.
Here, looking up from the river, you have an entirely different perspective than when you viewed the river from 1000 feet above.
If you have not yet been to Horseshoe Bend, I hope you will take the time to see it. If you can't, at least, read about it by going to my page: Horseshoe Bend
Your first and only chance to go ashore will be at about the half way mark. Here the rafts will nose onto the beach and you will be free to visit the restrooms and/or to take a short hike to see some Anasazi petroglyphs.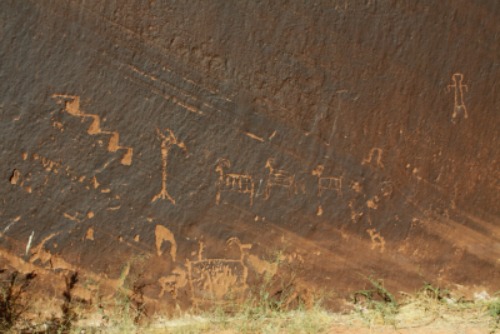 Also, this will be your first opportunity to take a dip in the Colorado River, which, as I said, stays at a constant 46-47 degrees Fahrenheit.
After about a 30 minute break, you will climb aboard for the final leg of the trip which is much like the first half.
Now that you have that first half behind you and are more in tune with the river, imagine what it must be like to be carried downriver with only the river's current to propel you.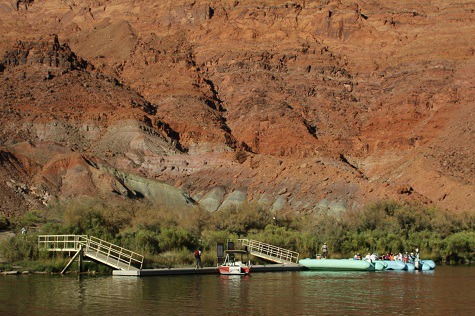 Just ahead, on the right, is historic Lee's Ferry, where you will leave the rafts and board the buses back to Page, Arizona.
Before you board, you might want to visit the restrooms. This will be your only opportunity to get out of your wet bathing suit as there are no restrooms on the buses.
The ride back to Page takes about an hour, just enough time to relax, unwind, look at all the beautiful images you have captured and savor the experience that only comes from Colorado River rafting.

| | | |
| --- | --- | --- |
| | | |
| Raft & Canyon Walls | Colorado River Canyons | North of Lee's Ferry |
Return From Colorado River Rafting To Home Page