Grosvenor Arch…
A Superb Sandstone Double Arch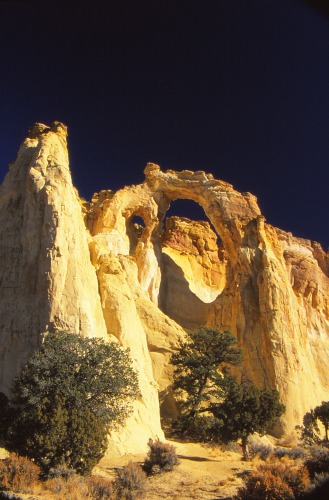 Grosvenor Arch, located in the northwest corner of the Kaiparowits Plateau in southern Utah, is a magnificent sandstone double arch 152 feet high, 99 feet wide and four feet thick at the top of the arch.
It was first "discovered" and photographed in 1949 by a National Geographic Magazine expedition led by writer/photographer Jack Breed. 1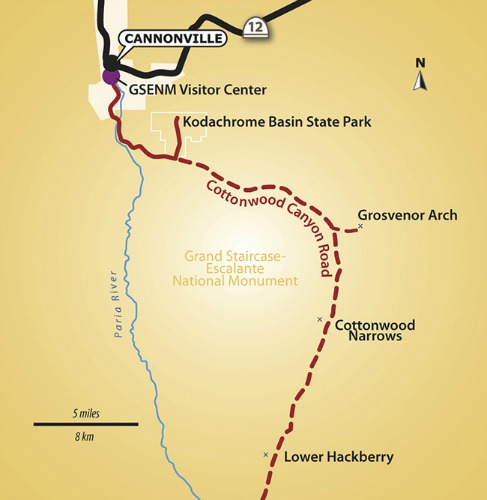 The expedition was in the Escalante "…hoping to find unknown and yet unnamed geographical oddities in the hidden cliffs and canyons."
In Jack Breed's words,
"Our highest expectations were soon realized. What we saw was an arch–a new arch uncharted and unnamed!
This striking natural bridge is carved from creamy rock, a rarity in a land of brilliant reds.
Actually, it is a double arch, with the larger span on the end of a buttress that juts from the main sandstone butte.
Near the anchor end, wind has blasted a smaller hole through the buttress…."
"We named this feature 'Grosvenor Arch' in honor of Dr. Gilbert Grosvenor, President of the
National Geographic Society, the man who, we all agreed, had done more than any other person
to arouse public interest in geography…." 2

Cannonville, UT Current Weather and Forecast
Directions:

The easiest and quickest way to get there is to go south from Cannonville, Utah on the paved road to Kodachrome State Park which is nine miles from Cannonville.

At the turnoff to the Kodachrome State Park, the road becomes a graded dry-weather dirt road.

From this turnoff it is approximately another ten miles to the arch.


---

Books and Maps about Grosvenor Arch may be purchased through Amazon.com by clicking the link below.  




Grosvenor Arch

---
 Do not attempt this road when it is wet. Even 4WD vehicles have been known to get stuck.

As a precautionary measure, it would be advisable to first check with the Grand Staircase-Escalante National Monument Visitor Center in Cannonville about weather and road conditions.

From the parking lot, there is a paved pathway which takes you about halfway to the arch.
From there a dirt path takes you the rest of the way to the arch.
The area is well maintained and is complete with a campground, restroom, shower and picnic area.
Lodging in Cannonville:

Simply use the box on the right, which is powered by Hotels Combined, to get you the best deals for the dates you have in mind. This is not a booking agency; it is only a search engine to find you the best deals.

Have A Great Story To Share?
Do you have a great story about this destination? Share it!
References and Resources:
1 The Legend of Kodachrome Flat
National Geographic Traveler
Traveler's Senior Photo Editor Dan Westergren
http://intelligenttravel.nationalgeographic.com/2009/06/24/kodachrome_flat/
2 Ibid
Utah.com
http://www.utah.com/nationalparks/bryce_canyon/grosvenor.htm
Wikipedia
http://en.wikipedia.org/wiki/Grosvenor_Arch
Scenic Byway 12
http://www.scenicbyway12.com/the-byway/scenic-backways/cottonwood-canyon-road-scenic-backway/