Hovenweep National Monument…
A Place of Solitude
and Tranquility
Hovenweep National Monument is composed of six ancestral Puebloan villages spread over 785 remote acres of southwestern Colorado and southeastern Utah.
Two of these ruins, Square Tower and Cajon (pronounced Ka-Hone) are located in Utah.
The other four, Holly Canyon, Horseshoe & Hackberry Canyon, Cutthroat Castle and Goodman Point are located in Colorado.

For more information on the Hovenweep Colorado Ruins, please click Here
---
Side Bar
The name Anasazi has long been used for the prehistoric farmers of the Four Corners. The term now favored is ancestral Puebloan, indicating they were the ancestors of modern-day Puebloans.

Bluff, UT Current Weather and Forecast
---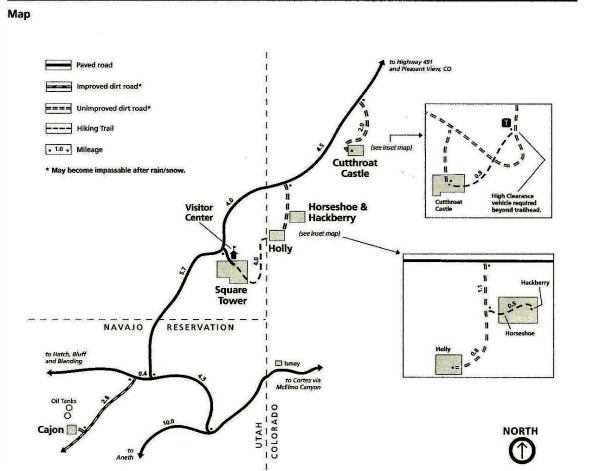 Courtesy of National Park Service

Archaeologists estimate that at one time over 2,500 people occupied Hovenweep, the name given it by author, painter and archaeologist William H. Holmes and pioneer photographer William Henry Jackson in 1874.
Hovenweep is Paiute/Ute for "Deserted Valley."

A Place to Ponder
Hovenweep National Monument is a place of mystery and timeless isolation.
It is a place to ponder; to ask questions; to fantasize.
We have some of the answers to these questions, but there is still so much we don't know.
We know these now vacant structures were built by ancestral Pueloans, but we can only guess at how they were used.

A Place to Ask Questions
Were they lookout towers, signal stations, celestial observatories, defensive structures, ceremonial chambers or storage buildings?
We know these ancestral Puebloans first settled here in A.D. 900 and that they had left the area by the end of the 13th century.
We know these people migrated south to the Rio Grande Valley in New Mexico and the Little Colorado River Basin in Arizona, but we can only guess at why they left.
Was it prolonged drought, warfare, the depletion of the natural resources in the area or all of the above?

A Place to Fantasize
As you walk among the ruins, try to imagine how it must have been in the late A.D. 1200s when over 2,500 people occupied this now empty landscape.
See the women and children toiling among the terraced fields tending the crops of maize, beans, amaranth, squash and cotton.
And, from the nearby pinyons and junipers, hear the ravens and magpies scolding them for having disturbed their feast.
Observe the different groups of women sitting in the shade of their dwellings.
Here, a group is fashioning clothing and sandals from juniper bark, and weaving baskets and sealing them with pinyon sap.
There, another group is grinding maize and other plant materials with their stone manos and metates.
Listen to the sounds of quartz stone being chipped and shaped into spear points, arrowheads and tools for chopping, scraping and cutting.
Watch the master stone masons as they skillfully chisel and form each stone for a precise fit before setting it in place using a mortar of clay, sand and ash mixed with water.


---
Side Bar
It is not known for sure if the entire community contributed to the construction or if it was only done by skilled masons.

---
Have A Great Story To Share?
Do you have a great story about this destination? Share it!
Distances from Visitor Center
The Holly, Horseshoe and Hackberry Units are located about four miles northeast of Visitor Center.
The Cutthroat Castle Unit is about eight miles northeast of the Visitor Center and Cajon is about nine miles southwest.
Significant portions (1 to 2 miles) of the roads leading to these outlying units are unmaintained dirt and gravel; higher clearance vehicles are recommended for visiting these sites.
These roads should be considered impassable during wet weather.

Utah Ruins
Cajon Group
The Cajon Group (pronounced ka-hone) consists of a small village situated at the head of a small canyon.
Archaeologists believe that as many as 80 to 100 people may have lived here.
A skillfully crafted circular tower, conforming perfectly to the shape of three large, irregular boulders, can be seen on the western side of the canyon.

Square Tower Group
This is the unit which receives the most visitors due to its proximity to the Visitor Center, a 31 site campground and because it is the only area accessible by a paved road.
It is named for the two-story Square Tower built upon a large sandstone boulder in Little Ruin Canyon.
Between A.D. 1200 and 1300, it is thought that as many as 500 people lived in the many dwellings scattered along the canyon rim or squeezed into alcoves beneath the overhanging ledges.
This collection of structures is the largest of those found at Hovenweep.

Little Ruin Trail
This moderately strenuous 1.5 mile trail, which starts at the Visitor Center, follows the canyon rim and offers excellent views of every structure.

---
Side Bar
The trail is easy to follow, but is uneven and rocky. Stay on the trail at all times.
Be aware that there are rattlesnakes in the area; watch where you put your hands and feet.
Most visitors spend one to two hours exploring the area.
Between the visitor center and the first overlook the trail is paved and may be traversed by visitors in wheelchairs with assistance.

---
Download a copy of the Little Ruin Trail Guide, Here

Operating Hours & Seasons
Hovenweep is open year-round.
The visitor center is open daily from:
• 8:00 a.m. to 5:00 p.m. (October and April)
• 8:00 a.m. to 6 p.m. (May through September)
• 9:00 a.m. to 5:00 p.m. (November through March).
The visitor center is closed on:
• Thanksgiving Day
• Christmas Day
• New Year's Day

Entrance Fees
• $3 - 7 Day pass per individual (Applies to motorcycles, bicycles and walk-ins, per person).
• $6 - 7 Day pass per vehicle (Includes all occupants).
• $25 – Local Passport (Good for entrance to Arches, Canyonlands, Hovenweep and Natural Bridges).
All Federal Land Passes are accepted at Hovenweep. For details, click Here.

Weather and Climate
Hovenweep is part of the Colorado Plateau and, as such, can experience wide temperature fluctuations; as much as 40 degrees in a single day.

April and May
&
mid-September
thru October


Highs
60 to 80 F

Lows
30 to 50 F
Summer Temperatures often exceed 100 F
Winters are cold, with highs averaging 30 to 50 F, and lows averaging 0 to 20 F.

---
Side Bar
Though large snowfalls are uncommon (except in nearby mountains), even small amounts of snow or ice can make local trails and roads impassable

---
Hiking
The widest variety of hiking opportunities is located at the Square Tower Unit.

Here a self-guiding two mile loop trail will take you entirely around the monument's largest archeological site and provide both panoramic and close-up views of its canyon and well preserved structures.
Shorter hikes are also possible at Square Tower including an accessible 300 yard sidewalk to a viewpoint overlooking a large portion of the canyon.
There are also short hikes at each outlying site ranging from .25 to 1.6 miles round-trip.
The longest hike is a four mile trail (eight miles round-trip) that connects the Square Tower Unit with the Holly Unit, providing a longer scenic backcountry hike.

Camping
There is a 31 site campground near the Visitor Center and Little Ruin Trail. It is open year round on a first-come, first-served basis.
Each site includes:
• Tent pads
• Fire rings
• Picnic tables with shade structures
• A few sites will accommodate RVs up to 36 feet long
There are restrooms with flush toilets and running water. The water is available only during the summer months and limited to five gallons per person.

Campground Fees
• $10 per night
• $5 per night with Senior or Golden Access passes
Generator Use Hours
• 8 AM – 10 AM
• 4 PM – 8 PM

Other Lodging

The nearest towns of any size are Blanding, Utah and Cortez, Colorado.


To find lodging in either of these towns, use the Search Box on the right.

Simply enter the location and dates you have in mind, and the server, Hotels Combined, will provide you with a list of the lodging available on the dates you have specified.




This is not a booking agency. It is a search engine to help you find great lodging at great prices.

Return From Hovenweep To Nearby Attractions