Marble Canyon…
The Beginning of the Grand Canyon
Marble Canyon is that stretch of the Colorado River from Lee's Ferry to the confluence with the Little Colorado River, approximately 61 miles.

It is a beautiful canyon, with towering lime and sandstone walls; in places, burnished smooth as marble by seasonal waterfalls.

Marble Canyon is a misnomer. It is not, as one would expect from the name, composed of marble. The name was given to the canyon by the early explorer and Civil War veteran, Major John Wesley Powell, August 9, 1869:

"We have cut through the sandstone and limestones met in the upper part of the canyon, and through one great bed of marble a thousand feet in thickness…. As this great bed forms a distinctive of the canyon, we call it Marble Canyon." 1

Grand Canyon National Park Museum Collection
FROM JOHN WESLEY POWELL'S SECOND EXPEDITION. "THE BOATS IN MARBLE CANYON. A NOONDAY REST."
Circa 1872

---

Side Note:

The Monument's northern edge began at Lee's Ferry on the Colorado River and extended south to the confluence with the Little Colorado River where it butted up to the Grand Canyon National Park.

This map was included in the legislation.

Credit: Arizona State University Map Collection

---
National Monument:
On January 20, 1969, President Lyndon B. Johnson created Marble Canyon National Monument.

This was in response to the political upheaval which resulted from Bureau of Reclamation Commissioner Floyd Dominy's proposal to place a dam at river mile 39.4.
By making it a National Monument, it was protected from having any dams built within its boundaries.
National Park:

On January 3, 1975, President Gerald R. Ford signed the Grand Canyon Enlargement Act, which abolished the canyon as a National Monument and incorporated it into Grand Canyon National Park.

By adding the Monument's some 26,000 acres, this nearly doubled the Park's size.


---

Books about Marble Canyon may be purchased  through Amazon.com by clicking the link below.  


Marble Canyon

---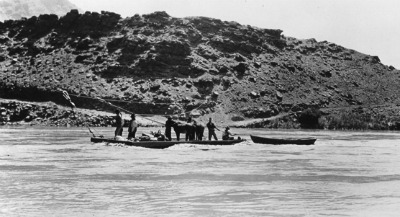 Lee's Ferry - Photo: Courtesy National Park Service

Lee's Ferry:
At the start of Marble Canyon is Lee's Ferry which for over fifty years played a prominent role in providing the only passage across the Colorado River for some 600 miles.
More recently, it marks the end of the trip for rafters who have floated down the Colorado River from Glen Canyon Dam and is the starting point for whitewater rafting through the Grand Canyon.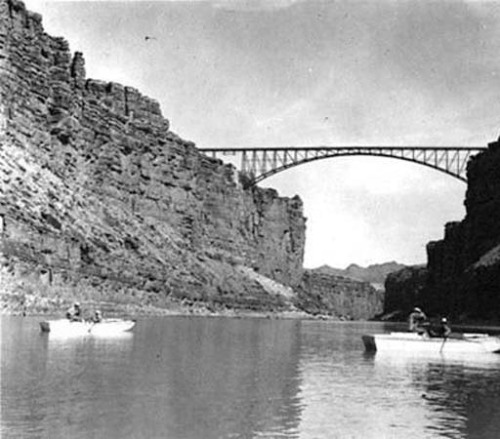 Navajo Bridge - Photo: Courtesy National Park Service

Navajo Bridge:
Located just 6 miles down-river from Lee's Ferry is Navajo Bridge, which, when it was opened in 1929, was the first steel deck arch built in Arizona and was the highest highway bridge in the world.
More importantly, it provided access to the north rim of the Grand Canyon National Park and bridged the states of Arizona and Utah and the sprawling Navajo Indian Reservation.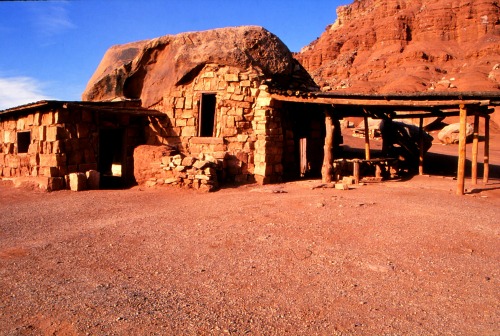 The Old Cliff Dwellers

Cliff Dwellers Lodge:
Located 9 miles west of the Navajo Bridge, Cliff Dweller's Lodge is steeped in history.
It was originally established as a small trading post by Blanche and Bill Russell in 1920 who "…constructed the unique rock house for which the community received its name." 2
Later, the trading post was sold to Jack Church who added a bar to the original trading post. This soon became a popular watering hole with the local cowboys and ranchhands.

In 1943 Art Greene and his family purchased Cliff Dwellers and used it as a base of operations for a tour business taking visitors from Lee's Ferry upriver to Rainbow Bridge in a 13 foot boat powered by a 25 HP outboard motor.
Photo: Northern AZ Univ Archives


"In 1948 he built the Tseh Na-ni-ah-go Atin, Navajo for "Trail to the Rock That Goes Over".

It was a 22-foot long, flat-bottomed boat, powered by a 450-horsepower aircraft engine." 3

In the meantime, the Greene's began building a new lodge, café and gas station which opened in 1950 as the Cliff Dwellers Lodge.

This is the same Art Greene who later became the concessionaire at Wahweap Marina at Lake Powell.

Have A Great Story To Share?
Do you have a great story about this destination? Share it!
References and Resources:
Arizona Leisure
http://www.arizona-leisure.com/marble-canyon.html
2 Cliff Dweller's Lodge
http://www.cliffdwellerslodge.com/main/?page_id=430
Creation Science
http://www.creationscience.com/onlinebook/GrandCanyon2.html
1 Explorations of the Colorado River of the West and its Tributaries
By John Wesley Powell
Published 1875
Grand Canyon History
http://grandcanyonhistory.clas.asu.edu/ 

National Parks Service
http://www.nps.gov/glca/planyourvisit/lees-ferry.htm 

National Parks Traveler
http://www.nationalparkstraveler.com/2009/01/pruning-parks-whatever-became-marble-canyon-national-monument-1969-19753395
Wikipedia
http://en.wikipedia.org/wiki/Marble_Canyon
Return From Marble Canyon To Lake Powell Nearby Attractions