Natural Bridges National Monument…Utah's First

Like rainbows of stone, Natural Bridges National Monument's three bridges, Sipapu, Kachina and Owachomo, are mute testimony to water's powerful erosive force.
These three stone bridges were formed as water rushing through White Canyon over a span of millions of years gradually eroded the sedimentary rock, bit by bit, grain by grain.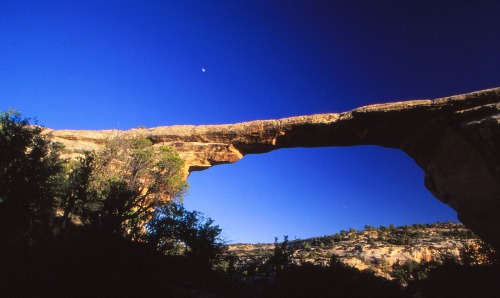 Owachomo Bridge

Blanding, UT Current Weather and Forecast
Location
Natural Bridges National Monument is located in the remote southeastern edge of Utah near the junction of state roads 95 and 261.
It is about 40 miles west of Blanding and 50 miles east of Lake Powell's Hite Marina.

History
The Natural Bridges area was first occupied by hunter-gatherer groups from 7000 B.C. to A.D. 500. The only evidence we have of their occupation is the stone tools and rock art they left behind.
Around A.D. 700 they were replaced by the ancestors of modern Puebloan people who dry-farmed along the mesa tops.
As the climate changed and farming could no long support them, they left the area to be replaced around A.D.1200 by the people from the Mesa Verde area of southwestern Colorado.
By the 1300's they, too, had left the area, to be replaced over the years by the Navajo and Paiutes.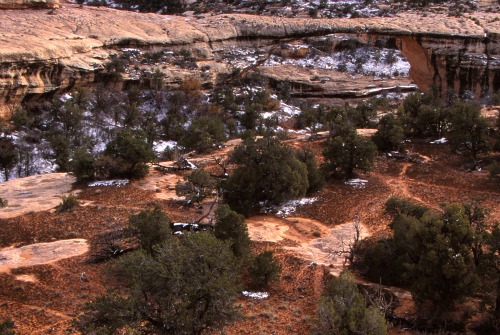 Natural Bridges National Monument - Kachina

More Recent History
The first recorded history of the white man in the area of Natural Bridges was that of Cass Hite.
Cass was a gold prospector who had moved to Colorado from Missouri at the age of sixteen.
He fled Telluride, Colorado for Kayenta, Arizona in 1882 after killing a man in a mining claim dispute.
In 1883, he hired a Navajo guide, Indian Joe, to take him, Scotty Ross and Edward Randolph up the White Canyon in southeastern Utah in search of gold.
They didn't find gold, but they did find three spectacular stone bridges which they named "President," "Senator" and "Congressman" in order of decreasing size.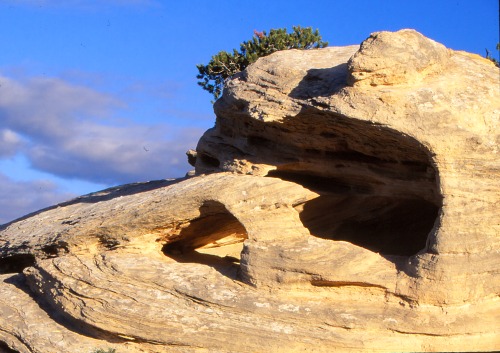 Natural Bridge in Microcosm

In March, 1903, J.A. Scorup, a cattle man who had ranged cattle in the area, led Horace J. Long, a prospector and placer-miner, into White Canyon to see and study the bridges.
Although they didn't have any scientific instruments for measuring the bridges, they took several triangulations of them as a method of determining their sizes.
They named the bridges after people they knew. "President" became "Augusta" after Long's wife; "Senator" was named "Caroline" after Scorup's mother and "Congressman" was referred to as the "Little Bridge" in Long's notes.
The account of their trip, "The Colossal Bridges of Utah A Recent Discovery of Natural Wonder" written by W.W. Dyar, appeared in the August, 1903 issue of Century Magazine.
In September, 1904, National Geographic Magazine, published a review of this article, titled "Colossal Natural Bridges of Utah."
U. S. General Land Office surveyor William Boone Douglass mapped the area in 1908. He gave the bridges their present names which were derived from Hopi words:


The largest and the most spectacular of the Monument's bridges, he named Sipapu which means "place of emergence."


The Hopi believe it is an opening between worlds through which their ancestors entered this world.


Sipapu

| | |
| --- | --- |
| Owachomo | The oldest bridge, in terms of geologic time, is Owachomo. It means "Flatrock Mound" and was named for a feature on the east side of the bridge. |
| | |
| --- | --- |
| The youngest bridge is Kachina. It was named for the lightning snake symbols which had been carved in the nearby rock on the west side of the canyon. | Kachina |
Chronological Names of Bridges
• President – Augusta – Sipapu
• Senator – Caroline - Kachina
• Congressman – Little Bridge - Owachomo

Hiking Within the Monument
Sipapu, Kachina and Owachomo can all be seen from the loop drive.

However, there are short well-maintained trails that drop down into the canyon and take you below each bridge.

Also, there is an 8.6 mile path that links all three bridges.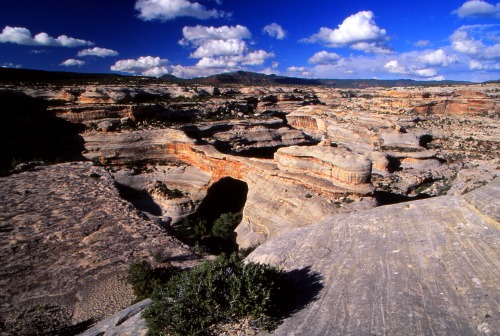 Sipapu

Sipapu Bridge Trail
This is the steepest trail (0.6 miles, 500 foot descent) in the Monument, is moderately strenuous, and requires navigating
a staircase and several wooden ladders.
About halfway down the trail is a ledge from which you have a great view of Sipapu.
Once past this overlook, the trail continues down a series of switchbacks and ladders to a grove of Gambel's oak beneath
Sipapu.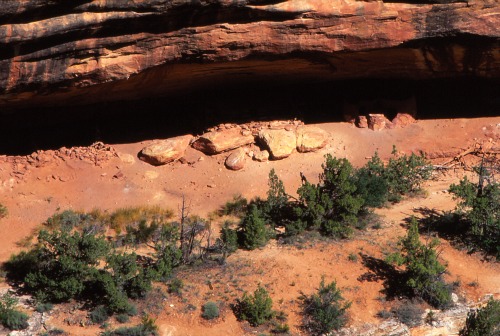 Horse Collar Ruin

Horse Collar Ruin
The trail to this ruin is a continuation of the trail to Sipapu. It is about 1 mile past Sipapu along a well-marked, winding trail.
The ruins are located high up on the north side of the canyon, and, while there is no path leading to them, they can be accessed by climbing the cliff beneath them.
The ruins can be observed from afar by a 0.3 mile trail over the mesa top, starting along the loop drive.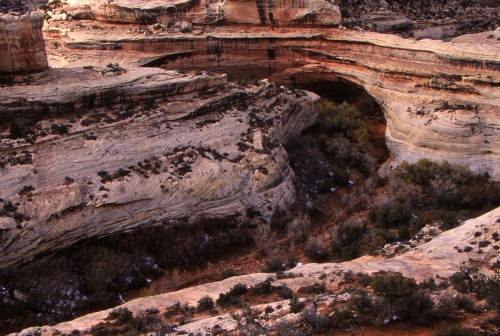 Kachina

Kachina Bridge Trail
At 0.7 miles, with a 400 foot descent, this trail is the longest of the three but is considered to be an easy hike.
The trail begins next to the Kachina overlook where it swings down around the viewpoint and drops to the canyon floor.
Shortly before reaching the canyon floor, there is a short ladder which descends to the stream bed. From there the trail continues to the bridge.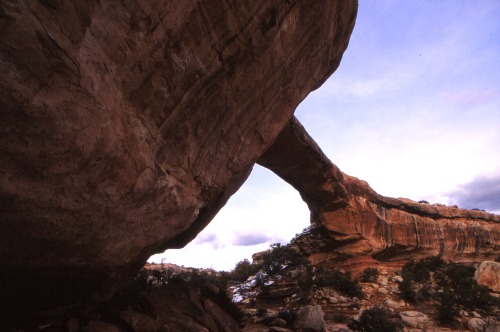 Owachamo

Owachomo Bridge
This is an easy 0.2 miles, 90 foot descent trail.
The trail starts at the roadside viewpoint and continues down a fairly gentle slope to the bridge.

Campgrounds

• The campground is open year-round.
• Fee is $10 per night.
• There are no reservations.
• First come, first served.
• There are 13 campsites.
• Each site will accommodate eight people and one vehicle up to 26 feet in length.
• Each site has a fire grill, picnic table and tent pad.
• If you want a campfire, you must bring your own firewood.


---

Books and Maps about Natural Bridges may be purchased at the Visitor Center, or you may purchase them through Amazon.com by clicking the link below.  


Natural Bridges National Monument

---
Lodging Outside the Monument

To find lodging in Blanding, Utah, use the box on the right for the dates you have in mind.


This is not a booking agency; it is a search engine, powered by Hotels Combined, to assist you in finding lodging.

Have A Great Story To Share?
Do you have a great story about this destination? Share it!
General Information
Rates & Fees
• $6.00 per vehicle and $3.00 per individual.
• Golden Eagle, Age, and Access passes accepted and available.
• Annual passes for Natural Bridges, Canyonlands, and Arches are accepted and available for $15.00.
Seasons / Hours
Natural Bridges is open 365 days a year.
The nine mile scenic drive is open every day from early morning until about 30 minutes past sunset.
Visitor Center
The visitor center is open daily except on Thanksgiving Day, Christmas Day and New Year's Day.
• 8:00 a.m. to 5:00 p.m. (October and April)
• 9:00 a.m. to 5:00 p.m. (November through March)
• 8:00 a.m. to 6:00 p.m. (May-September)


Rest Rooms & Water

Available 24 hours a day at the Visitor Center.

Water is not available elsewhere in the Monument.

Programs & Events

Visitor center has exhibits, an audiovisual program, books, maps and videos for sale.
Rangers are on duty to answer questions and collect entry fees.
Informal interpretive programs may be given on the patio during peak season.
Pets

• Pets are not allowed on any hiking trails.
• Pets may accompany visitors in the campground, overlooks and pullouts along the paved scenic drives.
• Pets may be walked on roads or in parking lots.
• Pets must be leashed at all times when outside a vehicle.

References and Resources

California State University, Los Angeles
http://www.newark.osu.edu/facultystaff/personal/jstjohn/Documents/Rocks-and-Fossils-in-the-Field/Natural-Bridges-National-Monument.htm

Desert USA
http://www.desertusa.com/natbridges/du_brid_vvc.html

National Park Service
http://www.nps.gov/nabr/index.htm
The American Southwest
http://www.americansouthwest.net/utah/natural_bridges/national_monument.html
The Tombstone News
http://thetombstonenews.com/pishlaki-lost-silver-of-the-navajo-p1286-84.htm

Utah Outdoors Magazine
Getaway: Natural Bridges National Monument
By Golden Webb
Published May, 2001
http://www.utahoutdoors.com/   
Wikipedia
http://en.wikipedia.org/wiki/Natural_Bridges_National_Monument
Return From Natural Bridges To Nearby Attractions