Sea Eagle 126srrik Sport Runabout…



A Fun Boat for Lake Powell Houseboats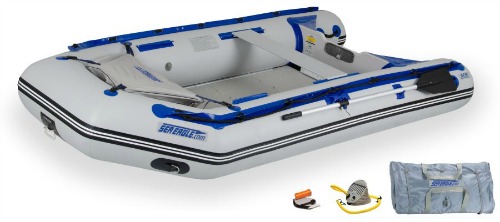 At 12' 6" long and 5' 4" wide, the Sea Eagle 126srrik is the middle sister of the Sport Runabouts.
And, like its big sister, the 14SR, it has a more pointed bow which is a big factor in rougher water; the more pointed V-shape goes better through big waves.
Because it is larger, the SE-12.6 is better suited to be either kept on the water or used where you will not have to inflate it daily.
The SE-12.6srrik has a patent-pending Outside Drop Stitch Keel System for better stability, sharp turning ability and high speed planing capabilities.
Like its big sister, the 14SR, the Sea Eagle 126srrik has the "World's best Maintenance-free Polyethylene floorboards."
The SE-126srrik weighs 94 lbs. without the Poly floorboards and 147 lbs. with them.
With its 1000 denier, tightly woven base cloth, coated on both sides with PVC, the Sea Eagle12.6srrik is unbelievably rugged.
The 1000 denier cloth is formulated with special additive to guarantee long term resistance to saltwater, ultraviolet rays, gasoline, oil and other chemicals.
All the main seams of the SE-12.6srrik are overlapped with an additional layer of material above and below for a total of 4 layers.
The SE-12.6srrik has a motor capacity of 30 hp, 15" shaft and 150 lbs. maximum weight. With a 25 hp motor, it can attain speeds of up to 23 mph.
It can easily accommodate 6 persons or 1600 lbs
It has four recessed one-way recessed air valves and can be assembled and inflated in 25 minutes.
Standard Features of the Sea Eagle 12.6srrik are:
Reinforcement strips of material on bottom of pontoons

Pivoting oarlocks for easy rowing

Grab Lines for Safety

Bow carry handle witrh four lifting handles on sides

Two bow D-rings for towing

Self-bailing drain valve

All around and under the keel rubbing strake for extra protection

Round real pontoons for easy planing
You can enjoy big savings by taking advantage of Sea Eagle's Package Deals which include the SE-12.6srrik plus selected accessories at one low price.
For More Details and Ordering, Click Here
Try a Sea Eagle Risk-Free... for 180 days!
We're confident that you'll love our Sea Eagle products – so we're putting our money where our mouth is.
Order a Sea Eagle today, and you'll get to try it for 180 days from the day you receive your boat, RISK FREE.
If you're not totally happy with your boat, just return it in good condition for a full refund of your purchase price.
Plus... A THREE YEAR WARRANTY
Our Sea Eagle boats are covered for a full three years against manufacturer's defects ... from bow to stern.
Return From Sea Eagle 126srrik Sport Runabout To Sea Eagle Inflatables