Sea Eagle 370 Sport Kayak…





Light, Portable and Fun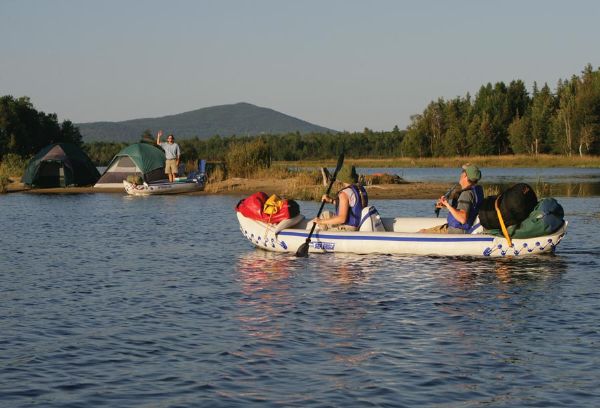 The Sea Eagle 370 is fast catching up to its little sister, the SE-330, as America's most popular inflatable kayak.
And, for good reason.
It is a little longer, offers more space for an extra person or extra gear, yet is still light, portable and can be assembled and inflated in only eight minutes.
The SE-370 is 12' 6" long, 2' 10" wide and weighs only 32 lbs.
easily able carry 3 persons or 650 lbs.
It is made from tough, durable, extra thick K-80 Ploykrylar with high frequency welded seams and has 3 air chambers, port, starboard and floor.
The floor is inflatable I-beam construction for extra rigidity.
The K-80 is formulated with special additives to guarantee long term resistance to saltwater, ultraviolet rays, gasoline, oil and other chemicals.
Unlike some competitive inflatable kayaks, the SE-370 has two molded skegs – just like a surfboard – so you go faster and further with less paddling effort.
Inflatable kayaks without rear skegs just weave and wander across the water, wasting your paddling effort.
Standard Features of the Sea Eagle 370 Sport Kayak are:
Inflatable spray skirts with storage space underneath

Removable inflatable seats

Front and rear rope handles

Self-bailing drain valve

5 deluxe one way valves

Pressure gauge, repair kit and printed instructions.
You can enjoy big savings by taking advantage of Sea Eagle's Package Deals which include the SE-12.6srrik plus selected accessories at one low price.
For More Details and Ordering, Click Here
Try a Sea Eagle Risk-Free... for 180 days!
We're confident that you'll love our Sea Eagle products – so we're putting our money where our mouth is.
Order a Sea Eagle today, and you'll get to try it for 180 days from the day you receive your boat, RISK FREE.
If you're not totally happy with your boat, just return it in good condition for a full refund of your purchase price.
Plus... A THREE YEAR WARRANTY
Our Sea Eagle boats are covered for a full three years against manufacturer's defects ... from bow to stern.
We can afford to offer this unprecedented two-part
guarantee because of our 40 year experience in
designing and selling inflatable boats. We know quality products, and we stand behind them.
---
---
Return From Sea Eagle 370 Sport Kayak To Sea Eagle Inflatables
Return From Sea Eagle 370 Sport Kayak To Lake Powell Country