Sea Eagle 465ft…





A Fast, Sleek, Light Weight Kayak for Three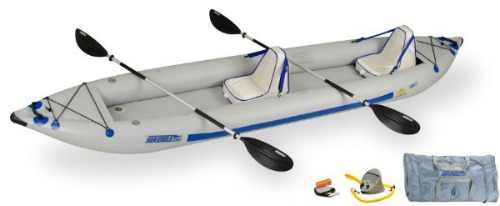 The Sea Eagle 465ft is the big sister of the popular SE-385ft. And, like its little sister, the SE-465ft features the patent pending outside drop stitch keel in the bow and the large removable rear skeg.
The outside drop stitch keel in the bow rides over waves,provides buoyancy and contains the natural yaw of an inflatable kayak.
The removable rear skeg keeps the SE-465ft headed on its intended course and can be removed for whitewater use.
The SE-465 has a super rigid srop stitch floor which increases overall rigidity and creates "side chines" under the pontoons that enhance the overall paddling performance.
The result is a faster, sleeker, more responsive, lighter weight and more rigid kayak capable of carrying three people or 795 lbs.
The Sea Eagle 465ft FastTrack is 12' 6" long, 3' wide and weighs 44 lbs.
When deflated, the SE-465ft folds into a nice compact 33" x 19" x 9", and tucked away in its Nylon carry bag, it can easily be transported in the trunk of a car or stored away in a closet.
The tube diameter is 10" and there are four air chambers, one each in the port, starboard, keel and floor.
The Sea Eagle 465ft FastTrack Kayak is made from a 1000 denier tightly woven base cloth with PVC coating on both sides.
The result is a tough, rugged waterproof kayak, which is resistant to saltwater, ultraviolet rays, gasoline, oil and other chemicals.
The SE-465ft is rated for whitewater up to Class III.
It has 4 recessed one-way air valves and can be assembled and inflated in only 8 minutes.
Standard Features of the SE-465ft FastTrack are:
5 screw-type self-bailing drain valves.
Front and rear spray skirts.
Large removable rear skeg.
Two grab handles.
6 D-rings to secure seats.
A Nylon carry bag.
You can enjoy big savings by taking advantage of Sea Eagle's Package Deals which include the SE-465ft plus selected accessories at one low price.
Click here to learn more about the Sea Eagle FastTrack!
Try a Sea Eagle Risk-Free... for 180 days!
We're confident that you'll love our Sea Eagle products – so we're putting our money where our mouth is.
Order a Sea Eagle today, and you'll get to try it for 180 days from the day you receive your boat, RISK FREE.
If you're not totally happy with your boat, just return it in good condition for a full refund of your purchase price.
Plus... A THREE YEAR WARRANTY
Our Sea Eagle boats are covered for a full three years against manufacturer's defects ... from bow to stern.
.

Return From Sea Eagle 465ft FastTrack To Sea Eagle Inflatables
Return From Sea Eagle 465ft FastTrack To Lake Powell Country