Sea Eagle SailCat 14sc…



Sailing Made Simple, Affordable and Fun!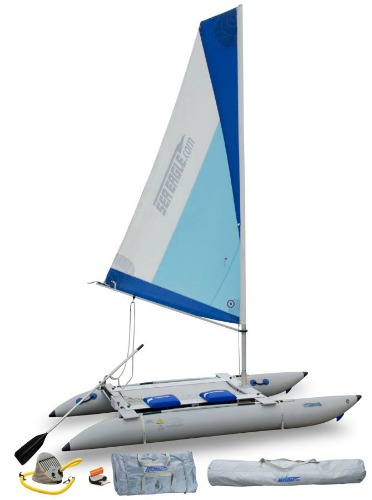 The new improved Sea Eagle SailCat 14sc is virtually maintenance free. But that's not all, it packs down to a fraction of its inflated size.It holds up to 4 people, it's safe and stable and incredibly easy to sail.
And, best of all, the Sea Eagle SailCat 14sc is reasonably priced, a fraction of what you would pay for a fiberglass sailboat.
The SE SailCat 14sc is 14 feet long, 5' 5" wide and weighs 111 lbs. with leeboards. The total weight with mast, boom and Neil Pryde sail is just 139 lbs.
Can you imagine keeping a sailboat in your closet?Well you can with the Sea Eagle SailCat 14sc;the deflated hull packs down to a mere 78" x 14" x 12".
The material used on the SE 14sc is 1000 denier woven base cloth which is then coated on both sides with PVC to make a waterproof, air tight seal.
It is resistant to saltwater, ultraviolet rays, gasoline, oil and other chemicals.
The Sea Eagle SailCat can accommodate a 3 hp gas motor with a 15" shaft and a maximum weight of 45 lbs. or a 74 lbs. thrust electric motor.
The SE 14sc can carry up to 4 persons or 1000 lbs. and has a wind rating of 0-25 MPH.
The SE 14sc can be assembled and Inflated in only 12 to 15 minutes.
Standard Features of the Sea Eagle SailCat are:
1000 denier reinforced trampoline floor
2 aluminum cross benches for mast and rudder
2 aluminum side benches for seats
4 aluminum under bars for rigidity with 2 aluminum sleeves
2 large fiberglass leeboards to hold a steady course
8' center tiller/rudder
65 square foot Neil Pryde sail with an 18' aluminum mast and 67" boom sail rig
Front skegs for tracking
Nylon Carry Bag for inflatable pontoons
You can enjoy big savings by taking advantage of Sea Eagle's Package Deals which include the SE-14sc plus selected accessories at one low price.
For More Details and Ordering, Click Here
Try a Sea Eagle Risk-Free... for 180 days!
We're confident that you'll love our Sea Eagle products – so we're putting our money where our mouth is.
Order a Sea Eagle today, and you'll get to try it for 180 days from the day you receive your boat, RISK FREE.
If you're not totally happy with your boat, just return it in good condition for a full refund of your purchase price.
Plus... A THREE YEAR WARRANTY
Our Sea Eagle boats are covered for a full three years
Return From Sea Eagle SailCat 14sc To Sea Eagle Inflatables
Return From Sea Eagle SailCat 14sc To Lake Powell Country