Vermillion Cliffs National Monument…
A National Treasure of Startling Beauty and Geology

Vermillion Cliffs National Monument is one of eighteen national monuments managed by the Bureau of Land Management (BLM) in eight western states.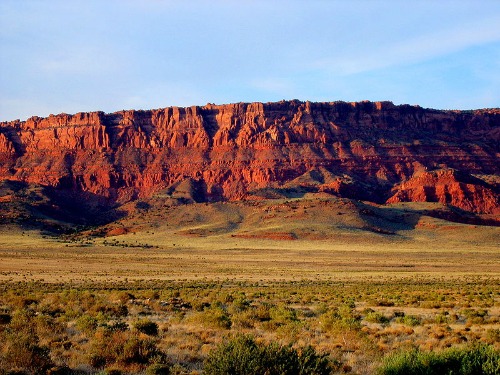 Vermillion-Cliffs- Attribution: Erikvoss at en.wikipedia

It covers 294,000 acres, the majority of which is in Arizona, with a smaller portion in southern Utah. It was established in the year 2000 by presidential proclamation.
"Towering rock walls in muted desert colors soar up from the cracked earth in a labyrinthine maze. Narrow canyons twist and turn to reveal natural amphitheaters filled with light from the overhead azure sky. Natural arches of Navajo sandstone face stretches of woodland that seems as pristine as anywhere on earth. The Vermilion cliffs stretch as high as three thousand feet above the natural grandeur of their surroundings." 1

Vermillion Cliffs' grassy sections provide a home to:
• Pronghorn
• Desert bighorn sheep
High above the cliffs, look for the California Condor which was introduced into this area in 1996.
With such a vast area from which to choose and with so many spectacular sandstone formations, it is difficult to single out any one particular place as special and worthy of being highlighted.
Having said this, however, I find myself drawn to Paria Canyon, the Paria Plateau, and Coyote Buttes.

Paria Canyon - Courtesy: BLM


Paria Canyon:

The Paria Rivers runs south from Bryce Canyon NP in Utah, through the GSENM, crosses into AZ just west of Page and joins the Colorado River at Lee's Ferry.

The lower 38 miles of the Paria River flows through Paria Canyon, arguably one of the best slickrock canyon hikes in the world.


Most backpackers wanting to hike the length of Paria Canyon start at White House Trailhead, which is just south of US 89 about 30 miles west of Page, and hike the 38 miles to Lee's Ferry Trailhead.

Paria Canyon can be hiked in three days, but four to five days are recommended to allow time for exploration and photography.
Access:
Access to the northern portion of the wilderness is via U.S. Highway 89, which passes within three miles of the area. U.S. 89A skirts the base of the Vermilion Cliffs on the south while access to the eastern portion is the road to Lee's Ferry.
Access on the west is the House Rock/Coyote Valley Road (BLM Road 1065).
Permits:
For more information on permits and fees, go to www.blm.gov.az.

Page, AZ Current Weather and Forecast
Paria Plateau:

Located in north central Arizona just across the border from Utah, the Paria Plateau lays claim to some of the most diverse and beautiful sandstone formations within the Vermillion Cliffs NM.

In fact, some would argue that the landscape, though on a smaller scale, is even more beautiful than that found at Zion and Bryce Canyon National Parks.


---

Books and Maps about Vermillion Cliffs may be purchased through Amazon.com by clicking the link below.  




Vermillion Cliffs

---
There are three areas in particular that are truly spectacular:

• The Wave in Coyote Buttes (North)
• Cottonwood Cove and the Teepees in Coyote Buttes (South) and
• White Pocket, a few miles to the east.

To see a Map; of the Coyote Buttes Area, Click Here.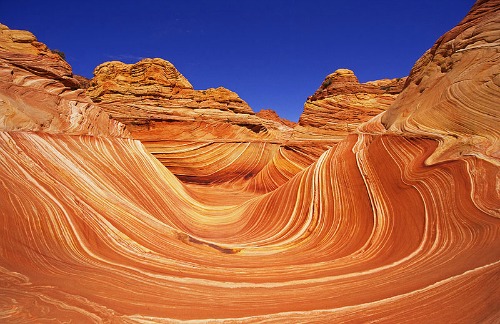 The Wave in Coyote Buttes North - Photo: Courtesy BLM

The Wave (Coyote Buttes North):
I first became aware of the area now known as The Wave when I attended a Photo Workshop in Telluride, Colorado back in the 1980's.
One of our instructors was a wonderful photographer named Linde Waidhofer, who had recently returned from a trip to northern Arizona near Page.
She showed us some of the images she had made on that trip and to say they were awesome would be an understatement.
She later published some of these images in her book Red Rock, Blue Sky.
If you love beautiful photographs and prose that paints pictures, I heartily recommend this book.
Since that time, many photographers have visited this area and have photographed these spectacular sandstone waves.
Unfortunately, I am sad to say, I have not been one of them.
Access:
The Wave has become so popular that the BLM has strictly limited the number of visitors allowed to visit it.
For Coyote Buttes North, you will need to enter the lottery to obtain a permit four months in advance.
Detailed lottery information can be found at Coyote Buttes Permits.

You will receive a map and directions when you receive your permit.

South Coyote Buttes

Photo: Wikipedia


Coyote Buttes (South):

Within the area known as Coyote Buttes South, there are two locations which offer great photo ops but are less visited than Coyote Butte North:

• Cottonwood Cove
• The Teepees

Both of these locations require day permits and can accessed from the Cottonwood Cove Trailhead.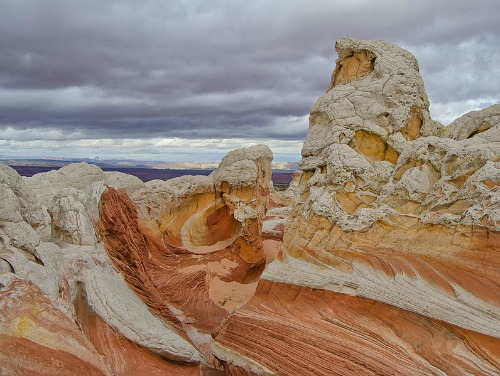 White Pockets Formations - Wikipedia - Photographer: John Fowler

White Pocket:
Perhaps because of its remoteness and the difficulty in reaching it, White Pocket is much less known and visited than The Wave in North Coyote Buttes.
However, it is no less awesome, no less spectacular; in fact, many would say that it is even more awesome and more spectacular than the Wave.
Access:
Unlike access to Coyote Buttes, a permit is not required.

For further information, directions and photos Click Here.

Guides:
The Vermillion Cliffs National Monument is a vast wilderness area with few roads and fewer signs. It is easy to become lost and disoriented.
If you are uncomfortable in a wilderness situation, you should consider hiring a guide.
Lodging

There is no lodging within Vermillion Cliffs National Monument.

The nearest lodging is in nearby Page, Arizona.

To find lodging in Page, use the Search Box to the right.
Simply enter the location and dates you have in mind, and the server, Hotels Combined, will provide you with a list of the lodging available on the dates you have specified.
This is not a booking agency. It is a search engine to help you find great lodging at great prices.

Have A Great Story To Share?
Do you have a great story about this destination? Share it!

References and Resources For Vermillion Cliffs:
1 Arizona Leisure
Vacation Guide
http://www.arizona-leisure.com/vermillion-cliffs.html
Wikipedia
http://en.wikipedia.org/wiki/Vermilion_Cliffs_National_Monument
Bureau of Land Management (BLM)
http://www.blm.gov/az/st/en/prog/blm_special_areas/natmon/vermilion.html
Bureau of Land Management (BLM)
Online Permits
https://www.blm.gov/az/paria/index.cfm?usearea=CB
Inside Outside Magazine.com
http://www.insideoutsidemag.com/issues/2008/
February_March/Four_Days_in_the_Underground_Paria_Canyon/
Grand Canyon Trust
http://www.grandcanyontrust.org/kane/paria-plateau.php
Red Rock, Blue Sky
By Linde Waidhofer
http://www.pbase.com/raymathis/coyote_buttes


Return From Vermillion Cliffs To Lake Powell Nearby Attractions