Wahweap Marina...
Lake Powell's
First And Largest Marina
Wahweap Marina is located on the western end of Lake Powell in Arizona,about 6 miles from Page, Arizona and is the largest of the five Lake Powell marinas.

Even before Glen Canyon Dam closed its steel gates in January of 1963, and the waters of the Colorado River slowly began rising toward its 500-foot goal, work was under way building a temporary boat launching facility at Wahweap.
Art Greene, Colorado River runner and owner of Glen Canyon Tours, Inc., with great foresight, had leased this land from the state government.
He first built a floating boat landing and, as the lake rose, gradually moved it until it reached an area where he was constructing a permanent marina.
He named it Wahweap Marina after a nearby canyon which is now under the water of Lake Powell. Wahweap is Paiute for bitter or alkali water.
In addition to the marina, Greene built a new motel, restaurant and lounge overlooking the lake site. He leased the restaurant and lounge to Whit Parry who also owned Parry Lodge in Kanab, Utah.
Wahweap is now operated by ARAMARK, Glen Canyon National Recreation Area's primary concessioner.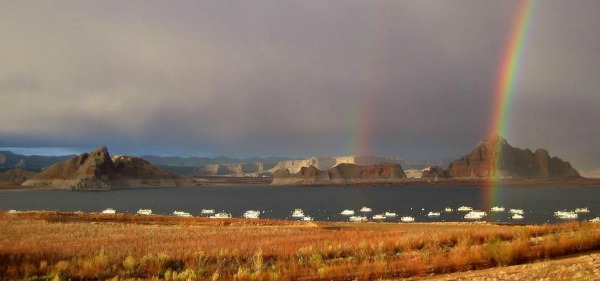 Photo: Courtesy National Park Service

In addition to the services one would expect at a first class marina, such as:


• Boat Slips


• Boat Launch Ramp


• Boat Fuel


• Boat Rentals


• Boat Repair


• Dry Storage


The Marina also has a:


• 350 Room Lodge


• Restaurant


• Gift Shop


• Boat Tours Office


• Two Campgrounds


• Service Station



Contact Information:

National Park Service Information: (928) 608-6200

National Park Service Emergency: (800) 582-4351

ARAMARK Wahweap: (928) 645-2433

ARAMARK Toll Free: (800) 528-6154

Comments and Suggestions
I started this website in February 2011, and, quite honestly, it has not lived up to my hopes and expectations.

I would appreciate some honest appraisals and suggestions as to how to improve it.




References and Resources


Desert Magazine
July 1963
"A Lake is Born"
By Jack Pepper
http://mydesertmagazine.com/files/196307-DesertMagazine-1963-July.pdf


Western Historical Quarterly
1966 Winter
"Glen Canyon and the Persistence of Wilderness"
By Jared Farmer
http://sbsuny.academia.edu/JaredFarmer/Papers/206428/Glen_Canyon_and_the_Persistence_of_Wilderness

Return From Wahweap Marina To Lake Powell Marinas