Lake Powell Houseboat Itinerary For
Five Days Four Nights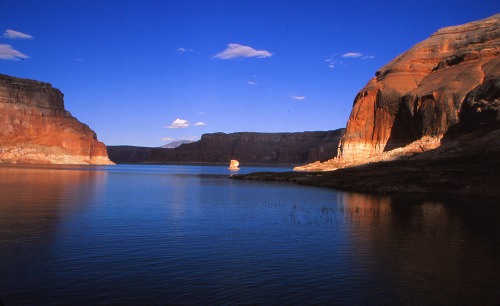 On your first day of your Lake Powell Houseboat Itinerary, try to get as far as West Canyon (mile 27).
Try to get there by early to mid-afternoon in order to find a good camp site and give yourself time to kick back and relax or do a little fishing, hiking or waterskiing.
You will find the mouth of West Canyon is an ideal location for all of these activities.

It is one of those canyons that always looks like it is going to come to a dead end before suddenly opening up and going on and on.
If you should want to try to get a little farther up-lake on your first day, you might consider Rock Creek (mile 35), Dungeon Canyon (mile 38) or Wetherill Canyon (mile 39).
Lake Powell Houseboat Itinerary, Cont'd

For further information on West Canyon and Wetherill Canyon, see my page Lake Powell Kayaking.
Any of these three have good camp sites at the mouths of the canyon, although you may have to go a little further in to find a good site in Rock Creek.
This is where your power boat comes in handy in scouting along the shore.
On your second night, be a little more selective in choosing your campsite; this will be one you will want to keep for two or three days using it as a base camp.
There are several good destinations between the San Juan River arm (mile 58) and the Escalante River Arm (mile 68).

Lake Powell Houseboat Itinerary, Cont'd

The mouth of the San Juan would be a good consideration, as would Llewellyn Gulch (mile 63) and Cottonwood Canyon (mile 66).

Llewellyn Gulch is a lovely canyon and has some nice campsites a mile or two in from the mouth.


Cottonwood Canyon is where the historic Hole-in-the-Rock Expedition crossed the Colorado River.

For those who are young and like to climb, it is a moderately strenuous climb to the top where there is a marker commemorating this historical event.

For more information about this epic journey, please see my page Hole-in-the-Rock.
Lake Powell Houseboat Itinerary, Cont'd

Although the Escalante River Arm is one you will definitely want to explore, there are not a lot of campsites for a houseboat.
The ones that are there are nice, but the chances of finding one available are dicey. You will be better off reserving this as one to explore with your power boat.
Although the Escalante is probably best known for Cathedral in the Desert and La Gorce Arch, it contains several other arches, plus winding slot canyons that are perfect for exploring with a kayak.
The National Park Service has this to say about it,
"Nearly any of the side canyons in the Escalante arm offer some premier paddling and hiking experiences.
Alcoves, arches, rock art, hanging gardens, and more abound in this region."

Anton Frankovich Jr., pilot and author of Lake Powell Photomap, described the Escalante River as,
"…an experience for a lifetime of memories."
As you head back down-lake to your Boat Rental, West Canyon (mile 27) or Face Canyon (mile 22a), would be good destinations.
• West Canyon – Some consider this to be one of Lake Powell's most beautiful canyons with narrowing passageways between towering sandstone walls.
• Face Canyon - a very wide and open canyon with both petrified and real sand dunes.
West Canyon is about three hours or so to the marina, so leave yourself plenty of travel time plus time for refueling and returning your boats.
A Word About Buoys:

Red and green channel markers are a system of buoys that mark the safe channel or safe water for you to pass. As long as you stay between the red and the green buoys, you can count on a safe passage without the fear of running aground.

Beginning at Glen Canyon Dam the buoys are numbered starting at 1 and end at Hite at 135.
Green buoys are always numbered with an odd number and are can-shaped; red buoys are even numbered and have a "nun" shape.
On Lake Powell, the shape and color should be visible from a distance of one-half mile.
The red or "nun" buoys denote the starboard (right) side of the main channel when heading up lake, away from the dam.
The green "can" buoys mark the port (left) side of the main channel when heading up lake, away from the dam. These buoys are also numbered with the mileage from Glen Canyon Dam.
Remember this simple little ditty: "Red Right, Heading to Hite."
Have A Great Story About This Topic?
Lake Powell is one of the most beautiful lakes in the United States.

It is a magical place, a place that casts her spell over all of us who visit her, drawing us back to her crystal waters year after year.

If you would like to share a memorable Lake Powell vacation, please fill out the form below.

Return From Lake Powell Houseboat Itinerary To Lake Powell Country