Lake Powell Kayaking...
The Green Way to Explore the Lake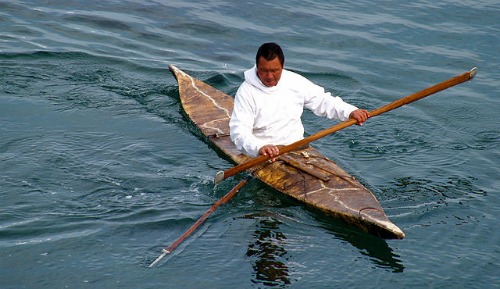 Photo: Wikimedia Commons


Lake Powell kayaking has become a popular green-way of travel; and what better place to experience this ancient mode of travel than from deep within one of Lake Powell's 96 major canyons, hidden and sheltered from the outside world?
Unfortunately, the only thing most of Lake Powell's yearly visitors know about the lake is what they see when they take a tour boat to Rainbow Bridge.
In contrast, the Lake Powell kayaker who ventures beyond the tour boat's rigid itinerary sees the lake from a different perspective; his is a more intimate panorama; a duck's-eye view from just above the glassy waters.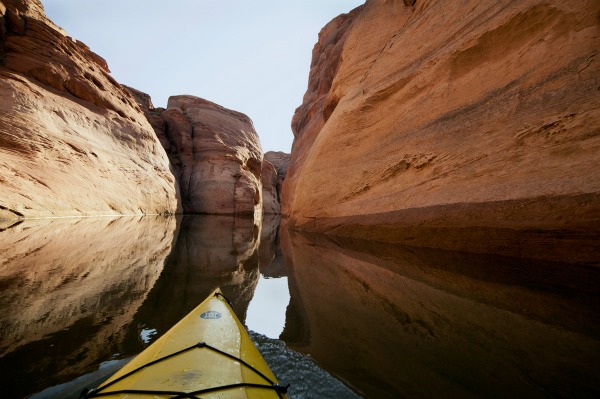 Lake Powell Kayaking - Image: Courtesy tedhallphotography.com
Please visit kayakpowell.com


His is a silent passage through the narrowing canyons; the only sound, the whisper of his paddle as it propels him quietly onward, his kayak's wake no more than a suggestion of movement, an amorphous hint of his passage, leaving nothing of permanence behind.
Lake Powell kayaking is like boarding a magic carpet which whisks the kayaker back in time, back to a simpler, gentler time; a time when man was one with nature, and co-existed on a fundamental level.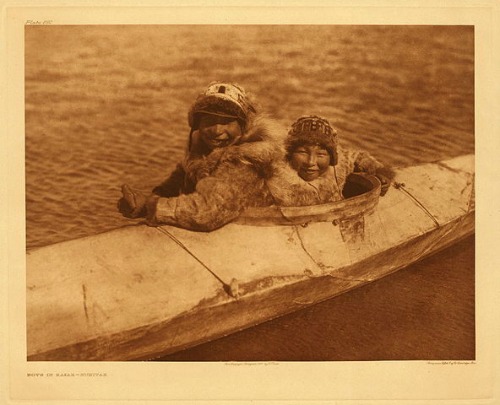 Photo: Edwin S. Curtis

History:

Kayak is an Inuit word meaning hunter's boat, and, as one would imagine, was used primarily for hunting.
It was a long, low and narrow vessel made of seal skins stretched over a frame of driftwood and/or bones pieced together with sealskin rope and wood pegs.
These kayaks were fast and quiet in the water, ideal for silently approaching a seal or walrus sleeping on the ice beside its breathing hole.
Kayaks were used by the natives in the arctic of North America, from the Aleutian Islands to the East coast of Greenland, who had to turn to the sea for sustenance since the land was unsuitable for farming.
Archaeologists have found evidence that kayaks have been around for at least 4,000 years.


Photo Courtesy: Necky Kayaks Photographer: Sean Fields

Modern Kayaks:
Modern Kayaks come in a rainbow of colors, red, blue, green and yellow.
They can be as short as six feet for doing tricks and making intricate turns and as long as 20 feet for touring.
They can be made from such materials as fiber glass, Kevlar, plastic (polyethylene and polyurethane) and galvanized rubber.
The broader kayak categories today are:
• Sit-In Kayaks (SINK), where you actually sit inside the kayak with your feet and legs extending toward the front beneath the deck


Photo: Courtesy Necky Kayaks

• Sit-On-Top' (SOT) has an open, shallow depression in the hull in which the paddler sits literally on top of the kayak.


Photo: Courtesy Necky Kayaks

Okay, so which is best for Lake Powell kayaking?

I guess there really is no definitive answer to that question.

In the end, it comes down to personal preference and the type of activity for which you will be using your kayak.

---

Books about Kayaks may be purchased through Amazon.com by clicking the link below.


Kayak

---
If you will be fishing or photographing 90% of the time and touring only 10% of the time, you should get a Sit-on-Top.
If, on the other hand, 90% of the time you will be touring and only 10% fishing, the Sit-inside-Kayak would probably be your better choice.
If you would like more information on kayaks and kayak types, plus some great video, please see Kayaking Lake Powell
Photo: Courtesy of Boat Owners Association of The United States

Motor Support
Lake Powell is a very, very large lake, and although it's possible to kayak it without motor support, it's not the best situation.
Lake Powell has 96 major canyons and many smaller unnamed ones.
These side canyons can be miles apart and without motor support you could spend much of your time paddling between them.
If your starting point is Page, Arizona, which most often is the case, without motor support, the first leg of the trip would be paddling in the main channel.
It is a high traffic area with its resultant rough, choppy water.

A Few Popular Kayaking Canyons:
It would be impossible, at least in this short article, to describe all the great Lake Powell kayaking locations.
I am sure there are as many favorite places as there are kayakers; each individual having their own special place with their own special memories.
Also, because the lake level fluctuates a lot, every time you go there it could, literally, be a very different place, even from just the year before.
The canyons are listed as to where they are located in their relation to Glen Canyon Dam.

Starting with the closest one…
Navajo Canyon is one of the longest of Lake Powell's major side canyons.
The canyon twists and turns, zigzags and swerves through 17 miles of towering pink and salmon-colored sandstone.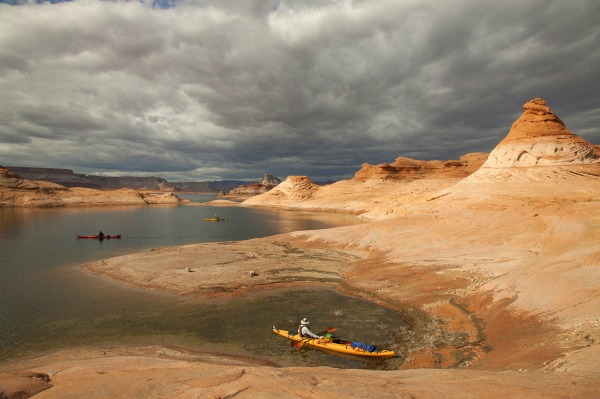 Lake Powell Kayaking - Image: Courtesy tedhallphotography.com
Please visit kayakpowell.com

Labyrinth Canyon is a maze of,
"…sandstone walls, so close together in places they scrape your boat as you pass through, tower hundreds of feet overhead, while shafts of sunlight reflect off canyon walls and illuminate the green water."
The slot at the end of the water is a testament to the forces of nature.
It is a stone sculpture created by countless flash floods, where torrents of water rush headlong through the canyon like an angry demon; swirling, curling, twirling, twisting and ever eroding the soft Navajo sandstone.
In the right light, it is every bit as beautiful as Antelope Canyon.

Face Canyon - is about 22 miles up lake from Glen Canyon Dam.
It has good camping locations, with sandy beaches ideal for houseboats.
Near the end of the canyon is a beautiful slot, and between it and the entrance to the canyon is a long narrow stretch of water ideal for kayaking.
If you are into hiking the photogenic Diagenetic Arch is just a short ¾ to 1 mile hike in the back of Face Canyon.

West Canyon is very a scenic and beautiful canyon.
It is one of those canyons that always looks like it is going to come to a dead end before suddenly opening up and going on and on.
I like Gretchen Reynolds' description found in her National Geographic News article, "On Lake Powell, Kayaking a Reemerging Canyon," in which she states,
"West Canyon, one of the longest and most spectacular of the lake's slots, is a few miles beyond our tents.
We motor close and land on a narrow, white-rock abutment, then take to our kayaks.
The water slowly draws in upon itself, until the surface shimmers pink with the reflection of the rock walls.
The lake peters out after three or four miles (five to six kilometers).
From there we hike another four, through a wide, swooping channel, until it, too, thins.
Eventually, we're scrambling sideways until, abruptly, the walls curve back outward into a kind of rock chamber filled with deep pools.
It's breathtaking.
Tom looks at the water, glances back through the telescoping slot, then erupts into a loud "yahoo!"
The sound bounces and repeats."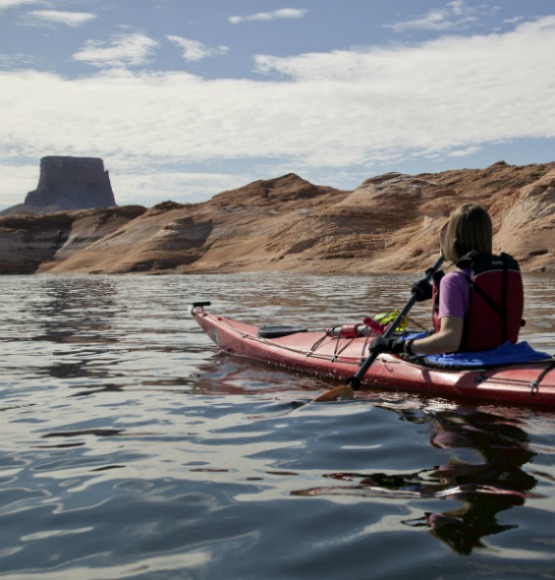 Lake Powell Kayaking - Image: Courtesy tedhallphotography.com
Please visit kayakpowell.com

Wetherill Canyon is another one of those scenic canyons that is wide enough at the mouth to accommodate houseboats.
It has a long narrow section leading to one of the longest, most claustrophobic slot found anywhere on the lake.
It gets so narrow that paddling becomes difficult, and it becomes necessary to use your hands to push against the walls to move either forward or backwards.
Cathedral Canyon, about 45 miles up-lake from Glen Canyon Dam, is at the top of the list for many kayakers.
Among those is Dave Webb of Utah Outdoors who describes it as,
"… one of the most scenic canyons on the lake, with high, sheer walls and lots of twists and turns.
It features a long slot that is too tight for many powerboats.
Before becoming a slot, Cathedral offers a long section of narrow canyon that is boatable, with interesting twists, turns and side canyons…."

San Juan River Arm is about 48 miles long, with several side canyons that provide many attractions besides that of kayaking.
One of those is Deep Canyon which offers natural arches, bridges, petroglyphs, ruins and waterfalls.
Cottonwood Canyon is not particularly noted for being a Lake Powell kayaking destination, but I mention it here because this is the site where the historic Hole-in-the-Rock Expedition.crossed the Colorado River.
For those who are young and like to climb, it is a moderately strenuous climb to the top where there is a marker commemorating this historical event.
Escalante River Arm is about 35 miles down-lake from Halls Crossing.
Although the Escalante is probably best known for Cathedral in the Desert and La Gorce Arch, it contains several other arches, plus winding slot canyons that are perfect for exploring with a kayak.

The National Park Service has this to say about it,
"Nearly any of the side canyons in the Escalante arm offer some premier paddling and hiking experiences.
Alcoves, arches, rock art, hanging gardens, and more abound in this region."
Anton Frankovich Jr., pilot and author of Lake Powell Photomap, described the Escalante River as,
"…an experience for a lifetime of memories."

Moki Canyon (also spelled Moqui), located near Mile Marker Buoy 99, is a frequently visited canyon in the north end of Lake Powell.
It has ancient ruins, good hiking, and its famous Sand Mountain which is a large sand hill located near the south end of the canyon.
A beautiful place in which to experience Lake Powell kayaking.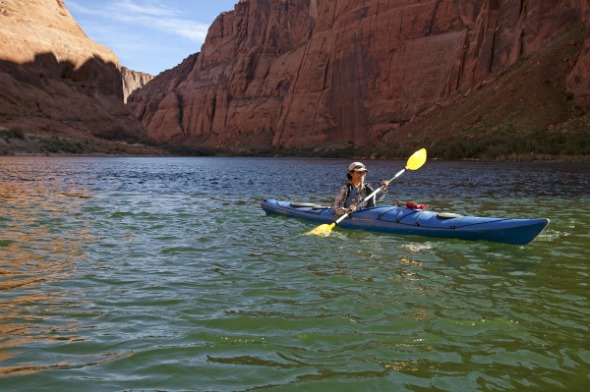 Please visit kayakpowell.com - Image: Courtesy tedhallphotography.com

Although the above list is longer than I had planned to make it, it is only a small representation of Lake Powell kayaking.
But, as they say in the TV commercials, "Wait! There is more!"
If you are looking for a nice easy float, where all you have to do is steer occasionally; or if you would like to fish for trophy trout in water that never gets above 47 degrees Fahrenheit, then you should try below the dam.

Glen Canyon Dam -to - Lee's Ferry is a short, beautiful, flat-water, fifteen mile kayak paddling trip down the Colorado River. 
There is no put-in at the dam, so you'll have to launch at the Lees Ferry ramp, then get a tow upstream.
Two of the commercial float trip providers, Kayak Powell and Colorado River Discovery may be able to assist you.
There are six camping areas available along the banks of the river, with grill pits and restrooms.
These campsites are on a first-come, first served basis.
If you would like a more detailed description, see my page on Colorado River Rafting

I am very honored and privileged to have received permission to display on these pages the Lake Powell kayaking images of Ted Hall.
All of his photographs are protected under the International Copyright Laws.
Please do not download or use them for any purpose without his expressed permission.
To do otherwise is not only morally unethical, it is unlawful.
Ted lives in Minneapolis, Minnesota and makes his living through his photography.
"Ted crafts lighting for high key impact images, and also takes a journalistic approach with daylight. With each shoot his goal is to find soul in the subject-- and to share it."
To see more of Ted's beautiful imagery, go directly to his website by clicking Here.

Please tell him you discovered his photographs on www.lake-powell-country.com.
I am, also, indebted to KayakPowell.com for their permission, along with that of Ted Hall, to use some of the images which appear in their website.
KayakPowell.com is a Kayak Tour Group which offers day and overnight Lake Powell kayaking tours and the upper part of the Colorado River below the dam.
You may go directly to their website by clicking Here.

Have A Great Story About This Topic?
Lake Powell is one of the most beautiful lakes in the United States.

It is a magical place, a place that casts her spell over all of us who visit her, drawing us back to her crystal waters year after year.

If you would like to share a memorable Lake Powell vacation, please fill out the form below.

References and Resources for Lake Powell Kayaking:


Chicago Kayak
http://www.chicagokayak.com/kayak_%20history.htm

Club Kayak
Green Wave Forum
http://www.clubkayak.com/greenwave/showpage.asp?page=sitinvssiton

Fredric Back
http://www.fredericback.com/ateliers/index.autochtones32.en.shtml

Kayak Lake Powell Slot Canyons By Dave Webb
http://www.utahoutdoors.com/pages/powellkayak.htm

Kayak Powell
http://www.kayakpowell.com

Lake Powell.com
http://www.lakepowell.com/vacation-attractions.aspx

Live Strong
http://www.livestrong.com/sitemap-5934.html

National Geographic News
http://news.nationalgeographic.com/news/2003/08/0812_030812_glencanyon_2.html
National Park Service
Kayaking
http://www.nps.gov/glca/planyourvisit/kayaking.htm

Offshore Marina, Inc.
http://www.offshoremarina.com/moki-canyon

Royal Ontario Museum
http://www.rom.on.ca/exhibits/ivory/kayak_page2.php
http://www.rom.on.ca/exhibits/ivory/kayak_page2.php

Ted Hall Photography
http://www.tedhallphotography.com/

Travel & Explore
Five natural wonders at Lake Powell
by John Stanley
http://www.azcentral.com/travel/parks/articles/2006/06/15/20060615lakepowellwonders-CR.html

Wikipedia
http://en.wikipedia.org/wiki/Kayak



Return From Lake Powell Kayaking To Boating Lake Powell

Return From Lake Powell Kayaking To Lake Powell Country