Best Ice Cream On Lake Powell Is Found
At Dangling Rope Marina
Photo: Wikipedia

Dangling Rope Marina, or "DR" or "The Rope" as it is known to locals and return boaters, has the distinction of being the only marina of the Lake Powell Marinas that is not accessible by automobile.
Since it can only be accessed by water, there is no boat launch.
Dangling Rope is located about midway between Glen Canyon Dam, Halls Crossing and Bullfrog Marina.

Or, to be more exact, it is 40 water miles from Glen Canyon Dam and 55 water miles from Hall's Crossing and Bullfrog Marinas.
To paraphrase a card out of the game of Monopoly, "Do not pass Dangling Rope Marina. Go directly to the fuel dock."
To do otherwise risks the chance of running out of fuel as it is a long way between Marinas and sources for fuel.
According to ARAMARK, the primary concessioner on Lake Powell: "… there are 3 fuel barges that supply DR from Wahweap Marina:

They are the 'Fuel Ferry', the 'Frank B' and the 'Push Toy'. Each barge is triple-hulled and has 3 fuel cells. They carry 21,000 gallons when full.
Fuel sales at Dangling Rope range between 600,000 to 1,500,000 gallons annually, depending on water levels of Lake Powell.
This marina was originally located in Forbidding Canyon at the entrance to Rainbow Bridge and, appropriately enough, was called the Rainbow Bridge Marina.
However boat and barge traffic became so high that the entrance was often blocked, so in 1993 it was moved to its present location where the name was changed to Dangling Rope Marina.
Though located in Utah, Dangling Rope Marina operates on Arizona time and is only open March through November.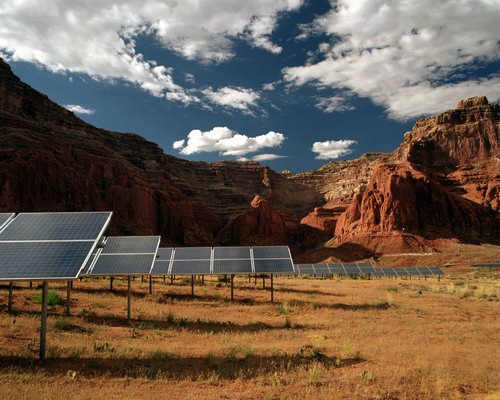 Photo: NREL - Photographer: Warren Gretz

Dangling Rope is further unique, in that electricity for the marina and several outbuildings is provided by 384 solar panels, connected to an array of batteries and an inverter which converts direct current to alternating current.


These solar panels replaced diesel-fueled generators and eliminated the dangerous and arduous task of


making 35 barge trips, 40 miles each way, to deliver 65,000 gallons of diesel fuel.

An estimated 557 tons of annual air pollution was also eliminated by replacing the generators with the panels.

And, by the way, there really was a dangling rope.

According to C. Gregory Crampton, author of Ghosts of Glen Canyon: History Beneath Lake Powell, Colorado River runners found a 40 foot rope hanging from a nearby cliff and named the canyon Hanging Rope Canyon.
Later, the NPS changed the name to Dangling Rope Canyon to avoid the notion that the rope was used for hangings.
Dangling Rope has a National Park Service (NPS) contact station at the marina. NPS is responsible for all repairs & maintenance on the docks.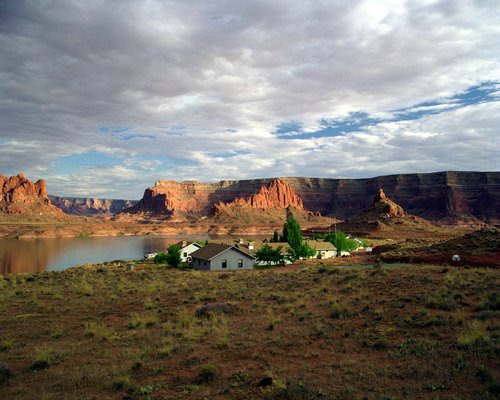 Photo: Courtesy NREL - Photographer: Warren Gretz

ARAMARK Provides:

• Boat Fuel
• Limited Boat Repair
• Limited Supplies and Groceries
• Public Restrooms
• Self-serve pump-out facilities
• Lots of Ice and Ice Cream
• Potable water


Contact Information:

National Park Service—(928) 608-6200

ARAMARK—(928) 645-2969

References and Resources:

Ghosts of Glen Canyon: History beneath Lake Powell
By C, Gregory Crampton
Lake Powell Resorts and Marinas
http://www.lakepowelljobs.com/danglingrope.htm

Have A Great Story To Share?
Do you have a great story about this destination? Share it!
Return From Dangling Rope Marina To Lake Powell Marinas
Return To Lake Powell Boating