Gooseneck State Park…
High Above the San Juan River
Located in the southeastern corner of Utah, 30 miles northeast of Monument Valley, Gooseneck State Park offers a panoramic view of the San Juan River as it carves its tortuous way through sandstone rock 1,000 feet below.
Geologists call this an entrenched meander- a twisting, turning wandering route, aimlessly going nowhere ; going forward , then reversing its course and going the other way.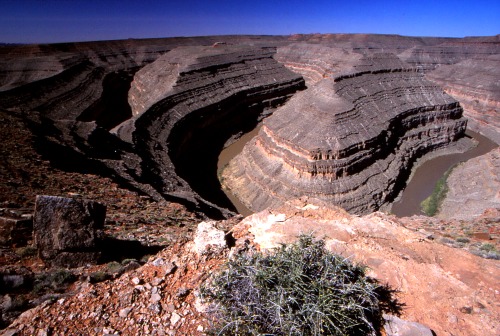 In this lazy to and fro manner the San Juan travels 6 miles back and forth while only gaining 2.5 linear miles in its relentless trek to the Colorado River.
Eventually, over thousands of years, it created this magnificent panorama.

Park Overview:
The Gooseneck of the San Juan is in a remote area. It offers primitive camping, with no electricity, no water and no dump station.
It does, however, have a small picnic area with four picnic tables, vault toilets and fire pits. You must bring your own firewood.
The park is open year round and there are no entrance fees.

Mexican Hat, UT Current Weather and Forecast
Directions to Park:

From Bluff, Utah:

25 miles west along US 163, west on SR 261, then southwest on SR 316.

From Mexican Hat, Utah:

8 miles northwest along SR 261, then southwest on SR 316.


---

Books and Maps about The Gooseneck may be purchased through Amazon.com by clicking the link below.  

Gooseneck State Park

---
Have A Great Story To Share?
Do you have a great story about this destination? Share it!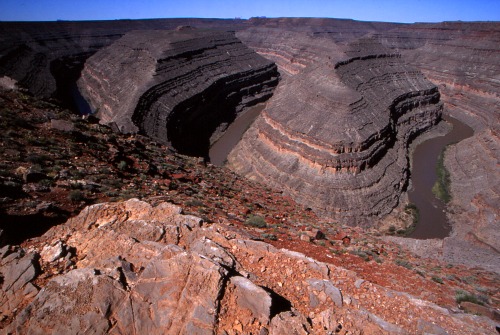 Activities:
• Sightseeing
• Photography
• Stargazing
• Picnicking
• Camping
• Biking
• Hiking

---
Side Bar:

There are no hiking or bike trails. Bikes are permitted on public roads only.
Goosenecks State Park can be intensely hot during summer months, and there is no shade.

---
Nearby Attractions:
• Valley of the Gods
• Monument Valley
• Natural Bridges National Monument
• Hovenweep National Monument

Lodging:
The nearest lodging is located in Mexican Hat and Bluff, Utah.
You can check out all the lodging by using one of the boxes below, which are powered by Hotels Combined.
This is not a booking agency; it is only a search engine to find you the best deals.


References and Resources:
Utah.com
http://www.utah.com/stateparks/goosenecks.htm
Utah State Parks
http://www.utah.com/stateparks/goosenecks.htm
Wikipedia
http://en.wikipedia.org/wiki/Goosenecks_State_Park

Return From Gooseneck State Park To Lake Powell Nearby Attractions