Grand Canyon North Rim…
A Place of
Quiet and Solitude
Awesome is the word most often used to describe the Grand Canyon North Rim.
Spectacular, fantastic, magnificent, impressive, majestic and beautiful are other adjectives that aptly describe it.
The Grand Canyon starts at Lee's Ferry, approximately 88 river miles northeast of Phantom Ranch and ends approximately 189 miles west near Lake Mead.
It is as much as 18 miles wide and one mile deep.
The Grand Canyon's status as a National Park has been like that of a beautiful butterfly, metamorphosing in stages:
• On February 20, 1893 it was set aside as Grand Canyon Forest Reserve by President William Henry Harrison.
• On January 11, 1908, President Theodore Roosevelt proclaimed it a National Monument.
• On February 26, 1919 it became a National Park, signed into law by President Woodrow Wilson.

Although the Grand Canyon North Rim is only 10 miles, as the crow flies, and 21 miles by foot from the South Rim, it receives only a fraction of the five million annual visitors received by the more accessible South Rim.

"Accessible" is the key word here. The North Rim is 212 miles from the South Rim and has only one road, Arizona Hwy 67, leading into it; no railroad and no airport.

 

---

Books and Maps about Grand Canyon North Rim may be purchased at the Visitor Center, or you may purchase them through Amazon.com by clicking the link below.  




Grand Canyon North Rim

---
Also, unlike the South Rim, which is open all year round, visitor lodging and food services are open mid-May through mid-October.
The Grand Canyon North Rim is open to visitors through November 27 or until snow closes Hwy 67. However, only limited services are available.

Entrance Fees
$25 per private vehicle – includes all passengers
$12 per individual – when entering by foot, bicycle or motorcycle
Admission to Grand Canyon National Park is for seven days
and includes both the North Rim and South Rim.
No refunds are given due to inclement weather.
All National Parks & Federal Recreational Lands Passes are accepted.

Grand Canyon North Rim receives a tenth of the number of visitors as the South Rim.
Although most people visit the Grand Canyon North Rim for its beauty and grandeur, many are drawn back year after year for its quiet and solitude.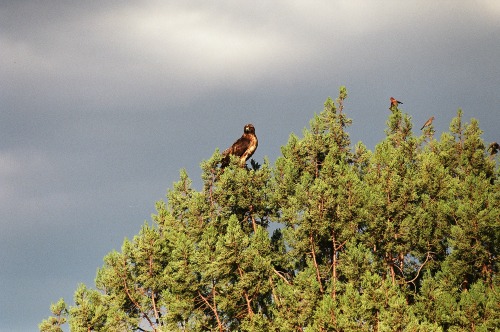 Red-tailed Hawk - Grand Canyon North Rim - Photo: Nancy Jackson

Grand Canyon Village, AZ Current Weather and Forecast
Things to Do
• Sightseeing
• Hiking
• Photography
• Biking
• Mule Trips
• Free Interpretive Ranger Programs
• Tour the North Rim Scenic Drive
• Wildlife Viewing


Download a Grand Canyon North Rim Map Here

Photo: Nancy Jackson


Mule Rides

The following rides are for the North Rim ONLY

Season: May 15 thru October 15

ONE HOUR RIM OF THE GRAND CANYON
7 year age limit - 220 lb. weight limit
8:30 a.m. - 1:30 p.m.
$40.00 per person


1/2 DAY TRIP - TO UNCLE JIM'S POINT
10 year age limit- 220 lb. weight limit
7:30 a.m. or 12:30 p.m.
$80.00 per person

CANYON MULE TRIP - 1/2 DAY
TO THE SUPAI TUNNEL
10 year age limit - 200 lb. weight limit
7:30 a.m. or 12:30 p.m.
$80.00 per person


Photo: Nancy Jackson

Register in the lobby of the Grand Canyon Lodge at the Grand Canyon Trail Rides desk from 7:00 a.m. -5:00 p.m. daily
For reservations, please call Grand Canyon Trail Rides at (435) 679-8665
North Rim mule trips do not go to the Colorado River.

Lodging at Grand Canyon North Rim
Grand Canyon Lodge
The only developed lodging within the Park's North Rim boundaries, the Grand Canyon Lodge is a resort complex consisting of a Main Lodge building, 23 deluxe cabins, and 91 standard cabins.
All guests are housed in cabins detached from the Main Lodge which is used only as a dining, service and concession facility.
The original lodge, constructed of native Kaibab limestone and timber, was designed by Gilbert Stanley Underwood and built in 1927-28. Part of the lodge was destroyed by fire in 1932 and rebuilt in 1936-37.
The lodge is open from mid-May to mid-October.
Reservations are highly recommended.

To check on availability and prices, use the Search Box on the right.

Simply enter the dates you have in mind, and the server, Hotels Combined, will provide you with a list of the lodging available on the dates you have specified.

Lodging at both the South Rim and the North Rim are shown.
For lodging on the North Rim, scroll down to Grand Canyon Lodge.
This is not a booking agency. It is a search engine to help you find great lodging at great prices.

North Rim Campground
• Open from mid-May to mid-October.
• Operated by the National Park Service.
• 75 tent/RV sites
• 3 Group Sites w/Max 25 people per group
• 12 Tent-Only sites
• Dump station
• No Hook-ups
• Water is available
• Restrooms
• Accessible Campsites available
• Pets are allowed. Must be on leash at all times. Cannot be left unattended
• Campsites have fire grills – Must bring your own firewood
• Firewood may be purchased at campground store
• Coin-operated laundry and showers located at the entrance to the campground

Campground Fees & Reservations
$18-25 per site per night
$50 per Group Site per night – Maximum 25 people & 3 vehicles
For Reservations, call 1-877-444-6777
Online at http://www.recreation.gov/

---
Side Bar
It is best to make reservations because the North Rim Campground fills most days.
A vehicle, which is towing a trailer, pop-up, tent trailer, fifth wheel, or a motor home pulling a vehicle, is considered two vehicles.
Golden Age or Access passport holders pay only ½ price year round (passport number is needed when making reservation and passport holder must be camping at the site).
Passes may not be used with group sites.


---
Download a North Rim Campground Map Here

For Outside The Park - North Rim – Camping, Click Here

Off-Season Visits
Averaging 8,000 feet above sea level, the Grand Canyon North Rim is subject to heavy snowfall and the closure of Hwy 67 south of Jacob Lake.
Between October 16 and May 14, no lodging or food service is vailable in the park.
However, the following services are available through November 27 or until Hwy 67 is closed by the Arizona DOT:
• Self-service gas and diesel fuel
• Visitor Center and Bookstore
• Backcountry Information and Permits Office
• Campsites with limited services, such as portable toilets


---
Side Bar

Campsites will be available for a $12 fee on a first-come, first-served basis.
Water will only be available outside the National Park Service administrative office.
Entrance fees and campground fees will be collected through the end of the day on November 27
Once the Arizona Department of Transportation closes Highway 67 south of Jacob Lake to vehicle traffic for the winter season, the North Rim of Grand Canyon National Park also closes to vehicle traffic.
The gate at Jacob Lake is closed and locked and the gate at the North Rim entrance station is closed and locked.

---
Winter Visits
The only public access into the national park is on foot, skies, or snowshoes.
Private snowmobiles are not allowed inside Grand Canyon National Park.
Hikers and cross-country skiers are permitted to use the park's group campsites throughout the winter months if they have obtained a permit through the park's Backcountry Information Center.

North Rim Hiking
With over a dozen different hiking trails, the North Rim offers hiking opportunities for just about everyone, from short hikes of two tenths of a mile to a roundtrip hike of 28 miles to the Colorado River and back.
For more information on Hiking Trails, click Here.

Backcountry Permit
If you wish to camp anywhere in the park, other than in developed campgrounds on the North Rim, South Rim, or Tuweep, you must obtain a permit from the Backcountry Information Center.

Backcountry Permit

If you wish to camp anywhere in the park, other than in developed campgrounds on the North Rim, South Rim, or Tuweep, you must obtain a permit from the Backcountry Information Center.

A backcountry permit is required for:

• Overnight hiking
• Overnight horseback riding
• Overnight cross-country ski trips
• Off-river overnight hikes by river trip members
• Overnight camping at rim sites other than developed campgrounds
• Overnight camping on the North Rim during the winter season

For further information on Backcountry Permits, click Here




Have A Great Story To Share?
Do you have a great story about this destination? Share it!
Return From Grand Canyon North Rim To Nearby Attractions