Grand Canyon South Rim…

Awe-Inspiring Grandeur
The view from almost anywhere along the Grand Canyon South Rim is spectacular; a kaleidoscope of colors, ever changing, never the same.
Almost five million people a year visit the Grand Canyon National Park, which, in 2011, made it the second most visited national park in the United States.

Surprisingly to me, it received less than half the number of visitors as that of the Great Smoky Mountains National Park in South Carolina and Tennessee which received the most visits.
In January 1908, President Theodore Roosevelt exercised his right to make more than 800,000 acres of the Grand Canyon area into a national monument.

"Let this great wonder of nature remain as it now is," he declared. "You cannot improve on it. But what you can do is keep it for your children, your children's children, and all who come after you, as the one great sight which every American should see."


---

Books and Maps about Grand Canyon South may be purchased at the Visitor Center, or you may purchase them through Amazon.com by clicking the link below.  


Grand Canyon South Rim

---
---
Over its life under the auspices of the federal government, its designation has changed several times:
• 1893 it was set aside as Grand Cañon Forest Reserve
• 1906 the North Rim was set aside as Grand Canyon Game Preserve
• 1907 the Grand Cañon Forest Reserve became Grand Canyon National Forest
• 1908 the Grand Canyon was made a National Monument
• 1919 the Grand Canyon became the nation's fifteenth national Park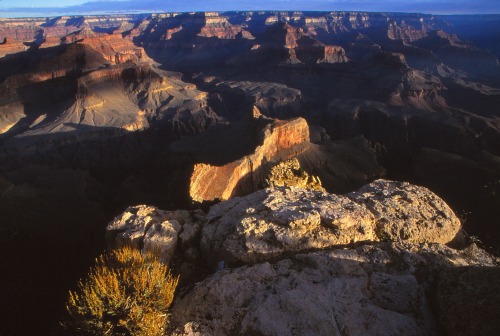 The Grand Canyon starts at Lee's Ferry, approximately 88 river miles northeast of Phantom Ranch and ends approximately 189 miles west near Lake Mead.
The Grand Canyon National Park is composed of two parts, the North Rim and the South Rim.
A chasm, as wide as 18 miles, separates the two.
At the bottom of this one mile deep chasm is the Colorado River.
Although the Grand Canyon North Rim is only 10 miles, as the crow flies, and 21 miles by foot from the South Rim, it receives only a fraction of the five million annual visitors received by the more accessible South Rim.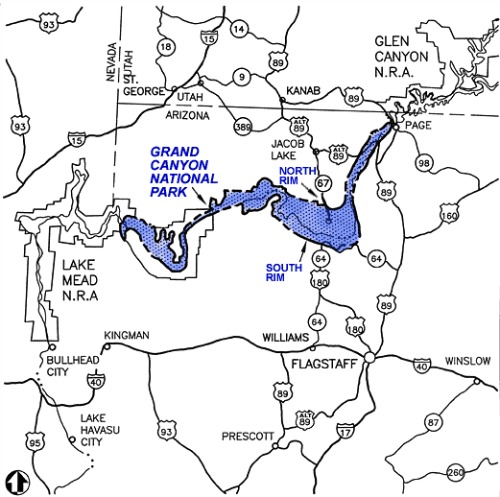 Grand Canyon Area Map - Courtesy Grand Canyon NPS

Directions To Grand Canyon South Rim

• 60 miles north of Williams, Arizona (via route 64 from Interstate 40)
• 80 miles northwest of Flagstaff (via route 180).

Operating Hours & Seasons
The Grand Canyon South Rim is open 24 hours a day, 365 days a year.
All visitor services: camping, lodging, and restaurants are available year round.
Reservations are strongly recommended during spring, summer and fall.
Some facilities close during the winter.

Grand Canyon Village, AZ Current Weather and Forecast
Entrance Fees
$25 per private vehicle – includes all passengers
$12 per individual – when entering by foot, bicycle or motorcycle
Admission to Grand Canyon National Park is for seven days
and includes both the North Rim and South Rim.
No refunds are given due to inclement weather.
All National Parks & Federal Recreational Lands Passes are accepted.

Grand Canyon Railway
For a unique and fun way to travel to the Grand Canyon South Rim, you might want to consider the Grand Canyon Railway.
Grand Canyon Railway made its first journey to the South Rim in 1901, long before there were paved roads, and even before the canyon was made a national park.
Passenger service to Grand Canyon National Park stopped in 1968 as train travel gave way to the popularity of automobile travel.
Grand Canyon Railway service began again in 1989 and has been going strong ever since.
Today, the Railway carries over 200,000 people to the canyon each year.
In addition to train travel to and from the Grand Canyon South Rim, the Railway offers several vacation packages, stays at Williams and Grand Canyon hotels and RV parks and much more.

For more information, or to make reservations, call:
1-800-843-8724
International: 1+ 303 843 8724
Lodging Inside The Park
Grand Canyon South Rim Shuttle Buses
RIDE THE PARK'S FREE SHUTTLE BUSES – BE Green - SAVE FUEL
Grand Canyon National Park's free shuttle buses operate in and around the Grand Canyon South Rim Village.
• The routes interconnect, but do not overlap.
• No tickets are required, and bus stops are clearly marked throughout the park by signs.
• Buses are white with a green stripe.
• The buses display the route name on the front.
• Pets are not permitted on buses.
• Each shuttle bus is equipped with a 2 or 3-capacity bicycle rack on the front.
• Service may be suspended during inclement weather.

For more information regarding the Grand Canyon South Rim Shuttle Buses, Click Here


Lodging Inside The Park

A variety of lodging facilities are available.

Lodging is booked well in advance, especially during the summer months.



Be sure to make reservations as far ahead as possible.
To check on availability and prices, use the Search Box above.

Simply enter the dates you have in mind, and the server, Hotels Combined, will provide you with a list of the lodging available on the dates you have specified.
This is not a booking agency. It is a search engine to help you find great lodging at great prices.
Lodging Outside The Park

The nearest towns of any size are Flagstaff and Williams, Arizona.

To check on lodging in either of these two towns, use the search box on the right.

You will need to enter the name of the town as well as the dates you desire.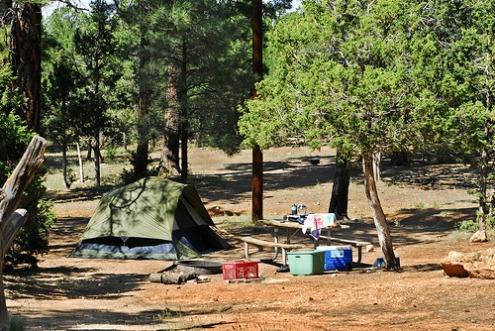 Mather Campground - Photo: Grand Canyon NPS

Campgrounds Within The Park
NPS Mather Campground
• Open year-round. Operated by the National Park Service
• Offers tent and RV camping.
• Accessible campsites and restrooms are available.
• Pets are allowed, but must be leashed at all times, and may not be left unattended.
• Wood and charcoal fires permitted in provided campsite grills only.
• No gathering of down wood, wood may be purchased at the general store.
• Laundry and showers located near the campground for a fee.

Campground Fees

$18 per site per night. A maximum of 2 vehicles, 6 people, 3 tents are allowed per site. (A vehicle that is towing a trailer, pop-up, tent trailer, fifth wheel, or a motor home pulling a vehicle is considered two vehicles.)


Group Sites

$50/night. Maximum of 50 people and 3 vehicles per group site.
---
Side Bar
• Reservations are strongly recommended from March 1 through mid-November. Mather Campground is usually full by noon during the busy season.
• For reservations, call 1-877-444-6777 or online at the http://www.recreation.gov/
• Golden Age or Access passport holders pay only ½ price year round
• Pets are NOT ALLOWED below the canyon rim at any time. Pets are NOT permitted on the shuttle buses. Kennels are available in the Grand Canyon South Rim Village.
• During the winter months, the campground office is closed and online reservations are not available. Registration will be first come first serve

---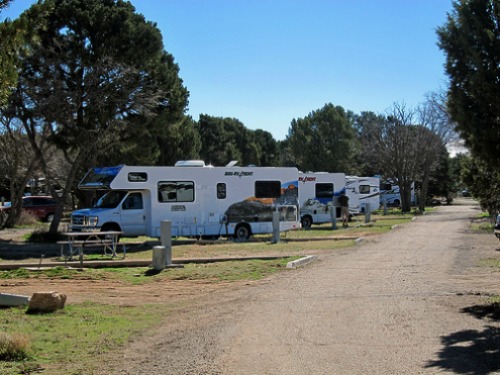 Grand Canyon Trailer Village - Photo: NPS

Trailer Village
For those visitors with RVs who require hook-ups, Trailer Village, located adjacent to Mather Campground, accommodates Recreational Vehicles up to 50 feet in length.
Trailer Village is operated by Xanterra Parks & Resorts® and is open year-round.
Site Amenities
• Pull-through, paved sites
• Picnic table
• Barbecue grill
• 30 and 50 amp electrical service
• Cable TV


A dump station (closed during the winter months) is located near Mather Campground.
Pets are allowed, but must be leashed at all times, and may not be left unattended.
For advance reservations, call 1-888-297-2757
For same-day reservations, call (928) 638-2631.
---
Side Bar
Nearby Camper Services offer:
• Coin-operated showers
• Laundry facilities
• Vending machines
• Telephones


---
NPS Desert View Campground
Located 26 miles/ 42 km east of Grand Canyon Village.
Open May through mid-October.
Services
• Campground Host to assist visitors
• 50 sites
• No utility, water, or sewer hook-ups available
• Campfire grill for fires and cooking use
• Two water faucets located within the campground
• Men's, Women's, and Handicap Accessible restrooms
• Restrooms have flushing toilets and sinks (no hot water)
• No shower facilities
• 30-foot trailer or RV maximum
• Limit of six persons; two tents; two-vehicles or one RV/Travel Trailer per site


Camping Fees
• $12.00 per site, per night.
• 50% discount on camping fees for Interagency Senior Pass, Interagency Access Pass, Golden Age Passport, and Golden Access Passport
• Automated fee machine located by the campground restrooms for exact cash and credit cards

---
Side Bar
Campsites are on a first come - first served - self-registration basis.
The campground is usually full by early afternoon during summer months.
No reservations are accepted for campsites at Desert View Campground.
There is a 7-day camping limit. Check out is at 11:00 AM.
PETS are allowed, but must be leashed at all times.
PETS may not be left unattended.

---
Things to Do At Grand Canyon South Rim
• Sightseeing
• Hiking
• Photography
• Biking
• Mule Trips
• Free Interpretive Ranger Programs
• Tour the South Rim Scenic Drive
• Wildlife Viewing

Day Hikes
Several day hikes are available to visitors to the Grand Canyon South Rim, from the easy rim trail, which is partially paved, to the more strenuous hikes into the canyon:


• Rim Trail - easy hike - offers excellent walking and quiet views of the inner canyon.

• Bright Angel Trail – Steep - begins just west of Bright Angel Lodge and offers day hikes of up to 12 miles (round trip).

• South Kaibab Trail – Steep - begins south of Yaki Point. Offers day hikes up to 6 miles (round trip).

• Hermit Trail – Steep - Unmaintained - offers hikes to Santa Maria Spring, 5 miles (round trip), and Dripping Springs, 7 miles (round trip).

• Grandview Trail - Very Steep - offers hikes to Coconino Saddle, 2.2 miles (round trip), and Horseshoe Mesa, 6.4 miles (round trip).

---
Side Bar
Over 250 people are rescued from the canyon each year.
DO NOT attempt to hike from the rim to the river and back in one day, especially during the months of May to September.
Everyone needs to carry water!
Even if you will be hiking on the rim, you still need to carry water.

Important Hiking Tips From the NPS
• Plan your hike before you start.
• Balance your food and water intake. Eat salty snacks and drink water or sports drinks.
• Go slowly, rest often, stay cool. Allow the weakest hiker to set the pace.
• During the summer, hike during the cooler, shadier times of the day.
---
Backcountry Hiking
Visitors from all over the world come to Grand Canyon National Park to experience the solitude, quiet and natural beauty of backcountry hiking.
People of all ages, including small children, senior citizens, and people with physical disabilities have successfully hiked the canyon.
The key to hiking the Grand Canyon is preparation, knowing and respecting your limitations and a proper mental attitude.

The Grand Canyon National Park Service has a wealth of information on backcountry hiking including:
• Hiking Tips
• Day Hiking
• Overnight Hiking
• Summer Hiking
• Winter Hiking
• Guided Hikes
• Weather
• Food Storage
• Safe Water
• Backcountry Permit
To visit their page, Click Here

Grand Canyon South Rim Trail Brochures
Make your day hikes more interesting by learning about the flora and geology of the area.
Download trail brochures, Here

South Rim Mule Trips

• offered year round.

South Rim Mule trips may be booked 13 months in advance and fill up early. A waiting list is maintained for cancellations, but chances of obtaining reservations on the waiting list are slim. If you wish to make a trip into the canyon on a mule, plan ahead

3-Hour Abyss Overlook Ride

The ride passes through a Ponderosa Forest and a Piñon and Juniper woodland.


Riders dismount and walk a short distance to the Abyss, an overlook on the rim of the canyon.

• Departs from the Historic Mule Barn near Bright Angel Lodge

• Departs twice daily through October
• Departs once daily through mid-March
• $122.81 including tax, per person. (Includes a light snack, and water).

Overnight Rides
• Ride to the bottom of the Canyon.
• Spend the night at the Phantom Ranch.
• Prices start at $506.82 for one person or two people for $895.11 including taxes.
• Prices include accommodations and meals.
• This service must be reserved and purchased in advance.
Mule rides from Grande Canyon South Rim can be reserved through:
Xanterra Parks & Resorts
6312 S Fiddlers Green Circle,
Suite 600N,
Greenwood Village, CO 80111
Call (303) 297-2757
Toll free (888) 297-2757
FAX (303) 297-3175
www.grandcanyonlodges.com

---
Side Bar
• Overnight mule riders must not weigh more than 200 lbs/91 kg fully dressed
• 3 hour Abyss Overlook riders must not weigh more than 225 lbs/102 kg fully dressed.
• Must be at least 4 feet 7 inches/140 cm in height.
• Must be able to speak and understand fluent English.
• Must be in good physical condition.
• Must not be afraid of heights or large animals
• Cannot be pregnant.

---
National Forest Trail Rides - Grand Canyon South Rim
• One-hour and two-hour trail rides through the Kaibab National Forest.
• Twilight campfire and wagon rides are available.
• Both horses and mules are utilized.
• These rides are outside the Grand Canyon National Park near the South Entrance.
For reservations and further information, contact Apache Stables at (928) 638-2891.

Maps
East Rim Drive and Desert View
Backcountry Use Area
This map portrays the portion of the park where 77% of backcountry use occurs.
It is provided solely to indicate use area boundaries and designated campsites.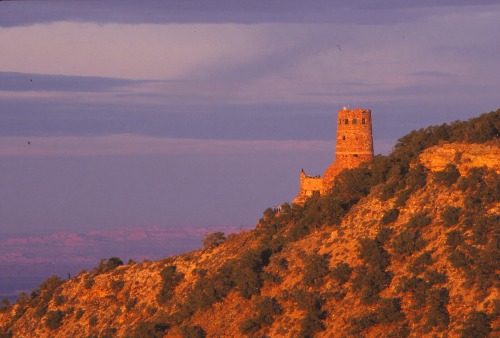 Desert View Watchtower
The Watchtower stands like a sentinel at the eastern end of the Grand Canyon South Rim.
It was designed by architect Mary Elizabeth Jane Colter, an employee of the Fred Harvey Company, and was completed in 1932.
Ms Colter also created and designed many other buildings in the Grand Canyon vicinity including Hermit's Rest, Hopi House, the Bright Angel Lodge, the Phantom Ranch buildings at the bottom of the canyon and the Lookout Studio.
Ms. Colter's vision and inspiration came, in part, from visits to several ancestral Puebloan ruins, such as Chaco Canyon, Hovenweep and Mesa Verde.
To read more about the Desert View Watchtower and watch a four minute NPS video, go to http://www.nps.gov/.
Have A Great Story To Share?
Do you have a great story about this destination? Share it!
References and Resources For Grand Canyon South Rim
Grand Canyon NPS
http://www.nps.gov/grca/index.htm
Wikipedia
http://en.wikipedia.org/wiki/Desert_View_Watchtower

Return From Grand Canyon South Rim To Nearby Attractions