Kodachrome Basin State Park…
An Often Overlooked Gem
Located in the northwest corner of the Kaiparowits Plateau, Kodachrome Basin State Park gets no respect.
Perhaps it is due to her location, somewhat off the beaten track, and tucked away within the sprawling Grand Staircase Escalante.
Perhaps it is because she is so often overshadowed by her larger cousins to the north: Bryce Canyon, Zion and Arches National Park.
But, for whatever the reason she deserves more.

Discovery:
In 1949, a National Geographic Magazine expedition, led by writer/photographer Jack Breed, set off into the wilds of southern Utah,
"…hoping to find unknown and yet unnamed geographical oddities in the hidden cliffs and canyons." 1
After only going,
"…only five miles on the first day of their trip they stumbled upon "A Color Photographer's Paradise." 2
The expedition called this "Paradise," Kodachrome Flat after Kodak's popular color film.
"Fearing repercussions from the Kodak film company for using the name Kodachrome, the name was changed to Chimney Rock State Park; however, within a few years Kodak gave permission to rename the park Kodachrome Basin State Park." 3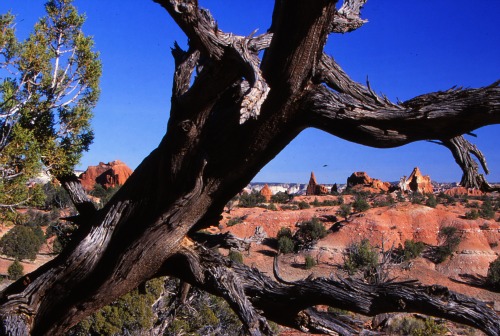 Today:

With 67 monolithic towers, known as sedimentary pipes or sand pipes, and with such fanciful names as Chimney Rock, Shakespeare Arch, Secret Pass, Hat Shop and Ballerina Slipper, Kodachrome Basin truly is a photographer's paradise.


 

---

Books and Maps about Kodachrome Basin State Park may be purchased through Amazon.com by clicking the link below.  




Kodachrome Basin

---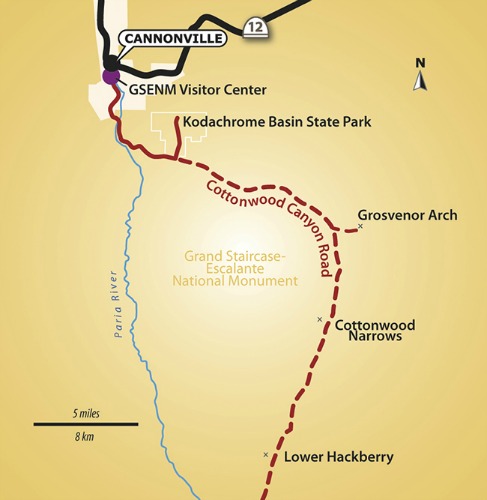 It sits at an elevation of 5800 feet and spreads out over 2,240 acres of unique geologic formations, coral sand dunes, pinyon, Utah juniper, rabbit brush and sage.
Cannonville, UT Current Weather and Forecast



What To Do:

Kodachrome Basin offers much for the outdoors person:

• Photography
• Wildlife viewing
• Hiking
• Horseback riding
• Mountainbike riding

Grosvenor Arch is located 10 miles south of Kodachrome Basin and is well worth the time it takes to see it.

Where To Stay:

Campgrounds – There are 27 spaces for tents or recreational vehicles. There are restrooms, showers, picnic tables and a sewage-disposal station. Also, there are two big areas for large groups or family reunions.

The campground is open from April through September.

The cost is $15 per day per campsite.

For reservations, call 1-800-322-3770
Full Service Cabins – The Park Concessionaire rents cabins with full baths, showers and air conditioning.
There is a camp store where you can buy supplies and schedule a stagecoach ride or guided horseback ride into the backcountry.
Call 435-679-8536 or 435-679-8787 for further information.

Lodging in Cannonville:

Simply use the box on the right, which is powered by Hotels Combined, to get you the best deals for the dates you have in mind. This is not a booking agency; it is only a search engine to find you the best deals.

Entrance Fees:
$6 per day or $70 for an annual pass.
The park is open all year.
Contact Information:
Kodachrome Basin State Park
P.O. Box 238
Cannonville, Utah 84718-0238
435-679-8562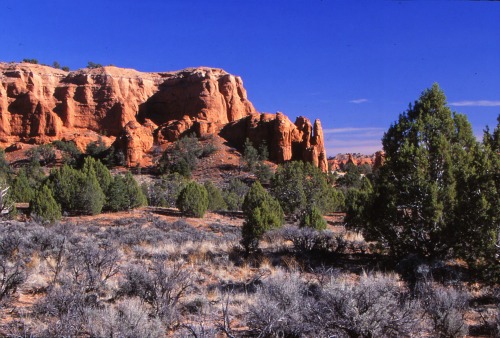 Have A Great Story To Share?
Do you have a great story about this destination? Share it!
References and Resources:
1 The Legend of Kodachrome Flat
National Geographic Traveler
Traveler's Senior Photo Editor Dan Westergren
http://intelligenttravel.nationalgeographic.com/2009/06/24/kodachrome_flat/
2 Ibid
3 Ibid
The Dallas Morning News
http://www.dallasnews.com/travel/coast-to-coast/20120726-utahs-kodachrome-basin-is-a-gem-in-the-shadow-of-famous-neighbors.ece?ssimg=657821#ssStory657813



Return From Kodachrome Basin State Park To Lake Powell Country