Your Complete Guide
To Coral Pink Sand Dunes State Park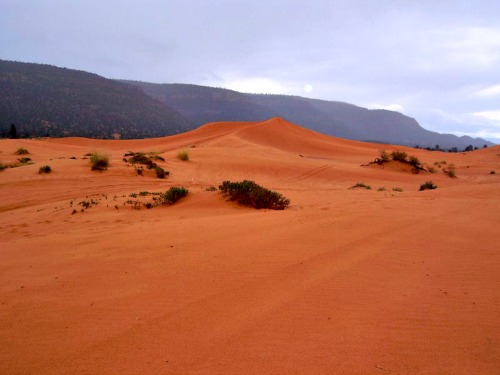 Coral Pink Sand Dunes -  Photo Courtesy:  Wikimedia Commons - Enrico Stirl

Located in southwestern Utah, just one mile north of the Arizona border, Coral Pink Sand Dunes State Park was created by high winds carrying the nearby eroding Navajo sandstone and depositing it in the open valley below.

The Dunes are comprised of approximately 3,000 acres of which only the southern 1,500 acres is contained within the state park.

The northern 1,500 acres is owned by the Bureau of Land Management (BLM) but is managed by the park through a cooperative agreement with the BLM.

Coral Pink Sand Dunes is the only major dune field on the Colorado Plateau and with an average elevation of 6,000 feet is the second highest dune field in the United States.

These dunes are estimated at 10,000 to 15,000 years old.
Location 

The park is located in southwestern Utah, off US Highway 89, 19 miles northwest of Kanab and 14 miles southeast of Mount Carmel Junction. 


---

Books and Maps about Utah's State Parks may be purchased at Amazon.com by clicking the link below.


Utah State Parks

---
Operating Hours and Seasons

Coral Pink Sand Dunes State Park is open year-round, daylight hours, seven days a week.

There are no holiday closures.

---
Sidebar

Park quiet hours are from 10 p.m. to 9 a.m. Mountain Daylight Time.

Generators and off-highway vehicle riding are not allowed during those hours.

---
Coral Pink Sand Dunes State Park Video

Fees and Reservations

Day Visits

$6 Day-Use per vehicle
$3 Day-Use for Utah seniors 62+
$75 Annual Day-Use Pass
$35 Senior Adventure (annual) Pass


Park Brochure

To download a Park Brochure, Click Here.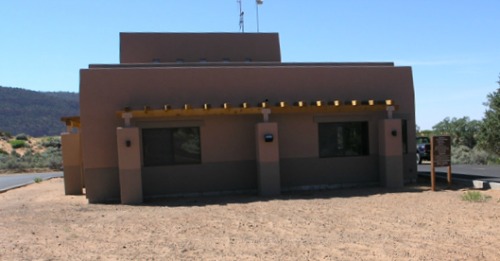 Photo: Wikitravel - Frank EM

Visitor and Information Center
The Visitor Center offers information about the park and surrounding area but other service is limited:

•    Vending Machines
•    Sand Collection from around the world
•    Ice
•    Firewood
•    T-shirts & hats
•    Maps

Weather & Climate

The dry spring season from April to June is warm to hot during the day.  Nights are generally cool.  Snow storms in May are not out of the question.

The summers, from July through October, are hot, with an average temperature of 82.5 F; monsoon thunderstorms help to break up the heat.

The winters are cool during the day and very cold at night.

Much of the precipitation is rain rather than snow, which rarely accumulates beyond 1 inch.  Median annual snowfall is 14.8 inches.

Temperatures hit the mid-90s in the summer near the dunes and the 100s on the dunes.

  For Current Weather and Forecast, Click Here.
 

---
---
Have A Great Story To Share?
Do you have a great story about this destination? Share it!
---
Photo: Wikimedia Commons - Enrico Stirl


Best Time to Visit

The park is open year-round, but spring, early summer, and fall are the most ideal times.

Times to Avoid

Weekends and major holidays  such as Memorial and Labor Day, are usually very crowded.
Lodging

There is no lodging within Coral Pink Sand Dunes State Park. The nearest towns with motels are Kanab and Mount Carmel Junction, Utah.

To find lodging in either of these towns use the Search Box on the right.

Camping

Coral Pink Camp Ground

•    22 Individual campsites
•    1 Group site
•    Restroom and showers available
•    Water faucets are spaced evenly around the camp ground
•    Dump station near the entrance to the camp ground
•    Picnic area with restrooms and parking
•    Camp Ground Host


Overnight Camping Fees

Individual sites: $16

Group: $3 per person (25 person min - 50 max - 5 vehicles + trailers max)

Campsite Amenities

•    Picnic table
•    Fire Pit
•    Grill
•    No water, sewer or electric hookups

---
Sidebar

Campfires may be built in fire pits only; gathering firewood is prohibited.

If you want a fire, you must bring your own firewood.

Fire restrictions may be implemented at any time.
Do not leave fires unattended.

---
Camping Reservations

Reservations are not required, but are recommended.

Non-reserved sites are let out on a first-come, first-served basis

801-322-3770 - camping reservations
800-322-3770 - toll-free camping reservations

Off-highway Vehicles (OHV)

Much of the Coral Pink Sand Dunes, over 2,000 acres, is open to off-road vehicles.

This area is about six miles long and approximately one mile wide.

There are very strict rules governing the use of OHVs, and you should be familiar with them before venturing out onto the dunes.

A few of these rules are:

•    OHVs must be currently registered
•    They must have an orange whiptail flag
•    All operators must have a valid driver's license or state-recognized        certification
•    Riders 17 and under must wear a properly sized and fastened helmet at all times
•    Don't carry passengers
•    Don't drink and drive

Photo Courtesy:  Ludovic Bertron

---
Sidebar

Utah State Park Rangers strongly encourage all riders to wear helmets.

OHV riders should contact park personnel for additional OHV laws

For additional information you might want to download the Utah Off-Highway Program Brochure.

---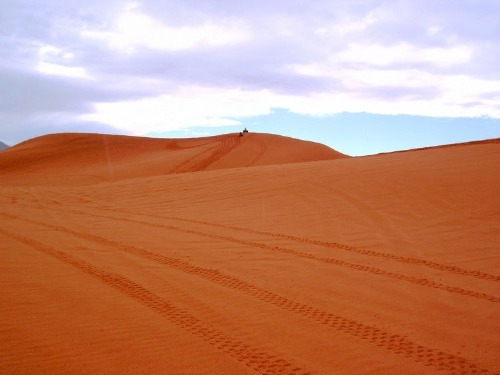 Photo Courtesy:  Enrico Stirl
Photography

The Coral Pink Sand Dunes are a photographer's delight, especially when captured in the early morning and late afternoon light. 
Early morning is probably the best time to photograph the dunes without OHV tracks.

Wildlife Viewing

It is easy to look out upon the Coral Pink Sand Dunes and make the assumption that it is nothing more than a beautiful desert void of all life.
 
But, that assumption would be wrong.

Though hardly teeming with life, the dunes are home to a myriad of plant and animal life, including the rare and endangered Coral Pink Tiger Beetle, Cicindela limbata albissima, and Welsh's Milkweed, Asclepias welshii.

Many of the animals are either nocturnal, active at night, or crepuscular, most active in the early morning and early evening.
Therefore, in order to see them you have to be out and about during those times.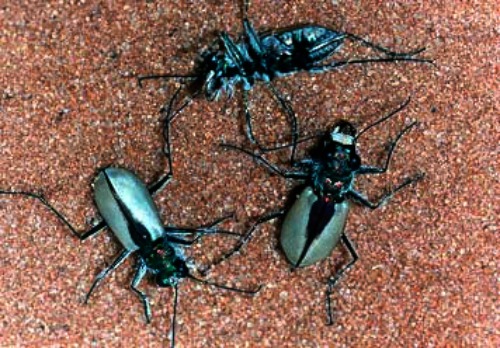 Coral Pink Tiger Beetle - Photo:  Courtesy Bureau of Land Management

Flora and Fauna

Coral Pink Tiger Beetle

The Coral Pink Tiger Beetle, Cicindela limbata albissima, is a rare insect that occurs in the Coral Pink Sand Dunes of Kane County in southern Utah and nowhere else in the world.

According to the Utah Department of Natural Resources, the Coral Pink Tiger Beetles is a Federal candidate for listing as threatened or endangered under the Endangered Species Act.


Animals

Although mountain lion and bobcat have been seen at Coral Pink Sand Dunes, these sightings are rare.
Some of the animals you are more likely to see are:

•    Mule deer
•    Black-tailed jack rabbit
•    Desert cottontail
•    Coyote
•    Fox




Mule Deer

Bale Eagle



Birds

A variety of raptors are found in and around the park area.

Golden eagles and red-tailed hawks will utilize the trees and rock substrates for nesting and hunting.

Bald eagles do not nest in this area but roost in trees surrounding the sand dunes during the winter.
Some of the other birds you may see are:

•    Cassin's Kingbird
•    Gray Vireo
•    Pygmy Nuthatch
•    Western Bluebird
•    Mourning dove

Desert Tortoise





Reptiles     

•    Plateau striped whiptail
•    California king snake
•    Utah milk snake
•    Utah Mountain king snake
•    Sonoran lyre snake
•    Desert Tortoise






Shrubs and Trees
Located at an elevation of 6,000 feet, Coral Pink Sand Dunes receives relatively high amounts of precipitation.

This moisture allows for a wide variety of plants, including stands of ponderosa pine, dune grasses more than six feet tall, and beautiful
wildflowers that reach their peak in June.




Some of the trees and shrubs you may expect to see are:

•    Pinyon pine
•    Gambel oak  
•    Serviceberry
•    Mormon tea  
•    Cliffrose 

Mormon Tea and Yucca

Blue Flax


Wildflowers  

•    Buttercup
•    Globe mallow
•    Palmer's penstemon
•    Flax flower
•    Eescarpment milk vetch
•    Annual paintbrush
•    Rocky Mountain bee plant


Pets

Pets are allowed at Coral Pink Sand Dunes State Park with the following restrictions:

•    Pets are not allowed in buildings
•    Pets must always be on leash with a maximum of 6 feet
•    Pets must not be left unattended, tied to a tree or post or left in hot vehicles.
•    You are responsible for picking up after your pet.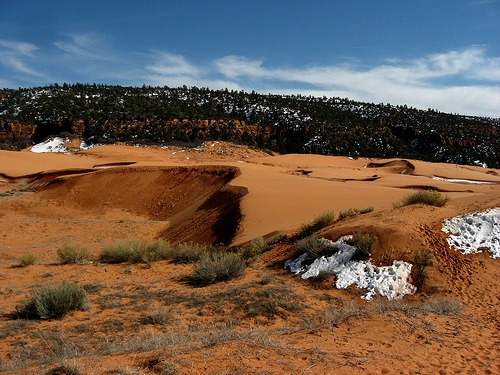 Photo Courtesy:  Ken Lund


History

According to the February 2005 Coral Pink Sand Dunes General Management Plan,

"In 1957, the Utah State Parks and Recreation Commission, a blue ribbon  panel, identified Coral Pink Sand Dunes as a potential state park."

Based upon the recommendations of the Kane County Commission and Kanab Chamber of Commerce, the Coral Pink Sand Dunes was included in the final
inventory of sites recommended to become a state park.

"Lands for the park were eventually purchased from the BLM in April of 1963. The Commission received 3,370 acres for the purchase price of
$9,325 or $2.50 an acre."

The 3,370 acres of Bureau of Land Management land was established as a Utah State Park in 1963.

Contact Information

Coral Pink Sand Dunes State Park
P.O. Box 95
Kanab, UT 84741-0095
Telephone
435-648-2800 - main park number
801-322-3770 - camping reservations
800-322-3770 - toll-free camping reservations


References and Resources
WikiTravel
http://wikitravel.org/en/File:Coralpinksanddunes3.jpg

Utah Division of Wildlife
http://www.utahwildlifephotos.com/

Utah State Parks
http://static.stateparks.utah.gov/plans/CoralPinkGMP.pdf

Zion National Park.com
 http://www.zionnational-park.com/red-canyon-bike-path.htm
Return From Coral Pink Sand Dunes To Nearby Attractions
Return To Lake Powell Country and The Grand Circle Home Page